Salvaged GM dealers in limbo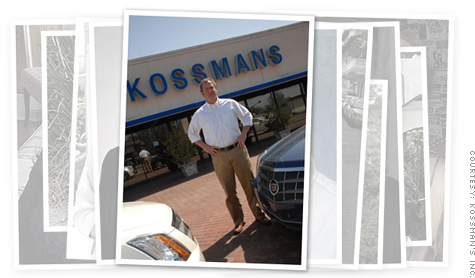 NEW YORK (CNNMoney.com) -- The 661 axed auto dealers General Motors is offering to reinstate aren't ready to pop the champagne just yet. They're still waiting to find out about the terms they'll have to meet to regain their franchises.
"Initially, we were excited," said Howard Braunstein, CEO of M&M Auto Group in Liberty, N.Y. "However, I am concerned that GM's offer for reinstatement will mandate requirements that will be difficult or impossible for many dealers to meet, especially in the 60-day timeframe we were given."
GM and Chrysler used their bankruptcy proceedings last spring to thin their dealer ranks and together targeted nearly 3,000 franchises for termination. But many dealers fought back, and Congress ordered the automakers to enter arbitration with dealers who wanted to appeal.
More than half of those eligible did so. On Friday, GM announced a change of heart and said it would reinstate hundreds of those who filed for arbitration.
Braunstein's dad, M&M Auto Group's principal, got a phone call from a GM representative that day indicating that their dealership had been selected. Now, nearly a week later, they're eager to hear more about the terms of the deal. GM plans to begin sending out letters on Friday, according to a company spokesman.
Kossman's Inc., a GM dealership in Cleveland, Miss., is in the same wait-and-see mode. They too got a Friday phone call offering reinstatement, but until they get a look at the written details, they're not sure what to think.
"Not a lot has really happened," said Edward Kossman III, general manager of the family-run business, which opened its doors as a GM dealership in 1927. "I really don't know what to expect. I would assume there are probably some stipulations in there to get Cadillac back, but anything would be an assumption right now."
Like M&M, Kossman's was slated for a "partial" wind-down: The dealership carries GM's Buick, Chevrolet, GMC, and Cadillac brands currently, and is slated to lose only its Cadillac license.
But for M&M Auto, losing one brand would be a tough blow. The company used to offer three GM lines: Pontiac, Buick and Cadillac. Pontiac died last year when GM decided to discontinue the brand. If the Cadillac franchise also goes, Braunstein isn't optimistic about his dealership's future.
End of the line
"It is virtually impossible to be profitable as a standalone Buick dealership, especially in this economy, when our business model and the corresponding expenses were built including revenues from sales of Cadillac and Pontiac vehicles," he said.For some shuttered GM dealers, there will be no call or letter. Jim Brown owns around 20 auto dealerships in the Cleveland area. He got a termination notice in May for two of his Cadillac franchises -- and chose not to file for arbitration.
"I was thinking, 'Why would they take it away and then give it back?'" Brown said. "I have been selling GM cars for 43 years and my feeling was, if they didn't want me, they didn't want me."
But when Brown heard last week of the 661 shuttered GM dealers getting a reprieve, he thought maybe he had made the wrong move. On Monday, Brown called GM to see if he could rescind his wind-down plan and try to get one of his two Cadillac franchises back. They told him no.
"The fact that I did not submit arbitration eliminated me from the possibility of getting it back," said Brown. "So this is really totally my mistake by not seeking arbitration."
J.L. Freed & Sons, a family-run dealership based in Landsdale, Pa., is also moving ahead with its "life without GM" plans. The family has had a Cadillac dealership since 1926, but chose not to fight their GM termination notice. The dealership is in the process of transitioning to a Honda franchise.
Chrysler dealers await arbitration
"When this happened, we were upset about it because of the way it was done, but it wasn't going to be our intent to appeal it," said co-owner Suzanne Franks.GM's reinstatement plan will let it avoid arbitration with more than half of the dealers who sought it. That played a role in the decision: "It was going to be virtually impossible to take all 1,100 cases and arbitrate in a 120-day period," Susan Docherty, GM's vice president of marketing for GM, said Friday.
But Chrysler says it has no plans for a similar move. Of the 789 Chrysler dealerships chosen in May for termination, 418 dealerships applied for arbitration. Just under 400 are still in the running. Congress set a mid-June deadline for the arbitration hearings to wrap up.
"Chrysler Group has less than 400 dealers moving forward with the arbitration process and expects arbitration hearings to commence within the month," a Chrysler representative said via e-mail. "The company looks forward to the expeditious completion of the arbitration process."
But some Chrysler dealers working through the lengthy -- and expensive -- arbitration process wish Chrysler would take a hint.
"Hopefully, Chrysler will follow GM's lead and reinstate the dealers," said Jeff Duvall, who had his dealership in Clayton, Ga., closed down. So far, Duvall has spent $8,000 on arbitration, and his costs are still mounting.
"It would be in everybody's best interest [to settle]," Duvall said. "It would save Chrysler and the dealers both a lot of money."