Saved GM dealers ready to start selling again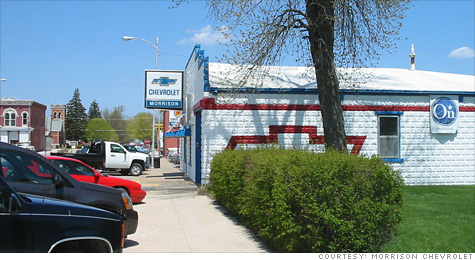 NEW YORK (CNNMoney.com) -- The 661 auto dealers General Motors is offering to reinstate received letters this week with the deal terms -- and some breathed sighs of relief. They'll be able to get their franchises back without a pricey and protracted battle.
"We are very excited, our employees are very excited," said Jeff Baskin, co-owner and general manager of Brown-Daub Buick Chevrolet in Wind Gap, Pa. He plans to sign the contract and get his Buick line, which GM targeted last year for termination, back to business.
Jerry Vitzthum, the owner of Morrison Chevrolet in Stuart, Iowa, is also eager to start selling new GM cars again. His GM dealership, in business for eight decades, got its walking papers in May. Vitzthum filed an appeal and planned to arbitrate the decision, but GM's reinstatement offer spares him more months of uncertainty.
"You don't sleep at night, you think about it all night long: what is the future of my business? What is the future of my town?" Vitzthum said. "I am one of those cornball ones who cares about my community."
GM's conditions: Both GM and Chrysler used their bankruptcy proceedings last year to cull their dealer networks, sending thousands of shutdown notices.
A firestorm of protests erupted, and Congress waded in with legislation ordering the automakers to enter arbitration with dealers who wished to appeal their termination. All of the 661 dealers GM offered a reprieve had begun that process. If they sign the reinstatement letter, their waive their arbitration rights.
The "letter of reinstatement" eligible dealers received this week doesn't answer every question about what comes next. Auto franchisors typically issue requirements for their dealers, including rules about their lot appearance, advertising spending and cash cushion.
The intent letters laid out some basics, but Vitzthum expects GM to come back and levy further mandates. But that's fine with him: Complying with the terms will still cost less than an arbitration fight, he expects.
"There are some general requirements, but nothing earth shattering," said Bryan Gault, the dealer principal and co-owner at Brown-Daub. "They do have capital requirements, which is reasonable. Everything that was in this letter was reasonable -- nothing in this letter was anything that in 60 days you are not going to be able to meet."
The capital requirements are specific for each dealership, based on their inventory, employee roster and facility size. Other guidelines were more general. Dealerships will have to comply with GM's Essential Brand Elements (EBE) program, which maps out general guidelines for showrooms.
"Really, it is a non-event for us," said Don Alexander, owner of Alexander Chevrolet Buick GMC Cadillac in Murfreesboro, Tenn. His dealership easily meets the facility and capital requirements GM outlined. "We should be ready to go here soon."
Dealers in limbo: Other dealers are still fighting for their franchises' lives. Around 1,100 GM dealers slated for shutdown filed to arbitrate their cases, and more than 400 not offered reinstatement remain on that path.
Meanwhile, Chrysler also has roughly 400 dealers scheduled for arbitration -- and it's shown little interest in following GM's lead and settling cases in advance. Arbitration hearings for both dealers are scheduled to begin shortly and continue through mid-June.
GM's chosen dealers say they're happy to have dodged the bullet. Alexander already spent several thousand dollars preparing his case, but he expected the costs to go much higher for attorney fees, travel and preparation time.
"We felt like we would be spending a hundred thousand dollars," he said. "It was a relief because arbitration would take not only a lot of money but a lot of our time, and take the time away from selling cars."
Vitzthum is relieved Stuart's residents won't have to go further afield to find a dealer for their car purchases and repairs.
"These people have supported it for 80 years," he said. "They deserve a little bit of consideration."