Find out what your buyers are thinking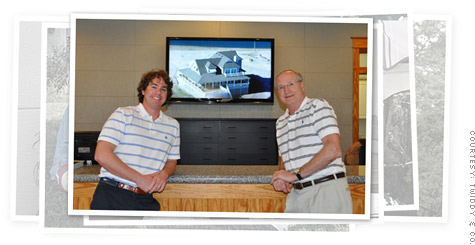 (CNNMoney.com) -- It's business owner's worst nightmare: Customers walk in the door and walk right back out.
For Twiddy & Company, a 95-person firm that connects vacation renters with beach houses in North Carolina's Outer Banks, that meant customers clicking on their Web site and promptly abandoning it. "One day we said, 'Our bounce rates are high. People are exiting our site, and that's a metric expression of frustration,'" says Ross Twiddy, the company's marketing director. "Wouldn't it be nice to know what they were thinking?"
Eager for answers, Twiddy & Co. deployed a customer feedback tool from Kampyle in November. Forget about static surveys and mind-numbing polls. These days, online analytics solutions from vendors such as Kampyle, Get Satisfaction, and UserVoice are helping small businesses gain a high-level understanding of their customers' online experience.
In the case of Twiddy & Co., by clicking on a carefully placed 'T' icon in the corner of specific Web pages, visitors are guided to a customized feedback form that solicits comments on everything from load times and search capabilities to operating system compatibility and layout preferences. Twiddy can view customer feedback individually or by categories such as country, timeframe or feature. Responses are measured against patterns such as total page views and conversion rates.
Although Twiddy had long relied on Google Analytics to capture bounce and click-through rates, Kampyle instantly revealed some startling shortcomings. For instance, because visitors could only search vacation properties based on limited criteria such as "location" and "ocean view," customers complained that the site was frequently spitting out "no search results" despite an abundance of properties to choose from.
"It was sickening how many times we were turning down business in a day," says Jon Summerton, a company vice president.
In response, Twiddy & Co. expanded its search criteria to include variables such as WiFi availability and semi-oceanfront views. Other tweaks to the site include adding a button that provides an aerial view of a property so that visitors can see its proximity to the beach. And because many of Twiddy's customers are willing to spend as much as $26,000 a week on a rental property, the company introduced a wider assortment of full-size photos and video clips of property interiors and exteriors.
At a cost of $499 a month, Kampyle is fast earning its keep. Twiddy's visitors now spend 8% more time browsing properties, and the site has logged a 20% increase in page views per visit.
What's more, 30% of visitors who offer customer feedback wind up booking vacation properties with the company. Because customers include their e-mail addresses when responding, 27% of Twiddy and Co.'s e-mail marketing leads now stem from Kampyle.
"Just the fact that we're listening to our customers has some traction, because we have a real high look-to-book ratio," Summerton says.
Delivered as a hosted software service, Kampyle doesn't require the installation of high-priced hardware or a dedicated IT manager to oversee maintenance tasks -- good news for resource-strapped small businesses. But the technology can be time-intensive. Twiddy's customer service representatives spend nearly three hours a day responding to visitors' queries. Categorizing and analyzing feedback consumes another 40 hours a week.
Even then, Howard Kiewe, an Info-Tech Research Group analyst, warns that there are no guarantees site changes will convert occasional visitors into loyal customers.
"Customer feedback tools are good at collecting end-users' opinions, but there's a big difference between opinion and behavior," he says.
Maybe so, but if Twiddy and Summerton have their way, a little Southern hospitality will help close the gap.