Axed dealer tally: Chrysler 3, dealers 1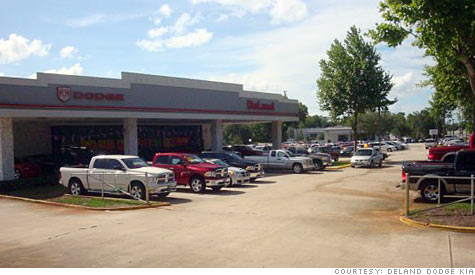 NEW YORK (CNNMoney.com) -- One Chrysler dealership has taken the Detroit giant to the mat and won. But right now, the record doesn't look good for terminated franchises: Of the four Chrysler dealerships that have completed their arbitration proceedings, three lost.
Gib Dannehower, the owner of Deland Dodge Kia in Deland, Fla., is the sole victor so far. He got word early last week from his attorney that the arbitrator ruled to reinstate his shuttered Dodge franchise.
"Out of the 789 dealers terminated, clearly there had to be human-error factor," Dannehower said. "I think the judge realized that a mistake was made in our termination. We were the leading volume dealer in the market selling new and used cars in the town of Deland."
Chrysler sent termination notices to hundreds of its dealers in May 2009, giving them each just 30 days to cease operations. Around 400 chose to appeal that decision. Chrysler opted to reinstate 50 of them and is working through arbitration hearings with the rest. Some dealers have settled or quit; Chrysler says its current arbitration caseload involves less than 250 dealerships.
When he lost his Dodge franchise last year, Dannehower had to lay off seven employees. Now he plans to hire back Dodge technicians. But Dannehower doesn't know how soon he'll be able to order new vehicles from Chrysler -- he's still waiting for the "letter of intent" spelling out the terms of his new franchise contract.
Chrysler is less than pleased to have to reverse its earlier stance on the Deland dealership.
"This decision undermines the federal bankruptcy court order that affirmed the rationalization process used to reject this dealership agreement," the company said in a statement.
By law, Chrysler has to respect the arbitration rulings. "The terms of the binding arbitration require Chrysler Group to issue a letter of intent to Deland Dodge," Chrysler said. "We will follow this statutory requirement."
The axe stays down: Chrysler won out on the other three dealer arbitration cases that have been tried so far. Joe Kidd Dodge in Cincinnati, Ohio; Venice Nissan Dodge in Venice, Fla.; and Bob Taylor Jeep in Naples, Fla. were all denied reinstatement.
"We did a good job for Chrysler," said Sandra Taylor, co-owner of Bob Taylor Jeep. "I don't understand the ruling, but it is what it is." Taylor will remain in the car business operating a Chevrolet franchise, a General Motors brand.
Chrysler stood behind the arbitration verdicts.
"Chrysler Group is pleased the arbitrator ... agreed with the difficult dealer decisions made during the bankruptcy proceedings," the company said in a prepared statement. "The company not only employed sound business judgment but is acting in the greater public interest by protecting the dealer network that was created as a result of the bankruptcy proceedings."
A rushed process: All three Florida dealerships cases -- the one that won and the two that didn't -- were tried simultaneously, between April 20 and April 23, and were represented by the same attorney, Mark Ornstein, a partner at the Orlando law firm Killgore, Pearlman, Stamp, Ornstein, Squires.
Ornstein said he was glad to see Deland Dodge reinstated, but disagreed with the ruling for his other two dealers.
Trying all three cases at once "was extraordinarily difficult to do," he said.
The process is happening under a tight deadline: Congress ordered all of the arbitration cases to be completed by June 15. It allowed for a 30-day extension though mid-July, but that still leaves the auto dealers and arbitrators racing to get through hundreds of cases in a matter of weeks.
"I don't think anybody was thrilled [with the rush], but we were given an order and we complied," Ornstein said. "The facts were different for each dealer, they were about different locations, and all three dealers had a unique story to tell. It was very hard to tell three unique stories simultaneously."
The story isn't completely over for Venice Dodge: Ornstein plans to file a motion for clarification on the ruling because he believes that the arbitrator was confused. He says the arbitrator erroneously thought that the owner also owned Venice Chrysler, a General Motors franchise in the same city, and used that as evidence that the dealer wasn't truly devoted to the manufacturer.
Unlike with court rulings, "there is no appellate process" on arbitration, said Ornstein. However, "the arbitrator can disregard or correct her ruling ... we are at least going to point out to her the mistake."
General Motors also used its bankruptcy proceedings last May to take a whack at its dealer count. GM gave wind-down notices to 2,000 dealerships, and around 1,100 dealers appealed. GM later offered to reinstate 666 of the dealers, in part to avoid an overwhelming arbitration caseload.
Of the remaining 400 or so dealerships pursuing arbitration, GM says the first hearings started last week. The company declined to offer any information on how they're progressing.