NYC sinks $300,000 into tech startup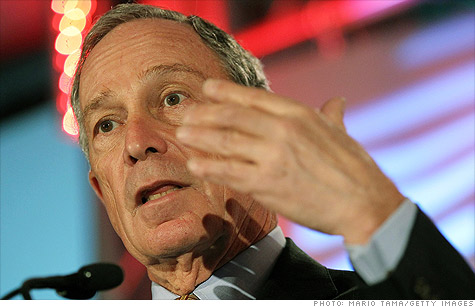 NEW YORK (CNNMoney.com) -- Shove over, venture capitalists, there's a new tech investor in town: New York City.
Mayor Michael Bloomberg made a surprise appearance Tuesday at the TechCrunch Disrupt conference to unveil the debut investment from the NYC's new Entrepreneurial Fund, which will take stakes in promising technology startups. The fund's first recipient is My City Way, which creates location-aware city guides with info on nearby restaurants, landmarks, transit and other services.
My City Way will get a $300,000 investment in return for an undisclosed equity stake in the company. With the cash, the startup plans shift its offices from New Jersey to New York City, hire two more employees, and fund its expansion into new cities, said Sonpreet Bhatia, My City Way's co-founder. She declined to comment on how much capital his company has raised so far.
My City Way launched just five months ago, but it already has apps out for seven cities, including London, New York and San Francisco. It hopes to expand into 40 more cities over the next four months and add a BlackBerry app to its current iPhone/iPad/Android lineup, Bhatia said.
Meanwhile, Bloomberg -- who knows a few things about building businesses -- pledged to give Silicon Valley a run for its money on cultivating tech startups.
"If you have an idea, New York City is the city for you," he told the crowd at TechCrunch's conference. "In New York City, we understand that innovation drives economic growth. We're nurturing information technology."
The new NYC Entrepreneurial Fund has $22 million at its disposal. By way of the New York City Economic Development Corporation, the city contributed $3 million to create the fund and partnered with local venture capital firm FirstMark Capital, which plans to put in up to $19 million more. FirstMark Captial will choose, manage and monitor the investments, but New York has veto rights over any of FirstMark's suggested investments.
The fund's investments will typically run from $50,000 to $1 million, FirstMark said. Interested entrepreneurs can apply online for consideration.