BP hires the unemployed for clean-up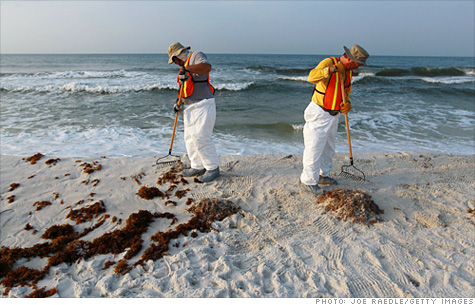 NEW YORK (CNNMoney.com) -- Embattled oil giant BP is amassing a small army of 4,500 unemployed workers in Alabama, Mississippi, and Florida to be ready on short notice to clean oil off the Gulf coast beaches.
The workers will rake and shovel debris, operate front-end loaders or power washers to clean rocks and beach areas, wipe and wash oil-covered items, and take away trash.
Beach cleaners will be paid $18 an hour and supervisors $32 an hour, according to Deb Witmer, BP public affairs officer.
BP (BP) aims to have at least 1,500 workers in Mississippi, 1,000 in Alabama and 1,600 in Florida, Witmer said.
The first 400 workers were deployed to Florida and Alabama beaches on Saturday, according to the Joint Information Center in Louisiana, a government and industry group coordinating spill crisis efforts.
"There have been thousands of applicants who have come forward for these positions," said Robby Cunningham, spokesman for the Florida Agency for Workforce Innovation. "This event is still unfolding and as we need to employ more people to clean up the beaches, we are prepared to do so."
The new BP hires will go through between 4 and 40 hours of training, depending on the level of work they will do and the type of machinery they will operate.
Workers, who will be paid for their training, will be on-call and waiting for BP to call.
The company will "try to give them a 12-to-18-hour notification," said Witmer. "In some cases it is less notification. We are asking them to remain flexible and be ready to go to work."
The program was created as a partnership with the unemployment offices of Alabama, Mississippi, and Florida: All of the hires have filed for unemployment with their state office, according to Witmer.
Jobless abound: Even before the busted BP well sent hundreds of thousands of gallons of oil spewing into the Gulf of Mexico, the region's economy was stymied by double-digit unemployment.
In April, Alabama's unemployment rate held at 11% for the second month in a row; Mississippi's unemployment rate was 11.5%. More than 1 million workers were out of a job in Florida, which topped the region with an unemployment rate of 12%.
In fact, more people are looking for work than BP plans to hire.
For example, even before the clean-up worker program kicked off, Alabama workers could fill out an online job application for potential oil clean up jobs.
Applicants needed to a complete a four-hour training session and have a complete medical examination, including drug screening, according to a statement from the Alabama Career Center System. Applications were initially solicited on May 12 and by May 18, Alabama had already received more than 2,000 applications.
"Due to the overwhelming number of applicants responding to a call for oil spill cleanup jobs, the Alabama Career Center System announced today that there is no longer any need for individuals to continue coming to the Mobile career centers to sign up for these possible positions," a statement said.
Waiting, waiting on BP: While the army of 4,500 beach cleaners wait for BP's call to work, tens of thousands of paralyzed Gulf coast workers are waiting for BP to cut them a check for lost income.
As of Monday, BP had received 37,000 claims for compensation, but it had only made payments -- and in some cases only partial payments -- on 18,000 of those requests, totaling approximately $48 million in payouts.
Those checks aren't getting out fast enough: National Incident Commander Admiral Thad Allen acknowledged Monday that the process of getting payments out to businesses "may be a little cumbersome right now."
Have you applied for a job cleaning beaches for BP? Are you waiting on a claim check from BP? E-mail your story to catherine.clifford@turner.com and you could be part of an upcoming article. For the CNNMoney.comcomment policy, click here.