Obama: BP must pay claims faster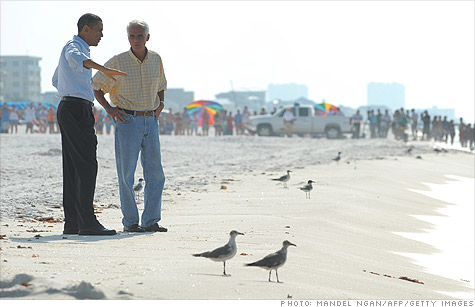 NEW YORK (CNNMoney.com) -- Nobody knows how much damage the BP oil spill will ultimately cause, but one thing's for sure: BP will have to pay for everything.
For individuals and businesses eligible to file claims, the process has become one monster of a headache. But President Obama is vowing to make BP improve the process.
BP can't cut checks fast enough, leaving those who depend on them scrambling. For a region that was shouldering double digit unemployment even before the oil spill ravaged the Gulf, there isn't a lot of wiggle room to wait around for checks to come -- or not come -- in the mail.
Here is a quick rundown of the issues involved.
BP is processing a lot of claims
BP has paid out $63 million in more than 25,000 payments, according to a statement from the company released Tuesday. That means that just about half of the 51,000 claims that had been submitted by Monday have been paid.
BP says it is "committed to paying all legitimate claims," including the following: property damage, loss of profit and earning capacity, natural resource damage, clean-up costs, cost of increased public service and a net loss of government revenue. BP will consider claims for bodily injury.
The amount of money BP has spent paying out claims to victims is a very small percentage of what the clean-up efforts overall are costing the London-based oil giant. As of Monday, the total cost of the response was approximately $1.6 billion.
Claims get paid, but slowly
For individuals out of a job because of the oil spill, documenting lost wages is pretty clear with a W2 form. Lost wages and income can be filed at one of the 25 claims offices set up throughout the Gulf region or over the phone.
Payments for businesses have proven more cumbersome than for individuals, but big businesses caught a break on Tuesday. The embattled oil giant said that it has accelerated large commercial loss payments. As of Tuesday, BP made payments on 337 large loss claims totaling $16 million, which averages out to almost $47,500 per payment. By the end of the week, BP said it expects to have paid out a total of $85 million in claims.
BP has approved initial payments for 90% of the commercial large loss claims that have been filed thus far. Rather than making payments based on the previous month's losses, the new process for large commercial claims pays on an advance basis, giving businesses the cash they need to stay current on bill payments.
Proving "legitimate" claims is tough
BP has committed to paying all "legitimate" claims, but determining what is a "legitimate" claim is pretty complicated and slow.
Businesses have to document the nature of and amount of their loss, which can involve a bevy of tax records, trip tickets, deposit slips, boat registrations and copies of current fishing licenses, depending on the business. The quantity of documentation is a hassle, but proving to BP that the oil spill caused the slowdown -- not the downturn in the economy -- can be a subjective challenge.
Louisiana state officials have requested -- repeatedly -- that BP make public its claims database to understand what is holding up the checks. Alabama has even sent National Guard troops to help businesses prepare claims and speed up the process.
Obama pledges to be a "fierce advocate"
This week, President Obama was in the Gulf region for the fourth time since April, bringing attention to the claims issue. In Pensacola, Fla., the president visited Fish Sandwich Snack Bar where owner Mike Pinzone commented on how public perceptions have hit business hard, even though oil has yet to wash up on the beach there.
"I'll be meeting with BP chairmen and officials tomorrow to discuss the stories that I've heard from people like Mike," said Obama. "Mike has put in all the paperwork. In fact, he has documented more than amply the fact that his business has been deeply affected by this crisis, but he hasn't received the compensation that he needs to make sure that his business stays open."
Politicians from the President on down to local parish leaders have been raising pitchforks about the cumbersome claims process.
"I told Mike -- and I want every business person here in Florida to know -- that I will be their fierce advocate in making sure that they are getting the compensation they need to get through what is going to be a difficult season," said Obama.