Florida bets on Feinberg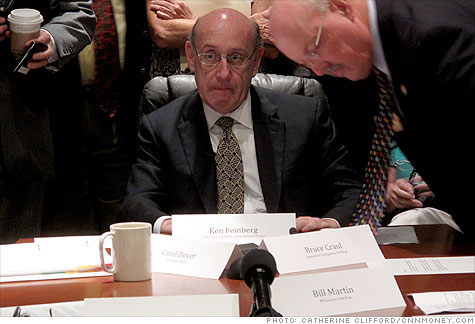 DESTIN, Fla. (CNNMoney.com) -- Business owners in Florida believe Kenneth Feinberg will manage the $20 billion oil spill claims fund fairly and efficiently, but because of the complicated nature of their claims, they're anxious about how much they'll get paid.
On the 100th day since the oil started spewing, Feinberg spoke to a jam packed crowd of business owners and industry leaders in Destin, Fla.
The oil spill czar is making sure area residents know him and the claims process. "I want to explain how this works, try and maybe cut through the emotional anger so that people will focus reasonably, not emotionally, on how the program can benefit them," Feinberg told CNNMoney.com on Wednesday.
Feinberg has said that he won't be able to pay every claim. There will be limits. "We can agree or disagree as to what constitutes eligibility," he said. But he says he won't give them the run around. "People want you to level with them."
Carol Dover, the president and CEO of the Florida Restaurant and Lodging Association, attended the discussion. She knows that tourism based industries might face Feinberg roadblocks. "I think he is going to be pretty strict on validating their claims," she said, but she's confident Feinberg will do his best to help. "If you can prove it, then I think he is going to be very fair."
Part-time CFO and consultant for Florida-based Galati Yacht Sales, Mike Eiffert, said he thinks Feinberg is bringing clarity during a very murky time. "I am impressed with his track record," said Eiffert. "He comes across as very honest. He is telling you how he sees the world and how he is going to approach this."
But some in the audience were tempering their hope. An accountant who has already helped clients file claims wants to know what all this will mean for them. "I am here trying to figure out what is going to happen when Mr. Feinberg's group takes over," said David Tipton, Certified Public Accountant with Tipton, Marler, Garner &Chastain accounting group, based out of Panama City Beach, Fla.
Feinberg has repeatedly said that claimants who have already filed will not need to submit and new claim, but filers are chomping on the bit to know more. "It sounds like he is going to have the right idea," said Tipton. "We will have to wait and see how it plays out in the end."
Even on pristine beaches, the perception of oiled-up beaches and contaminated seafood is hitting the bottom line hard.
Determining eligibility for claims for lost profit and lost income where there is no oil on the beach is complicated, and Feinberg doesn't try to say otherwise. "It is a lot easier to deal with fishermen and fish processors and shrimpers and oyster harvesters than it is to deal with tourism, where everybody has been adversely impacted not by oil on the beach but by the perception that there is oil on the beach," said Feinberg. "And that is going to be a problem, no question."
There are no hard and fast rules. For those tricky claims, Feinberg has three criteria by which to asses the eligibility of a claim: proximity to the beach, dependence on natural resources (such as fish, beaches, sightseeing) and the nature of the industry.
But in the end, Feinberg stresses he'll have the final word.
"I'll make that decision," he said. "And once I make that decision for one motel or restaurant that is not on the beach, hopefully that will be a decision that will then be a precedent to guide other, similarly situated claims."