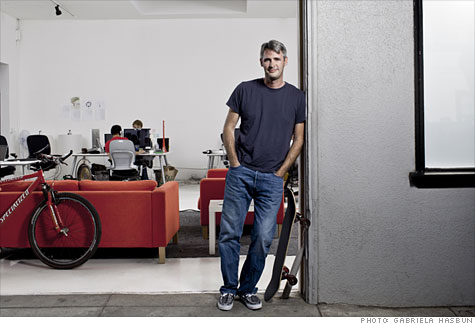 McCue at Flipboard's Palo Alto offices
FORTUNE -- Mike McCue has spent a lifetime -- he skipped college and went to work for IBM (IBM, Fortune 500) straight out of high school -- making technology do things the world might not be ready to embrace. In 1989, years before the web took off, he founded Paper Software, which evolved into a browser company. It was acquired by Netscape. In 1999 he launched TellMe, a seemingly futuristic voice-recognition service that lets consumers verbally ask a question (instead of say, typing in a search query) of their smartphone. The service then searches a huge database and delivers the answers in the form of a text message or audio reply. McCue's system, a pioneering combination of supercomputing and the telephone, became the standard for "voice browsers." He sold that company to Microsoft (MSFT, Fortune 500) in 2007 for an estimated $800 million.
Now McCue, 43, is at it again with Flipboard, a "social magazine" that pulls together content from the social web -- Facebook status updates, tweets, and the like -- and repackages it as a beautiful folio one can browse on tablet computers. Only this time McCue and his investors hope that Flipboard is hitting the market at just the right time. "It's been 15 years since the last big shift on the web -- the browser," McCue says. "The shift we are witnessing today, this flood of social media, is changing the web again. How we use the web -- and how it looks -- is going to be completely different in five years than it is today."
Flipboard is getting a big assist from Apple's iPad, which has proved to be a big hit. (Apple says it has sold 3.2 million of the devices since its launch earlier this year.) The iPad seems the ideal platform for McCue's vision: It renders photographs, video, and other content beautifully, and the experience is totally immersive.
Flipboard owes Apple (AAPL, Fortune 500) a debt in more ways than one. Its office in downtown Palo Alto is entirely white. MacBook Pros, iPads, and other Apple hardware are abundant. Flipboard investor (and TellMe backer) John Doerr of Kleiner Perkins happened to stop by recently with none other than Apple CEO Steve Jobs to check out what McCue is up to in his new venture. "Steve loved the office," McCue says, grinning. "It reminded him of an Apple store."
Like Jobs, McCue has aspired to make technology simple, or at least mask its complexity. Clicking on items within a web browser rather than entering commands, or speaking into a phone and getting an answer, makes technology approachable and ultimately more useful. Similarly, Flipboard takes the massively growing social web and makes it more accessible.
McCue is quick to dispel the notion that Flipboard itself is the next phase of the web. Rather, it is a new kind of browser that harnesses the technologies and trends that McCue sees as most important to the web's future. It is a move away from the search-box paradigm of the past decade (and that Google dominates) toward a world of information that is curated and presented by your friends, colleagues, and favorite media sources. You don't search for things to consume; things find you, wherever you are.
Flipboard's launch was a hit. Eager iPad owners overwhelmed the startup's servers the first day the free app became available. But it has also caused some content owners to be nervous. News Corp.'s (NWSA, Fortune 500) head of digital, Jon Miller, applauds the software but wonders whether it is yet another way for technology companies -- think Google News -- to benefit from content they have not paid for. McCue says the two companies have been discussing how they can work together.
Still, if a user tweets a link to a Fortune story, say, an excerpt of the online version will show up in his followers' Flipboard free app. Flipboard plans to sell advertising in its social mag; what happens if an ad appears adjacent to that Fortune story?
McCue argues that the content Flipboard pulls in and renders resides squarely within fair-use regulations. (Media owners can also ask that their products be limited on or excluded from Flipboard.) But protests from media companies suggest Flipboard may have some issues to address before it can really make money on the service. Is McCue early to the party once again? Maybe, but it's right where he likes to be.