Small business for Congress!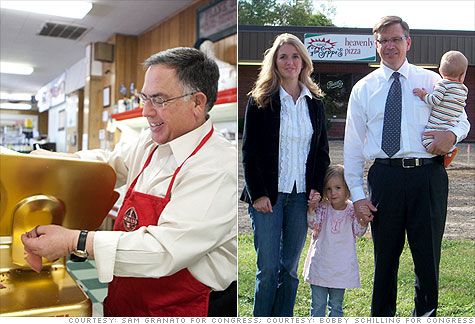 NEW YORK (CNNMoney.com) -- A lot of people are mad as hell at Washington right now. The recession is officially over, but it doesn't feel over.
That anger could bring a sea change to Washington in November, come midterm Congressional elections. A number of small business owners are running for office for the first time on the back of that anti-Washington sentiment: They want Uncle Sam to get out of the way.
"Small business people are frustrated. They don't feel like Congress, specifically, and the government, generally, gets what they need, especially in a difficult economy," said Jennifer Duffy, senior editor for The Cook Political Report, a non-partisan newsletter that analyzes elections.
Small business owners largely want less regulation and lower taxes, which they say can help them create jobs. And many voters like what small business owner candidates have to say. The message is really "resonating for the obvious reason that unemployment is high and people are feeling insecure," said Duffy.
The National Federation of Independent Businesses, a small business advocacy organization, interviews new Congressional candidates to determine whether to endorse them as small business-friendly or not. Of the 200-plus candidates NFIB has interviewed this year, more than half have had small business experience.
Of course, being a friend of small business is popular right now and a lot of candidates this year are promoting themselves as small business people, even if they aren't currently running a shop or have been working in politics for years. While it's messy to try to tally the exact number, some candidates are attempting to make the jump straight from Main Street to Capitol Hill.
Small business = jobs: Small businesses are credited with creating two-thirds of all new jobs in this country in the last 15 years, according to government estimates. With the unemployment rate stuck near 10%, a recovery on Main Street is seen as a key component to any recovery in the job market. And small business politicians think that knowing how to generate jobs can give them an advantage with voters.
"I hire people and meet the payroll," said Sam Granato, a small business owner and Democratic candidate for Senate in Utah. "The majority of my employees have been with me for 15 to 20 years."
Granato has never run for elected office before: He has been working in a family-run deli since 1974 and took over the business in 1991 when his father passed away. His father, the namesake, started Frank Granato Importing Co. in 1948 and the Italian and Mediterranean deli now has three locations in Utah and employs 45 people.
Granato is selling his practical, can-do attitude on the campaign trail.
"We need problem-solvers. I am a doer and small businessman. That is what I offer, I am not a Washington inside attorney," he said. "They don't want the same old thing in Washington. I offer a breath of fresh air, I have been told, and some hope."
Push for smaller government: Republicans have been campaigning for smaller government as a reaction to the current administration's policies, targeting such hot-button issues as health-care reform, financial regulation, and the possible expiration of the Bush-era tax cuts.
Small business owners often are seen as leaders in the fight against big government.
"When Democrats surge, there tend to be more women candidates, and when Republicans surge, there tend to be more small business owner candidates," said David Wasserman, House Editor for The Cook Political Report, in an e-mail.
One is Bobby Schilling in Moline, Ill. With his wife, Christie, he has owned Saint Giuseppe's Heavenly Pizza, a shop that employs 8 people, for almost 14 years. Schilling has never run for office before, but he is the Republican candidate for a House seat in Illinois.
One of Schilling's goals is to make economic conditions more business-friendly. For example, he would like to lower the corporate tax rate to foster domestic business and attract foreign investors.
Schilling also is cautious about deficit spending. As a small business owner, "you understand Economics 101," said Schilling. "When the business is out of money, you have to be very careful about how you spend."
Schilling says politicians today aren't doing what is good for the country, and feels a sense of urgency to run. "I have been forced to... set my small business aside" he said. "I can bring something to the table that is missing."