$600,000 for iPod watch sets Kickstarter record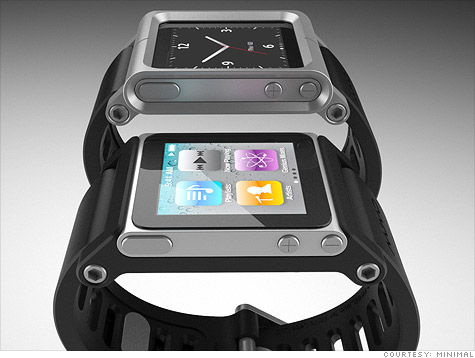 NEW YORK (CNNMoney.com) -- When Scott Wilson posted his idea for an iPod Nano transformed into a wristwatch on crowd-funding website Kickstarter, he hoped to raise $15,000 to bring his invention to life. Two weeks later, he had $600,000 and new record: Wilson's project shattered 20-month-old Kickstarter's previous fundraising tally.
Wilson is a former creative director for Nike (NKE, Fortune 500) who in 2007 launched his own design company, Chicago-based Minimal Inc. The firm's clients include major brands like Nike and Dell. But Wilson always envisioned creating his own product.
The Nano watch lightning-bolt hit him during Steve Jobs' keynote in September introducing the newly redesigned and ultrasmall iPod Nano.
During his speech, Jobs touted the Nano's watch capability, hailing the new gadget as "so small we're able to put a clip on it too, so it's instantly wearable."
Wilson went Apple (AAPL, Fortune 500) one better. Drawing on his past experience designing watches for Nike, Wilson designed a collection of stylish watchbands ready for buyers to load their Nanos into. He offered up two versions: TikTok, which allows users to temporarily snap their iPad Nano into a wrist dock and easily remove it, and LunaTik, which is for customers who want a more permanent iPod watch.
Wilson funded the prototype creation out his own pocket, then posted his pitch on Kickstarter.
"It's a lot easier than going around the country and trying to raise money," Wilson said.
Much easier indeed. Nearly 9,000 fans have already pledged at least $25 to the project, in return for one of the first, straight-off-the-manufacturing-line TikTok watch kits. Wilson expects those shipments to go out by mid January.
Even more valuable to Wilson than the pledged money is the instant customer feedback.
"If you're thinking about doing your own product, Kickstarter is an interesting platform that says, 'Hey, if we put this out there, we'll get validation if people start signing up to buy it,'" he said. "It beats the hell out of a focus group."
Wilson is off to Asia this week to check in on his production and supply chain. After fulfilling his Kickstarter orders, Wilson plans to push forward with a broader marketing and sales campaign around his Nano watches. One day, he'd love to see them in Apple stores. And thanks to Kickstarter, he's already got a proven customer base.
"I've been doing this for 20 years, and e-commerce is tough to get Internet sales," Wilson said.
Wilson's venture blew past Kickstarter's previous fundraising record of $346,000, set by filmmaker Steve Taylor for his planned movie Blue Like Jazz. The film is now in production, will a fall 2011 release date.
Platforms like Kickstarter give smaller companies "instant global validation," Wilson said. He also likes the bond it creates with customers, who get updates along the way as the projects they've backed go from vision to reality.
On Wilson's project page, one commenter wrote, "So happy to be a part of this project and that we are kept informed of all the stages of development. This is such a unique and awesome opportunity."
"People love to be involved in the process and know the story behind the product," Wilson said.