Apple introduces new Apple TV and iPods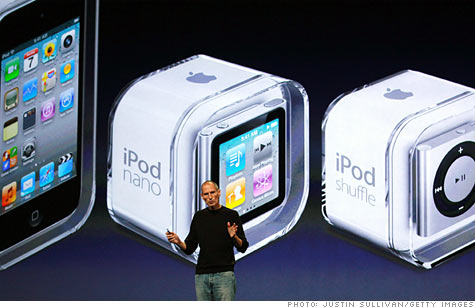 NEW YORK (CNNMoney.com) -- Apple CEO Steve Jobs introduced a revamped Apple TV device, a new iPod line, an iTunes social network and updates to the operating system for the iPhone, iPod Touch and the iPad at Apple's highly anticipated product launch event on Wednesday.
Apple TV, which hasn't sold well and which Jobs has referred to as a "hobby," got a major revision. The new device is a quarter the size of the current model, fits in the palm of your hand, and sells for just $99 -- much less than the $229 of the current model. (Read Fortune.com's live blog of the event here.)
It's so small because Apple ditched the prior device's video purchase model, dramatically reducing Apple TV's storage requirements. The gadget will now instead be for movie and TV show rentals. Movies can be rented the same day the DVDs go on sale for $4.99, and TV shows are available for 99 cents each.
"Our users want Hollywood movies and TV shows, cheaper; they don't want amateur hour," Jobs said. "They don't want another computer. They don't want to manage storage. They want it to be silent, cool and small."
Jobs promised that the device would have the largest library of movies in the world available for rental on the first day of purchase. As for TV shows, Apple was able to strike a deal with Walt Disney Co.'s (DIS, Fortune 500) ABC and News Corp.'s (NWS, Fortune 500) Fox for TV shows, but Jobs said he believes more networks will soon follow suit.
"We think the rest of the studios will see the light and get on board pretty fast," Jobs said.
The new Apple TV will also be able to connect to users' Netflix (NFLX) accounts, YouTube, and Flickr. The device can link to users' home computers as well, so they can play their iTunes music and video libraries over Wi-Fi.
New iPods
The iPod line got its annual upgrade as well. The flashiest new iPod was the iPod Touch, which starts at $229 and has become the best-selling iPod. The new iPod Touch is thinner and adds many of the new iPhone 4's features, including a front and rear facing camera, "Retina Display," and FaceTime, which allows users to make video calls over Wi-Fi.
The iPod Touch is also the best selling portable game player, outselling Nintendo and Sony's portable game players combined, Jobs said.
The $149 iPod Nano also got a significant upgrade. The tiny device lost its click wheel and will feature a multi-touch screen and a clip on the back. Apple made it almost half the size of the current iPod Nano model and 42% lighter.
Apple went back to the past for its newest $49 iPod Shuffle: After users lamented loss of the buttons Apple took away on last year's model, the company is putting them back on the new one. The new Shuffle keeps the features of the latest one, including the ability to play custom playlists.
The only iPod that didn't get an update is the iPod Classic. All of the new iPods will be available next week.
ITunes 10
Apple also unveiled iTunes 10, complete with a new logo. Jobs said that since iTunes sales have long eclipsed CD sales, it was appropriate that the new icon ditch the CD image. It now features just a blue circle and a musical note.
ITunes 10, which launches on Wednesday, has a slightly new interface, with album art now available to view in list mode. But the major new feature was "Ping," a social network based right in iTunes. People can follow both friends and artists to comment on songs, albums and bands. They can also post videos, and find concert dates.
As always, privacy is a concern with new social networks, but Jobs was quick to say that the settings are "super-simple to set up," and the feature "is as public or private as you like."
The iTunes update didn't include the cloud-based service that many had hoped for. Apple (AAPL, Fortune 500) is building a data center in North Carolina, which many believe will be used to give customers the ability to access their iTunes library anywhere.
IOS 4.1
Jobs unveiled bug fixes and minor performance upgrades for Apple's mobile device operating system. Jobs said that the new iOS 4.1 offers improved photo-taking capabilities, the ability to upload high definition video over Wi-Fi and a new collaborative game playing community called Game Center. The new OS will be available for download in November.
The next update, iOS 4.2, was also previewed. It will feature wireless printing for the iPad and the ability to connect an iPad to Apple TV devices.
Jobs said that 120 million devices with iOS have shipped, dating back to the original iPhone in 2007. Apple is activating 230,000 iOS devices a day, including the iPad, iPhone 4, iPhone 3GS and the iPod Touch. There are now 250,000 apps in the App Store, including 25,000 iPad apps.