Pizza shop owner gets a taste of Congress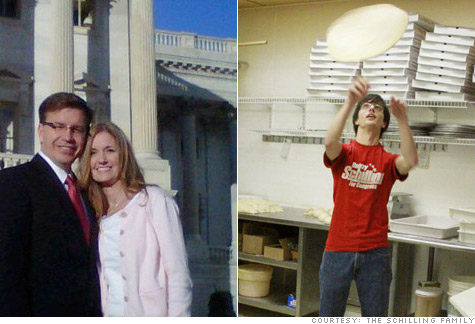 NEW YORK (CNNMoney.com) -- Bobby Schilling has owned Saint Giuseppe's Heavenly Pizza in Moline, Ill., for 14 years now, but a couple years back, he asked his son Aaron to take over the business. Schilling, a complete newbie to politics, wanted to run for Congress.
And he did. And he won. Schilling, 46, is one of a handful of small business owners that won a seat in Congress this year. Almost all of them are Republican. They rode in on a wave of anti-Washington sentiment that put a priority on fresh blood.
Schilling says his calling is "to raise a family and run a small business," but he was inspired to run for the House seat to better the lives of his children and future grandchildren.
He hopes to push for laws that will help small-business owners like him, such as full repeal of a hated IRS rule that will require businesses to issue 1099 tax forms in many more cases, he says, creating a massive paperwork burden. Schilling likes the "limited government, less taxes" motto of the Tea Party movement, he says, and will look into joining their caucus in the House.
Schilling will be sworn in with the rest of the 112th Congress this January to represent the 17th district of Illinois -- a meandering district that runs up the west side of the state. He sees his new role as a form of public service: "It is going to be a sacrifice," he says.
It's already shaken up the family business. His 21-year-old son Aaron, the second-oldest of 10 kids in the family, has been running the pizza shop since the campaign started two years ago. Aaron isn't currently in school, but he's applying to programs and is interested in pursuing photography and acting. He isn't sure who would run the business if he goes back to school, though.
"This isn't my thing, but the reason I did this was so that my Dad could run," he said. "I did it for my Dad, for my country, and for God."
In the meantime, Bobby may swoop in to sign a few checks now and again, but otherwise, Aaron is in charge: "I hire people, I fire people, I make the orders, I do about everything."
Aaron starts making dough when he comes in around 10 a.m. each day. The shop makes over 100 pizzas daily, and everything is homemade, including the sauce and sausage. The veggies are chopped fresh on site. Aaron tries to leave the shop between 5 p.m. and 6 p.m. each night, but he's often called back to lend extra hands during a busy dinner rush.
His father, meanwhile, is learning his way around the halls of Capitol Hill. Bobby is particularly jazzed about his new office: Room 507 in Cannon House Office Building, the oldest congressional office building. "I could have gotten a bigger office space in a newer building, but I wanted an office where I can look over and see the Capitol," Schilling said.
To get to his office is a bit of a challenge. You have to take one elevator to the 4th floor, get off and take a second elevator to the 5th floor.
Navigating the maze of hallways in D.C. is the least of Schilling's challenges. His first round of orientation in late November was a "whirlwind," he said. All the new members of Congress got a crash course in the basics of work on the Hill, including how to comply with Congressional ethics standards, manage your payroll and budget, and cast a vote.
"I took a lot of notes," said Bobby. He was issued a government ID, computer and cell phone as well. The phone comes with a strict warning that it's to be used only for work related to Congress. So Schilling now has two phones: one for personal calls and another for official business.
Schilling will be traveling to D.C. on Sunday nights and back home to Moline -- a six-plus-hour trip that involves a two- to three-hour layover in Chicago -- on Thursdays to be with his wife, Christie, and the kids.
He still needs to work out where exactly he'll spend the four nights a week he'll be in D.C. Some freshmen sleep in their offices and shower in the gym. He'd prefer to rent an apartment, but one bedrooms run about $1,500 to $2,500 a month downtown. Schilling will be earning a $174,000 salary as a Representative, but like the budget-conscious small business owner he is, Schilling hopes to find a like-minded new Congressperson he can split a 2-bedroom with and save on rent.
Schilling is excited about the new gig. Before arriving in D.C., he assumed that Washington power players would seem "better than me or higher up than me," he said. But he's been reassured to find that politicians "are regular people," he said. "What an awesome country we live in where a guy who runs a business in the U.S., a father of 10, can set out to be Congressman and get the job done."