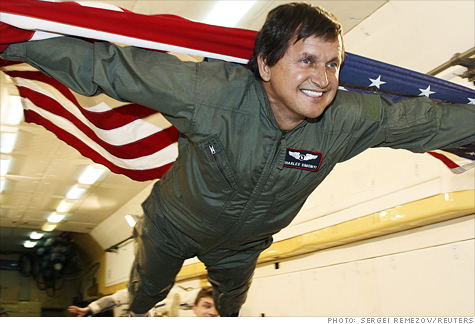 Simonyi, during a 2009 space-training exercise.
FORTUNE -- Without Charles Simonyi the seemingly simple act of composing documents on a computer would be far less intuitive and visually straightforward. As a computer programmer at Microsoft in the 1980s, he led the team that created Word, the ubiquitous word-processing program (he also led the Excel team). Before joining Microsoft, Simonyi (pronounced sim-OH-nyee) worked at Xerox PARC, where he had a hand in inventing the graphical user interface that enabled consumers to see text and formatting on the screen as it would appear in the final document -- an interface known as WYSIWYG, or "what you see is what you get."
Simonyi, 62, is now using his brainpower and wealth (an estimated $1 billion) to try to change the way software is created. His audacious goal: to do for the processing of knowledge -- the stuff that constitutes human understanding -- what he helped do for data processing.
In his view, word processors or databases are useful but unintelligent. These tools can crunch and organize data, but they can't learn how to interpret it -- they can't intuitively know how humans intend to use the material. "Of course we've already helped knowledge workers with information processing," says Simonyi. "But imagine if you could record knowledge and perform operations on knowledge instead of just information."
When Simonyi left Microsoft (MSFT, Fortune 500) in 2002 after more than two decades there, he founded Intentional Software, an engineering firm, to help realize his vision. Intentional is working on a process that would enable experts in a given field to apply their expertise in a way that would create software programs quickly and automatically. Most important, those experts (lawyers, pension consultants, teachers) could process their knowledge without being able to write software code. By making knowledge processing more efficient, Simonyi says, software development would become less error-prone and much cheaper.
If Intentional's plans sound academic, it's because Simonyi speaks only in the vaguest terms about them. (Theoretical Software might be a better name for the company.) Even prospective customers aren't sure what they're getting themselves into, other than a process that might someday improve their software development. Richard Buskens, a scientist with Lockheed Martin's (LMT, Fortune 500) applied research arm in Cherry Hill, N.J., says his lab only recently began evaluating Simonyi's brainchild. "My understanding is that Intentional's product lets folks quickly and easily build languages, which Intentional calls 'domains,' such that each language/domain can have deep semantic meaning to a domain expert, eliminating the need for a software expert," he writes in an e-mail. He says he has no idea what the end use of Intentional's products will be.
Indeed, Simonyi hasn't seemed particularly concerned about generating revenue at Intentional -- until now. Earlier this year he hired executive Eric Anderson to figure out a business model for the company. Anderson has no experience in the software industry. He is chairman of Space Adventures, the private company that twice sent Simonyi aloft as a space tourist. But Anderson says Intentional and Space Adventures share a common goal -- "to build a new market based on a futuristic idea."
In recent years Simonyi has become more famous for his exploits and adventures than for his considerable technological contributions. In addition to his space tourism (when he traveled to the International Space Station in 2007, he was only the fifth civilian to do so), he accompanied Martha Stewart at social events for more than a decade. In 2008 he married Swedish consultant Lisa Persdotter, who is three decades his junior. The couple are expecting their first child, a daughter, in February.
Many in the computing world are keenly interested in seeing Simonyi return to center stage in the tech world. Fans include Bill Gates, whom Simonyi regularly updates on Intentional's progress. After all, if Simonyi and Intentional succeed, developing software may someday be as simple and intuitive as creating a beautifully formatted, easy-to-read document.