Six inches of snow = Free diamond rings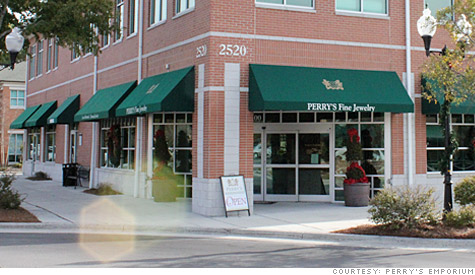 NEW YORK (CNNMoney.com) -- Alan Perry promised customers that if it snowed more than three inches in Asheville, N.C., in December, their holiday jewelry purchases would be free. Guess what? It snowed six inches!
What does this mean for Perry?
The payouts to 311 shoppers who bought jewelry at his Perry's Emporium store in Wilmington, N.C., between Thanksgiving week and Dec. 11 could total more than $400,000.
That's quite a sum, but Perry's not hanging his head.
He had purchased a $10,000 insurance policy that will cover all the costs.
Plus, it was a marketing win. "My sales jumped 34% [in that period] versus last year after I ran the snow promotion," said Perry, who owns and operates the 7,500 square-foot jewelry store in Wilmington.
Why did he choose Asheville? "It rarely ever snows in December there," he said.
"This promotion absolutely paid off," Perry said. "I've been everywhere talking about it. I've been on 'Good Morning America', Fox News, you guys."
Perry is so happy with the result that he's already working on next year's snow promotion. "But I'm going to feature a different city, maybe Wilmington, Delaware," he said.
Small pain, large gain: Perry bought a weather-based insurance policy from his longstanding insurer Global Weather Insurance.
The "snow policy" that he bought is a type of sales promotion that's recently become popular with merchants, explained Patricia Sleicher, Perry's insurance agent.
Since it snowed 6 inches, the insurer -- not Perry -- will pay out the the $400,000 to customers.
Perry said checks to the winning customers will go out beginning in February.
Sleicher said the $10,000 snow policy was a winning proposition not only for Perry and his customers but for her company, too. "It was great publicity for him and for us," she said.
Catching on: Sleicher said other merchants are jumping on the weather policy contest bandwagon as sellers look for inventive ways to rev up sales in a slow economy.
"We sell several of these policies nationwide," she said. Some are pegged to snow, others to rain, temperatures and even to wind.
The snow policy cost Perry 2.2% of total sales, and they typically range between 1.5% and 5.5%.
They policies are especially popular with jewelry and electronics sellers and with car dealers, said Sleicher, who named RadioShack (RSH, Fortune 500) as one of her clients.
"We have a jeweler in California who runs a weather-based promotion four times a year, before Christmas, Memorial Day, Fourth of July and Labor day," she said. "He pegs it to rain and temperature levels."
Perry has also run a rain-day promotion for the past six years in Wilmington, N.C., promising to refund the cost of an engagement ring if it rains above a certain amount on a customer's wedding day.
"I am known as the rain-day diamond jeweler around here," he said.
So what was the most expensive -- and now free -- jewelry item bought at his store during the snow promotion?
"It was a $12,000 engagement ring," Perry said. "The lady was in the store yesterday to have it resized. She said they'll use the money toward paying for the wedding."