Hot deals juice up retailers' holiday sales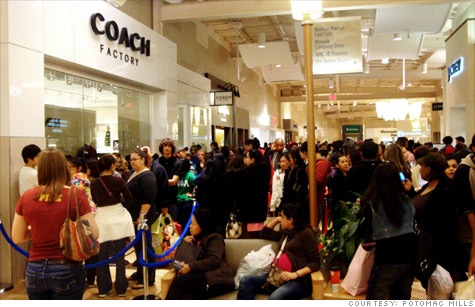 NEW YORK (CNNMoney.com) -- A full month of deals, capped off by extra-deep Black Friday discounts, gave a boost to retailers' store sales in November in a solid kickoff to the holiday season.
Thomson Reuters, which tracks same-store sales for a group of 27 national chains that include Macy's (M, Fortune 500), Target (TGT, Fortune 500) and J.C. Penney (JCP, Fortune 500), said total sales for the group surged 6%. The results were considerably stronger than the firm's initial estimate of a 3.6% increase and the 0.5% uptick in the same month a year ago.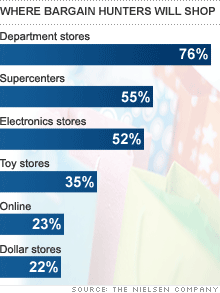 Some retail stocks, including Abercrombie & Fitch (ANF) and Dillards (DDS, Fortune 500), enjoyed a boost in early trading Thursday as investors cheered stronger-than-expected sales results. Abercrombie shares rose more than 7%, while Dillards gained nearly 5%.
November's gain also marked a protracted 14-month increase in monthly same-store sales, according to Thomson Reuters.
Same-store sales, which measure sales at stores open at least a year, are an important gauge of a retailer's performance.
The winners: Specialty chains and department stores scored particularly strong same-store sales last month, although many of these merchants also benefited from much easier year-over-year sales comparisons.
Among the standouts: sales at trendy teen chain Abercrombie & Fitch soared 22% last month, and specialty clothing and accessories seller Zumiez posted a 20% increase in its sales.
Limited Brands (LTD, Fortune 500), parent of Victoria's Secret and Bath & Body Works chains, logged a 10% gain, trouncing analysts' expectations for a 4% rise, according to sales tracker Thomson Reuters.
No. 1 clothing chain Gap (GPS, Fortune 500) posted a 4% sales gain, also beating estimates for a 2.6% rise.
Elsewhere, sales at department store chain Macy's rose 6.1%, jumped 9.2% at J.C. Penney, increased 6.1% at Kohl's and increased 8% at Dillards.
"November was a great month at Macy's and Bloomingdale's, with sales exceeding expectations both in our stores and online," Macy's CEO Terry Lundgren, said in a statement.
"Black Friday weekend was particularly strong, bolstering our confidence as we enter the heart of the holiday shopping season," he said.
Lundgren added that 4.5 million shoppers visited macys.com and bloomingdales.com just on Black Friday, "with a similarly high level of record traffic on Cyber Monday."
The November-December holiday sales period is critical to merchants since it accounts for as much as 50% of their sales and profit for the entire year.
Macy's also upped its fourth-quarter sales and earnings guidance. The company now expects same-store sales to rise between 3.5% to 4.5% in the period, up from a previous 3% to 4% estimate.
It expects fourth-quarter profit of between $1.44 to $1.49 a share, up from its earlier estimate of $1.42 to $1.47 a share.
High-end sellers and discounters also joined the party, with Nordstrom logging a 5.1% sales gain, while sales at discounters rose 5.5%.
Thomson Reuters' tally excluded November results from one key retailer -- Wal-Mart (WMT, Fortune 500). The world's largest retailer doesn't report monthly same-store sales. Instead, the discounter is expected to give a reading on its holiday sales when the company reports its fourth quarter results in February.
Strong Black Friday sales typically are seen as an indictor that holiday sales overall could bode well for retailers, while muted Black Friday sales spark concerns that consumers are less enthusiastic about their holiday gift shopping.
"Everything came together for retailers last month. On Black Friday, we did see more consumers dip their toes back into the discretionary spending pool," said Ken Perkins, retail analyst and president of sales tracker Retail Metrics. "We also saw consumers start to buy both higher-price gift items and a few things for themselves."
The National Retail Federation expects total holiday sales will rise 2.3% from last year.
That would be an improvement from 2009's anemic 0.4% holiday sales gain and a dismal 3.9% sales decline in 2008.
Still, Perkins said it's not certain yet if the holiday shopping euphoria will spill over into the New Year when the credit card bills come due.
"I firmly believe that the two main catalysts to keep this buying momentum going are job growth and income growth," he said.