Bye bifocals! New specs change focus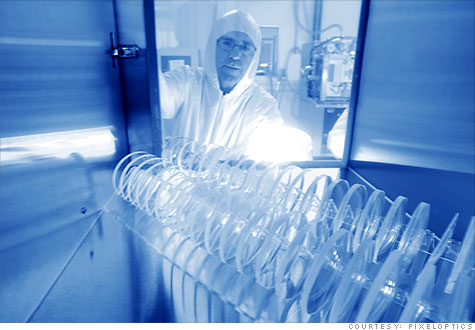 NEW YORK (CNNMoney) -- If you're reading these words through bifocals or progressive lenses, your life could change in June.
That's when a company called PixelOptics in Roanoke, Va., plans to release emPower, a line of electronic eyeglasses that let wearers toggle between two prescriptions, with settings for close-up and distance vision.
After powering up for six to eight hours in a charging cradle, the glasses can run for more than three days. Their lenses, manufactured in Japan by Panasonic, feature a thin layer of liquid crystal sandwiched between two layers of plastic. When an electrical charge hits the liquid crystal, the molecules realign, altering the prescription.
Wearers can program the lenses to react in response to two triggers: a downward tilt of the head, to signify "I'm reading now," or a fingertip pressed to the temple of the eyeglasses' frames.
The trigger activates an oval-shaped zone in the bottom half of each lens, turning it on for close-up activities like reading. When the wearer touches the frame again or looks back up, the reading zone disappears. This transition happens faster than the blink of an eye, claims Dr. Ronald Blum, 64, PixelOptics' chief executive and founder.
Blum hopes his high-tech glasses will eliminate a problem that's been plaguing folks ever since Benjamin Franklin invented bifocals in 1784: Wearing bifocals or progressive lenses means you can't look down at any object more than a couple feet below your head -- your shoes, the ground, a golf ball -- without experiencing blurry and distorted vision. That's because the lower halves of your lenses are permanently calibrated for close-up reading.
Until recently, technology to help presbyopia sufferers hadn't changed in more than half a century.
"Progressive lenses were first introduced in the 1950s," notes Dr. Gary Kurtzman, managing director of the life sciences group at Safeguard Scientifics, a holding company that provides growth capital to life sciences and technology companies. Earlier this month, he announced that Safeguard had led a $45 million round of financing for PixelOptics, putting in $25 million of the total. Other participants investors include Delphi Ventures, The Carlyle Group, Longitude Capital and Stark Investments.
Kurtzman switched to emPower glasses two months ago, after wearing progressive lenses for about six years. "You make sacrifices when you wear progressive lenses," Kurtzman says. "I put these glasses on and instantaneously it was clear. It was a noticeable effect."
Starting June 1, emPower glasses will be distributed through a network of local eyewear professionals, one region at a time, beginning in Virginia and North Carolina. (Don't try looking for 'em online or at, say, LensCrafters.) Blum hopes that by the end of this year, his network will include nearly 3,000 U.S. businesses.
Before PixelOptics, Blum founded a company called Innotech, which developed equipment and methods that allowed eye doctors to make glass lenses in-house, rather than ordering them from laboratories. Johnson & Johnson bought Innotech for $135 million in 1997.
He also spent 20 years working with patients as an optometrist while growing a practice in Roanoke. During those years, he recalls, "I got to understand the shortcomings of eyeglasses that correct for a condition called presbyopia," or far-sightedness, which is common in adults over 40.
EmPower glasses won't come cheap. Though retail mark-ups will ultimately be determined by individual eye care professionals, Blum expects his glasses will sell to consumers for between $1,000 and $1,250 a pair.
One future retailer isn't too worried about the cost.
"People come in and they spend $1,000 on a pair of eyeglasses," says Mark Johnson, the director of optical services at the Virginia Eye Institute, which will start selling EmPower glasses in June. On average, he says, his customers spend about $430 per pair of glasses.
During a sneak preview in March, enthusiastic visitors queued up to ooh and ahh over the glasses.
"It was amazing. People loved them," Johnson recalls. "We drew a crowd there all night long."