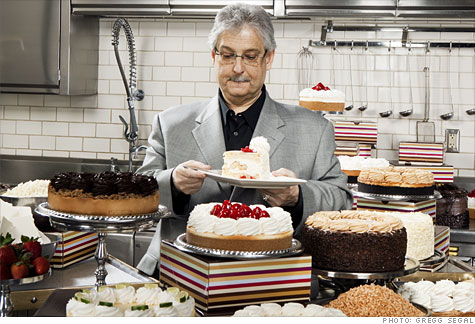 Cheesecake Factory founder David Overton, 65, in the company's test kitchen in Calabasas Hills, Calif.
FORTUNE -- Cheesecake Factory Founder David Overton tells how he turned his parents' business into a billion-dollar restaurant chain.
When I was growing up in the 1950s, my father, Oscar Overton, managed retail stores in Detroit. My mother, Evelyn, found a recipe for cheesecake and made one for my father's boss. He liked it so much that he asked if she could make 12 cheesecakes that he could give to friends as Christmas gifts. That gave her the idea of going into business. So she made cheesecakes in the basement during the day, and in the evening my father delivered them to two restaurants in town. I got a penny per box for folding the cake boxes.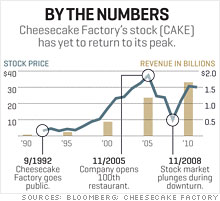 I loved music, and from the time I was 15, I played drums and was in a band that made money. In 1967, after college, I moved to San Francisco for the music scene. My parents wanted to live closer to me, and since Los Angeles was bigger than San Francisco, I convinced them that there was an opportunity there for their cheesecake. So in 1972 they sold their house, drove across the country with my sister, and started a small wholesale cheesecake business.
When I realized I wasn't going to be a rock star, I moved to L.A. to help. It was 1975, and we had the Cadillac of cheesecakes, but the business wasn't progressing fast enough. I thought if we opened a restaurant, it would help sell the cheesecake. I chose Beverly Hills for our first location to give the cake the reputation it deserved.
I'd never worked in a restaurant before, so I talked to Bill Kling, our accountant at the time. He thought our cheesecakes were some of the best baked goods he'd ever tasted, and he believed in me. So he said the four magic words -- "I'll raise the money" -- and got his clients and family members to invest $125,000.
Beverly Hills already had upscale dining, so we developed a menu of casual fare around the cakes. I didn't want to worry about a chef walking out on me, so I made up the first menu with things that were simple enough to cook myself, like macaroni and cheese. We opened on Feb. 25, 1978, with no sign or grand opening. Still, people lined up outside, and the restaurant was full in 10 minutes.
After five years we opened three more restaurants in California and one in Washington, D.C. Our investors were making a lot of money, and my parents were able to semiretire. In September 1992 we went public. The stock opened at $20 and went to $27.25 the first day. From 1992 to 2005 our compound annual growth rate in revenues was 27%.
With the recession, restaurants across the industry have been hit. We pulled out of some deals, slowed down, and stayed profitable. Our revenue was up 4% last year over 2009. We've been coming up every quarter, and this year we'll open six to nine restaurants. It cost $256,000 to open that first restaurant. Today it costs $6.5 million to $7.5 million to open a new Cheesecake Factory (CAKE).
My father was around to see the success, and my mother was here to see us go public. It's really the great American success story. You come up with a good product, work hard, and bring your family together to do it.
My Advice
Focus on people "You have to devote resources to training, from the cooks to customer service. In this business, it's all location, location, location. But once you grow, it's all people, people, people."
Let some things go "Don't limit your business for the sake of control. Whether building our infrastructure or thinking about growth, I focused on allowing us to be as successful as we could be, not trying to control everything."
Prevent copycats "I created a unique concept with the broadest and deepest menu in casual dining. It's a big part of what attracts guests, but it's also highly complicated, which makes it a huge barrier to entry."