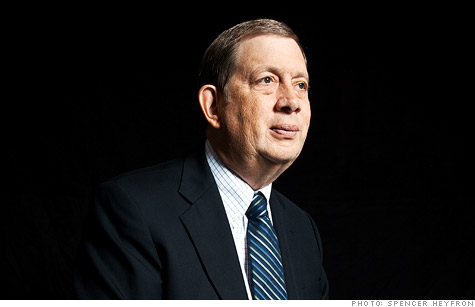 FORTUNE -- It's an audacious plan: to turn cancer into a manageable, if chronic, condition that patients can live with for a very long time. That's what Gilead Sciences wants to do, and it brings unusual credibility to the task. Gilead, the second-most-valuable independent biotech company (after Amgen (AMGN, Fortune 500)), transformed HIV in much the same way over the past decade. Its Atripla, combining three medications in a single pill, is the most prescribed HIV treatment in America and is expected to remain so for years.
Leading Gilead's success is John Martin, CEO since 1996. A study in the Harvard Business Review last year ranked him No. 6 among the world's 50 best CEOs. But Martin, 59, faces a major challenge: diversifying Gilead (GILD, Fortune 500) beyond HIV as patents expire and competitors try to move in. That's one reason for the new initiative against cancer. Martin is a scientist, with a bachelor's degree in engineering from Purdue and a Ph.D. in organic chemistry from the University of Chicago. He and Fortune's Geoff Colvin spoke recently at Gilead's California headquarters about the greatest threats to human health, risks of a global flu pandemic, becoming a successful CEO after training as a scientist, and the future of cancer therapy. Edited excerpts:
Q: Gilead has just signed a new agreement with Yale for cancer research. What's the objective -- and considering that several large firms are already working on cancer, what makes you believe it's a good investment?
A: Chemotherapy is becoming much more targeted. As we have a better understanding of the specific gene sequences involving cancer, it's possible to develop targeted therapies. To move into the field at a slow pace, just doing research internally, it would take years to catch up. So in the past year we've acquired three companies [CGI Pharmaceuticals for $120 million, Arresto Pharmaceuticals for $225 million, and Calistoga Pharmaceuticals for $375 million] that specialize in specific kinases [types of enzymes] that could be involved in cancer. I now have the collaboration with Yale University to help identify molecular targets that we can inhibit to put cancer into remission.
Do you mean inhibit something that happens genetically?
Yes, inhibit gene products -- that would be an enzyme or a chemical reaction in the cell that's involved with the cancer spread. If we can block that aberrant process in the cell, we can have a beneficial effect for the patient.
From Gilead's perspective, what's the large strategic thought behind the Yale partnership plus those acquisitions?
Just look at how, with HIV, we were able to come up with multiple products that we could use in combination to keep HIV basically in remission in a patient and let the patient live a normal life. With our chemistry and biological expertise, we envision doing a similar thing for cancer chemotherapy.
From a business perspective, it sounds like an effort to diversify the company, which now gets a very large part of its business from HIV treatments.
That's correct. The majority of our revenue comes from our HIV business, where we have very selective compounds that are safe to take, and we have large market share. To grow, it's important for us to work in other areas of unmet medical need.
You are also trying to continue dominating HIV treatment with a new four-in-one pill, which is known in the industry as "the quad." Why has your company invested so much time and energy in this?
HIV therapy involves the patient taking multiple drugs, and we recognized quite a few years ago that if we could combine them all into one pill, the patient would benefit. People fail HIV therapy if they don't take all their medications, so if they're all in one pill, you take all or nothing. That's very beneficial to the patient. We've seen it in terms of outcomes less resistance, less need for second-line regimens. The key is to come up with a future single-tablet regimen, and the quad will be one of those that contains a very important inhibitor a new class of molecules.
What you're saying is that you have focused on real-world patient behavior, not just the chemistry and biology of the medication.
Yes. Until Gilead developed the molecules that could be used once a day in combined form, medications had to be taken three or four times a day, with and without food, up to 35 pills a day, and it's very, very difficult for the patient. Our breakthrough was to come up with the first nucleotide for the treatment of HIV, called Viread, and then we developed a second drug and combined it with Viread for Truvada. Then, for the third drug to use in combination, we did a partnership with Bristol-Myers (BMY, Fortune 500) and Merck (MRK, Fortune 500). That product is called Atripla. It's been on the market since 2006, and it's the No. 1 regimen used in the U.S.
When you look for unmet medical needs to go after next, what's at the top of the list?
Hepatitis C virus infection. That right now is a very important area. Typically only a few people can be treated, and only a few cured. It's a virus that causes liver failure and cancer. It's insidious. It replicates in the body for a long time. The current treatments are toxic, not well tolerated, and don't always work. We're onto a real opportunity for a revolution in the care of these patients with very simple oral regimens, just like what Gilead did for the treatment of HIV. There are more people in the U.S. with Hepatitis C than with HIV, probably four times as many.
Innovation is the battlefield in your business. What makes one company a better innovator than another?
What we were able to do at Gilead with HIV is bring together a team of highly experienced people who had worked in the pharmaceutical industry for a number of years. Any chemist can design an inhibitor of a process in the body. But to actually come up with a drug takes a very sophisticated team that understands all aspects of drug development and doesn't make too many mistakes along the way. We tend to think of the pill as the drug. But the drug is really the data that's been collected through clinical research that defines the best use of that drug.
I imagine one of the challenges is getting all those smart scientists to collaborate and understand the huge amount of data. Those are big research teams. What have you learned about helping the process along?
Hiring the right people along the way. It's pretty simple. We hire people who are consistent with the culture of what you just described, collaboration. It has to be collaborative. It's just too complicated.
In certain emerging economies, Gilead has given away some of the HIV patents it has. What's the thinking behind giving away something worth billions of dollars?
Well, it's worth billions of dollars in certain types of economies, right? We recognized that it was important for us to go after unmet medical needs, but there's another unmet medical need: access. That's even true in the U.S. We have patient-assistance programs so no one is denied access because of the cost. We also recognized that in the least developed countries we're not going to make a lot of money. It's just not going to happen, and what we can do is drive down the price as quickly as we can for access.
How do you do that?
We train Indian makers of generics to make our products, and we allow them to distribute them. When an Indian generic company develops its version of a drug that's on the market, it can take about two years to develop the process, do all the chemistry, and get approval to sell a drug for the treatment for HIV in Africa. By us transferring the technology, it can be done much more cheaply by them and in only about five months. So it greatly accelerates a generic drug's access into sub- Saharan Africa, for instance.
In sub-Saharan Africa especially, HIV is getting much worse, even threatening the future of some nations. What's the outlook for fighting the disease globally?
More and more people getting access to therapies. Four years ago only 30,000 people in the developing world were on Viread, our drug from 10 years ago. Today there are 1.5 million. That is transforming a lot of people's lives. They'll have access to these life-saving drugs that allow them to live much longer, to continue to work and support their families. I'm optimistic because the number of people being treated in the developing world is now more than 5 million. That's happened very rapidly -- in 2002 it was only a couple hundred thousand.
Some people have complained that the decoding of the human genome has not led to the breakthrough treatments that were promised 10 years ago. Why haven't we seen big new treatments based on genomics so far?
We've seen targeted cancer therapies. In HIV we sequence a genome of HIV in every single patient to know which drug to use in that patient. We've been doing that for over a decade. So there are remarkable advances. On the other hand, there are very hard scientific obstacles in many areas of research. In all the years I've been working on HIV, the experts say an HIV vaccine is 10 years away. That was said 20 years ago, and it's being said today.
Genomics is very complicated. Typically it's not one sequence of one gene that determines the outcome of a disease progression. It's an interplay with multiple genes. So the research is exceptionally complicated to wade through and come up with new drugs. But the pace is clearly accelerating.
As you look around the world, what's the greatest threat to human health now and in the coming decade?
The thing a lot of experts worry about is emerging infectious diseases. HIV didn't exist a century ago, and it became a big problem. There's an interplay between the microbial world -- the agents that cause infectious diseases -- and the host, namely us and other animals. Influenza is an example of virus that can infect different animal species and humans, and that recombines in a way that periodically causes severe global health problems.
We've had scares in recent years about flu, and so far they haven't amounted to much. How big a threat is a global flu pandemic?
If the virus mutates enough or becomes different from the virus that we've all been exposed to, it can do the greatest damage, like the 1918 flu did in young people who had the most robust immune response to it. It's your body fighting the virus that causes the mortality.
You would suppose that it would be the young with the strongest reaction who come out best. Why is it the reverse?
Because of the inflammatory process in the lungs. If you have this inflammatory process, the virus can lead to secondary infections, destruction of lung tissue, and that's what happened historically.
Gilead is famous for Tamiflu. What's its role in preventing or stopping a flu pandemic?
We discovered it and helped develop it with Roche, which is our commercial partner on it. It's a product from about 15 years ago that was synthesized for the first time right here on this campus, and we were able to get it into treatment and prevention studies very rapidly, so it got approved after only a few years for the treatment and prevention of influenza. Now, because of the concerns about pandemic flu, it has been stockpiled by various countries around the world as a defense against the spread of the virus.
Can we be fairly confident that it will continue to be effective?
That's the concern.
Because the virus is going to mutate?
The thing about drugs for the treatment of infectious disease, whether antibacterials or antivirals, is that drug pressure leads to resistance. That's why we continue to need more agents for all these categories.
This concern has been raised with regard to HIV treatment as well; we have these very successful treatments that Gilead produces, but they will lead the virus to respond somehow.
That's correct, and so we need to continue to come up with more agents. For instance, the quad pill that we talked about earlier, we believe will be very important as an additional weapon against HIV.
Let's imagine a high school student who wants to devote his or her life to improving human health. What should he or she study?
I'm a believer in engineering.
How come?
Get that foundation in how things work at the quantitative level. Understand how mechanical things work. I've always encouraged people to consider engineering.
And that's what you did.
That's exactly it. But then I went to graduate school in chemistry. An engineering undergraduate education gives you the foundation so you can then pursue your interests more narrowly.
You worked as a scientist for many years and then became a successful CEO. That is quite unusual. What's the key?
Having the practical orientation we were just talking about. I do have a practical orientation in the way I look at things, and I enjoy the business aspects. I particularly enjoy working with people, and when you work with people in this industry, you're working with a lot of fascinating individuals.