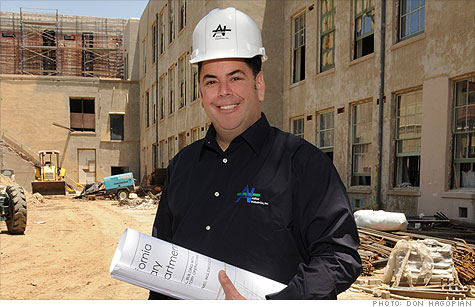 Ernie Gutierrez, CEO of Allied Industries
FORTUNE -- Terri Urbash wanted a bigger family, so she left her job as a court reporter in 2002 with plans to have more children and spend more time at home while working as a freelancer a few times a month.
In less than 10 years, her family has expanded by 30, but the new additions aren't running around her Pittsburgh house. They are her employees at Network Deposition Services, which generated $2 million in revenues this past year.
"Instead of having more children, I kept getting more clients," Urbash says, explaining how she stumbled into being the founder of the no. 16 company on this year's Inner City 100 list of the fastest growing inner city businesses in the U.S.
Between 2002 and 2005, as Urbash's client list continued to expand, she handed off assignments to other freelance court reporters in Pittsburgh. Then, a large insurance company was looking to hire a deposition service. Urbash assumed it would go to a national competitor, but she applied for the contract anyway, and she got it. Network Deposition Services has soared since landing the client, expanding throughout Pennsylvania and now moving across the country.
"Literally overnight, I realized I was going to have more depositions than I could handle," Urbash says. "I knew I was going to have to get serious about it, and we've been growing since then."
Urbash is not the only chief executive on the Inner City 100 who fell into business ownership by mistake. There are many others who don't fit the mold of the obsessive entrepreneur spending all his hours perfecting a business plan to change the world.
"Many of these business owners didn't start out saying, 'I want to run a business,'" says Deborah Shufrin, senior vice president and director of programs at the Initiative for a Competitive Inner City, which runs the Inner City 100. "They were working at a different company and recognized there was a need in the marketplace, or they were at a big company and thought a small company could be more responsive."
What these accidental entrepreneurs do share with their successful colleagues is an attraction to hard work, an understanding of the importance of frugality and a passion for making a difference in the lives of their employees.
From color blind painter to environmental heavyweight
When Ernie Gutierrez was laid off from his comfortable white-collar job as an insurance underwriter and salesman in 1992, he took a job painting houses in Los Angeles to make ends meet. Soon, he realized the potential for profit.
With $60,000 in credit card debt, he provided painting services to a trade school, which served as his tuition for a painting contracting license. He was soon running his own painting company (even though he is colorblind). When a friend mentioned that there was money to be made in lead paint removal, Gutierrez went back to school again under the same arrangement.
He is now the CEO of Allied Industries, a general contracting company that focuses on environmental consulting and remediation with $50 million in annual revenues and 300 employees across the country.
"I really put my nose to the grindstone instead of ever thinking, 'I'm going to become a CEO,'" he says.
Those early days -- when his phone was almost shut off because he couldn't pay the bill -- have played a crucial role in Gutierrez's success. He continues to stress the importance of pinching pennies in business, and he embraces the challenge of having to learn a new skill almost every day.
His favorite part of the job, though, is building a team of people, many who are from inner city Los Angeles and in a situation similar to the one he was in almost two decades ago.
"I like staffing the right people and watching them grow," he says. "There's lots of advancement within the company, and people need those opportunities. There are lots of people who have the will and desire but not the right vehicle to prove their lot in life."
From computer tinkering to document domination
Gutierrez became the boss by starting at the bottom, but John Tredennick was at the top of his field when he made the leap.
Tredennick was a partner at Holland & Hart, a large Denver law firm, when he realized that the number of documents for his cases was rapidly expanding.
"I used to be able to go through the case documents on the couch while watching the Broncos," he says. "Then, all of a sudden, those documents are in filing cabinets, then war rooms, then document warehouses."
Tredennick had been an early adopter of the personal computer dating back to when he accidentally wiped out the hard drive of his wife's computer while tinkering with it in the 1980s. He convinced his firm to let him develop a computer system that would allow employees to share files digitally between offices.
In 1998, Holland & Hart took on a case that involved more than 300 people. It was Tredennick's chance to test the system externally, and it was an overwhelming success.
"Suddenly, other law firms were calling us and asking for this," he says. "I realized that this thing has the potential to change the world and how people interact with large collections of documents."
Tredennick presented a pitch to create a separate document management business to his firm's management committee, and they accepted the proposal, agreeing to take ownership and make Tredennick the chief executive of Catalyst Repository Systems.
In 2000, the company broke off from Holland & Hart, and in 2005, Tredennick bought the firm's ownership stake in the business. Catalyst Repository Systems now has 130 employees and offices around the world. It is on track to bring in $29 million in revenue this year and is ranked no. 35 on this year's Inner City 100 list.
Growth was by no means smooth, though. The company had its big launch shortly after the September 11 attacks. The recession that followed was brutal, and in June 2002, Catalyst Repository was down to its last $200,000. Advisors told Tredennick to shut down the business, but he refused, tightening belts at the business and finishing the year with a profit and with more cash on hand than when the year began.
"There will always be times when even the most well-meaning people think it's time you give up," he says. "Don't. The thought that I could build something that actually makes people's lives better and that they'll pay for keeps me going."