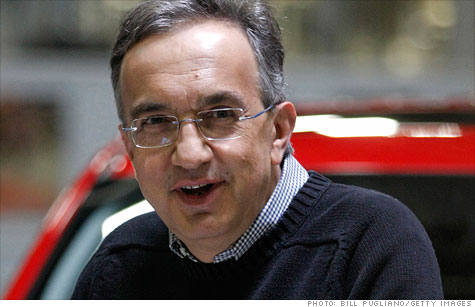 Sergio Marchionne, CEO of Fiat and Chrysler
FORTUNE -- The Detroit Three have been outperforming expectations so far this year, but none more than Chrysler. Left for dead by the side of the road two years ago and nearly liquidated in bankruptcy, it is staging a Phoenix-like recovery despite having the skimpiest of resources.
Masterminding its revival has been CEO Sergio Marchionne, who has displayed an instinctive understanding of the American psyche as well as the Chrysler customer, making deft improvements in a struggling product line while displaying a knack for connecting with his audience. Instantly recognizable with his disheveled hair and his baggy sweater, he already ranks with such memorable and charismatic Chrysler executives as Lee Iacocca, Bob Lutz, and Dieter Zetsche.
Herewith, 10 surprising reasons to love Chrysler.
1. Chrysler posted a net profit of $116 million in the first quarter -- its first since emerging from bankruptcy in 2009. The government's decision to keep Chrysler alive and hand over control to Fiat is looking smarter than ever. Fiat has increased its ownership of Chrysler to 30%, and is closing in on its goal of a 51% stake, which could happen as early as this summer.
2. Stronger than expected sales may require Chrysler to add production shifts to three assembly plants and hire more than 3,000 workers, according to a report in Automotive News this week. That number is a guess by the United Auto Workers, but it represents good news for the union and the Detroit economy.
3. Sales of the Dodge Durango and the Jeep Grand Cherokee, two of Chrysler's most-profitable vehicles, increased by 86% through April. Both vehicles were designed and engineered under earlier owners, but their success speaks well for the resonance of the Dodge and Jeep brands.
4. Other Jeeps are doing well too, with sales up by 40% . The much-derided Compass, which had more in common with a passenger car than with a rugged off-roader, has been updated with a redesigned exterior that resembles the Grand Cherokee and an optional drivetrain that allows it to tackle the Rubicon trail. The often-overlooked Patrtiot has been newly marketed as the best-priced SUV in America (starting at $15,995) and buyers are paying attention.
5. In a battle of fuel economy champs, Chrysler's Fiat 500, which gets by on cuteness, outsold the technology-laden Chevrolet Volt nearly two to one in April. Compared to GM (GM, Fortune 500)'s $1 billion investment in Volt, Chrysler spent peanuts adapting the Italian-engineered 500 for the U.S. Expect to see the 500 lengthen its lead when the Cabrio model hits showrooms later this spring.
6. People are still talking about the Super Bowl commercial with Eminem that featured the Chrysler 200. The daring use of the tagline "imported from Detroit" helped, at least temporarily, to boost spirits in the downtrodden city. Other efforts, such as positioning the former Chrysler Sebring as a luxury buy, have been less welcome. The coming push for the Chrysler 300, which is leaving behind its "gangsta" associations, should be more successful.
7. The UAW will negotiate new labor contracts to replace agreements that expire in September, and Chrysler can watch from the sidelines while Ford and GM duke it out with the union. Ford (F, Fortune 500) is likely to be the negotiating target and will want to get the same deal GM did in bankruptcy. Unlike previous negotiations, Chrysler plants aren't under threat of closing because of a no-strike agreement.
8. Chrysler can load up its minivans and still sell them for under $40,000. Recently, I drove a Town & Country Limited with 2nd and 3rd row "stow 'n go" seats, a dual screen DVD player, and a Garmin navigation system that was stickered at $38,660. Adding in an $835 destination charge brought the total to $39,495. The Town & Country is still not as refined as a Honda (HMC) Odyssey, though. That new six-speed automatic transmission needs to be mated more smoothly to the equally-new 3.6 liter Pentastar V-6 to reduce downshifting on hills.
9. Chrysler Group dealers sold an average of 465 vehicles in 2010, up by 40% from 2009, when their ranks were thinned by bankruptcy. That's good for Chrysler because higher-volume dealers reduce distribution costs, and it's good for customers because they are more efficient
10. For Chrysler in 2011, the best is yet to come. Marchionne is expected to launch an initial public offering which, given the improving economy and the overall health of the stock market, should be well-timed. And the much-delayed reentrance of Alfa Romeo to the U.S. market is finally expected to happen later this year. Alfistas are excited by the revival of their brand, and Marchionne can check off another milepost in his surprising revival of Chrysler.
Department of Faulty Memory: I was mistaken when I placed a Ford Pinto in the foreground of a Car and Driver picture of a junkyard in my David E. Davis appreciation story. The correct vehicle should have been an Opel Kadet.