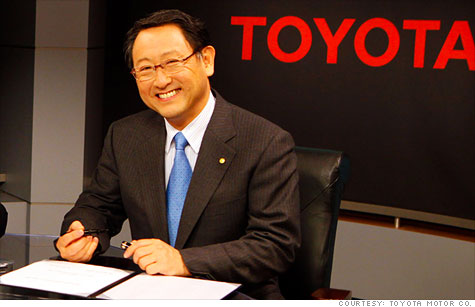 Believe it or not, he's got something to smile about.
FORTUNE -- Akio Toyoda must feel like he is jinxed. Since becoming president of his family's company in 2009, he has been buried under an avalanche of troubles -- the worst skein of bad news in the company's history.
First there was the global financial crisis, when as one of his first acts as president, he apologized to shareholders for the company's losses.
Then in August the recall imbroglio hit. Consumer complaints about unintended acceleration and other safety problems, magnified by the media's megaphone, led to the recall of 24 million vehicles worldwide, and seriously dented the company's long-held and hard won reputation for quality.
While Toyoda was still dealing with the aftermath, the April 2011 earthquake and tsunami shattered Japan's economy and disrupted automobile production.
There will be no relief in the short term. Be prepared for a torrent of stories over the next several months about declining sales, shrinking market share, and falling profits.
Last week, for instance, it was breathlessly reported that Toyota's first quarter profit had plunged 77%, and an inability to resume normal production meant that the automaker was likely to lose its title as the world's largest. A shortage of vehicles could mean traditional Toyota owners would be shopping elsewhere and might be permanently lost.
And just to complicate matters, the yen was rising to historic levels, boosting the price of everything Toyota (TM) makes in Japan. Edmunds.com's chief executive Jeremy Anwyl was quoted as saying "What Toyota will be going through in the next six months is going to be really ugly."
Anwyl is correct, but let's hold the tears, at least for now. Great companies have a way of coping with adversity and coming out stronger as a result, and Toyota is indisputably a great company. In the past, it has successfully handled problems that would have handcuffed less able companies, and if Akio Toyoda is anything like his forbears, he will continue that tradition.
This is the company that rebounded so quickly in 1997 when a fire knocked out a producer of brake fluid proportioning valves, and there were predictions that Toyota would have to stop making cars for weeks. But Toyota convinced other suppliers, including a sewing-machine manufacturer, to pitch in by taking over production of the part, and the assembly lines were rolling again five days later.
Already, experts are beginning to reevaluate Toyota's handling of the recall crisis. In Toyota Under Fire, a new book by Jeff Liker and Timothy Ogden, the authors recount how Toyota's traditional culture asserted itself. Toyota identified the problems, contained them, located the root causes, and then set about correcting them. Without engaging in finger-pointing, Toyota (belatedly) began focusing on its customers to deal with their issues and looking internally to see how its corporate structure could be streamlined to speed response time in future crises. Its work was vindicated when NASA found no electrical problems with Toyota's control systems. So far, only some faulty floor mats are to blame.
A less-appreciated skill of Toyota's is its flexibility and its ability to focus its resources. Often slow to get off the mark -- moving production to North America, developing a full-size pickup truck -- it more than compensates for its deliberation by making maximum use of its throw weight when it finally decides to make a move.
Toyota has long declared its intention to maintain a strong manufacturing base in Japan, but now that the strong yen has made that impractical, it has signaled a change in policy. "I fully understand that we can't go on with just a desire to protect manufacturing in Japan," Akio Toyoda said recently. Expect it to move briskly now into the world's developing markets.
Toyota has already begun an aggressive comeback from its supply disruptions. Even as it was reporting its crash in net income last week, it said recovery is progressing faster than anticipated and that output will start returning to normal in June, up to two months earlier than envisioned in April.
What observers sometime forget is the worst of Toyota's problems are short-term, all of them are solvable, and its resolute corporate culture remains intact. Competitors relax at their peril. Some new models are being held up by shortages, but over the next three years, Toyota is due to replace 94% of its product line with new models, according to the Bank of America Merrill Lynch "Car Wars" report. That's higher than the industry average and should more than make up for any lost momentum in the marketplace this summer.
It is worth noting that Toyota has managed to overtake BMW as the world's most valuable automotive brand, according to global advertising giant WPP. Its research subsidiary reported Toyota has successfully proven that having a brand that consumers trust and are loyal to can help companies survive crises.
I would flip that around by saying that companies that survive crises build brands that consumers trust. That may provide the best news Akio Toyoda has had in a long while.