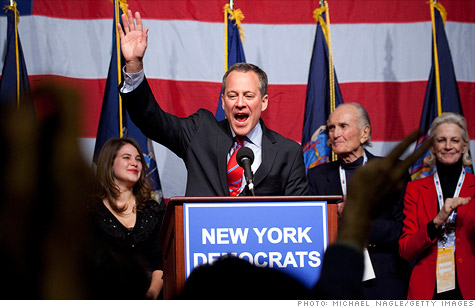 Eric Schneiderman, who was elected New York attorney general last year, is investigating Wall Street banks for their roles in the mortgage crisis.
NEW YORK (CNNMoney) -- New York's attorney general is investigating three Wall Street banks for their roles in the mortgage crisis that led to the downfall of the economy, according to a source familiar with the situation.
Attorney General Eric Schneiderman has requested meetings with staffers from Bank of America (BAC, Fortune 500), Morgan Stanley (MS, Fortune 500) and Goldman Sachs (GS, Fortune 500), the source said.
These and other Wall Street banks have been blamed by lawmakers and the public for exasperating the recession through their backing of risky home loans, and then bundling those loans into mortgage funds that were traded on the markets.
For example, during a congressional hearing in 2010, lawmakers lambasted Goldman CEO Lloyd Blankfein for his firm's practice of buying parts of risky mortgages and then placing bets against those same mortgages.
Blankfein labeled the practice a "market maker" and said that Goldman was selling products that investors wanted.
But Philip Angelides, chairman of the Financial Crisis Inquiry Commission, compared the practice to "selling a car with faulty brakes and then buying an insurance policy on the buyers of those cars."
Representatives of Morgan Stanley and Bank of America were not immediately available for comment on the Schneiderman investigation. Goldman declined comment to CNN.
Prosecutors have ramped up pressure against Wall Street finance companies to bring them to task for the roles they allegedly played in causing the economy to implode through a series of risky investments and over-leveraging.
Federal prosecutors sued Deutsche Bank on May 3, claiming that its MortgageIT unit made tens of thousands of bad loans and then fooled the Federal Housing Authority into insuring them. The government says that the scheme stuck taxpayers with having to pay hundreds of millions of dollars.
Deutsche Bank (DB) could face claims of at least $1 billion.