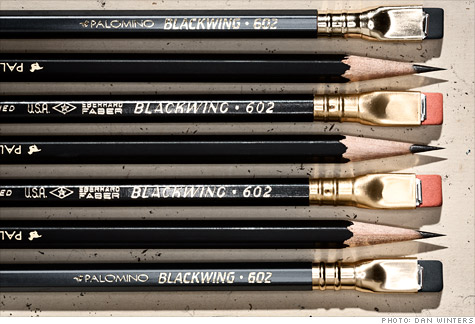 All three versions of the Blackwing: the original Blackwing 602, CalCedar's Palomino Blackwing (pointing right), and the new Palomino Blackwing 602 (with black erasers)
FORTUNE -- Passions were running at their usual near-fever pitch in the pencil world earlier this year. CollectingPencils.com wanted its readers to identify the pencil held by GM (GM, Fortune 500) designer Chuck Jordan in a picture that ran alongside his obituary. "Great designer, passing of an age, shall not see his like again, yes, yes, yes ... But what's that pencil he's holding?" Over at PencilRevolution.com, a reviewer appraised the latest specialty offering from General Pencil: "Fit and finish is decent. There are a few less-than-perfect ferrules with wood chips overlapping the edges but it's minimal. I find the austere look very appealing." A reviewer at Pencil.org was less forgiving of a mass-market model from Dixon Ticonderoga: "What I'll say about these pencils is that friends shouldn't let friends use the Dixon Economisers."
It's unusual for any consumer product to arouse such passion, let alone one that can cost less than 10¢. But then the wood-clinched, eraser-tipped graphite pencil has some extraordinary properties. It has outlasted the marker, typewriter, and dedicated word processor as a means of communication, and survived the arrival of the ballpoint, texting, and the iPad. On websites like Pencil Revolution and Pencil Grinder, enthusiasts obsess over fit and finish, the merits of presharpening, and the properties of erasers.
So you can imagine the uproar that ensued when a sixth-generation pencil manufacturer named Charles Berolzheimer II, who writes under the pen name WoodChuck, used his regular column on Pencils.com to make a special announcement. His company, Berolzheimer wrote, was embarking on a mission to revive what had become known as "the best pencil ever made": the Blackwing 602.
Berolzheimer, whose family began making pencils in Bavaria in the 19th century, owned a company called California Cedar Products, a supplier of pencil wood that also had a small branded pencil business. He built the Pencils.com website to market his pencils, sold under the Palomino brand, and contributed his own column, called "Timberlines."
His web-supported marketing was successful. Sales reached $150,000 in 2010, and Berolzheimer, a Stanford MBA, believed he could lift them to $2 million to $5 million in the next five years. Intrigued by the challenge of building a new brand in a commodity business, he wondered if he could do so with a high-quality pencil.
Some Timberline readers urged CalCedar to re-create a pencil with a distinctive, wide, adjustable eraser, the Blackwing 602. Introduced in the 1930s by Eberhard Faber, the Blackwing had attracted a cult following. A sleek-looking charcoal-gray pencil with a particularly soft lead and a unique eraser and ferrule (the crimped metal that holds the eraser), it was advertised as requiring only a fraction of the usual physical exertion to produce a mark. HALF THE EFFORT, TWICE THE SPEED was printed in gold letters on its side. The Blackwing counted among its users such writers and artists as John Steinbeck, Stephen Sondheim, and Chuck Jones.
The Blackwing survived a change in ownership when Faber-Castell USA bought Eberhard Faber in 1988, and again in 1994, when Faber-Castell was bought by Sanford Corp., a division of Newell-Rubbermaid (NWL, Fortune 500). But the machine that made the clips for the eraser ferrule had been broken for years and never fixed. When the Blackwing stock became exhausted in 1998, Sanford decided that its low volume -- only about 1,100 gross annually -- made repair uneconomical. With that the Blackwing died. Almost immediately, scarcity created a rush of demand by collectors. By 2001, Blackwing pencils that had originally sold for 50¢ would change hands on eBay for up to $40.
When Berolzheimer learned that the Blackwing trademark had not been renewed, he claimed it for his new pencil. "Pure and simple, Blackwing is a great and iconic name among serious pencil fans," he explained in "Timberlines."
Berolzheimer fussed over details of the new pencil: the color of the shaft, the typeface of the lettering, the decision whether to include the "Half the effort" slogan. Reviving the classic ferrule with its extendable eraser was essential, and he spent a year looking for a supplier who could tool economically for the piece. That didn't end his ferrule problems. After he had paid for the tooling, Berolzheimer was told he would have to raise his original minimum order from 50,000 pieces to 500,000. That would be no problem for a cedar pencil that sold for 25¢, but Berolzheimer envisioned a retail price between $1.50 and $2 for the new Blackwing. In the end he was able to settle on an initial production run of 100,000 ferrule-eraser assemblies.
Traditional Blackwing fans expected Berolzheimer to produce an exact replica of the original pencil, but he decided to improve it. He chose a slightly different graphite formula, tinkered with the language on the wood case, finished the pencil in high-gloss black instead of gray, and substituted a white eraser for the original pink one. Since he believed the "Half the pressure" slogan to be nonsensical, he decided to leave it off. "I can see the logic that reduced lateral pressure might maintain the same speed, but not necessarily double it," he argued. "Who can write or draw legibly twice as fast anyway?"
Purists were horrified -- Berolzheimer had crossed a bridge too far. One blogger wrote: "If you want to re-create the Blackwing, why on earth did you not do so? I am really disappointed in Palomino, after all the hype, leading up to this huge letdown." Another warned, "Don't toy with us Blackwing fans." Berolzheimer blogged: "At times I thought to myself, 'No wonder Apple keeps such secrecy before they introduce new products like the iPhone.' I must be insane!"
Berolzheimer's spirits were lifted when better reviews started to appear. Pencil lovers applauded his dedication and vision, and they liked the lines the new pencil made. Michael Leddy of Orange Crate Art said, "Writing with the new Blackwing is a pleasure. The lead is soft and smooth and doesn't smear." When sales began formally on Oct. 1, 2010, Berolzheimer received 300 orders the first day and another 150 orders over the next three days.
But the voice of the customer had been heard. Berolzheimer has announced another new pencil, called the Palomino Blackwing 602, which improves on the original Blackwing but is still faithful to it. A new graphite formulation will provide a 25% to 35% longer line per millimeter of wear compared with the Palomino Blackwing. The new pencil will be painted in the original pearl gray lacquer, and HALF THE PRESSURE, TWICE THE SPEED will be restored to the shaft. Berolzheimer calls it "a great solution for Blackwing fans old and new," and, at least for now, he seems to have won over the cultists.
"I think this second pencil will help to distinguish the intention of the Palomino Blackwing in the minds of those who have been fans of the original," went a post on Blackwing Pages.
At presstime, Berolzheimer was scrambling to assemble 5,000 Blackwing 602s for the National Stationery Show in New York. He couldn't resist tinkering with the final product and changing the color of the eraser. He decided that a black eraser "is just going to look much better than the [original] pink on this." Thus the new 602 will be tipped with a black eraser.
The bloggers haven't reviewed the new pencil yet. When they do, it is a safe bet that their remarks will be pointed.