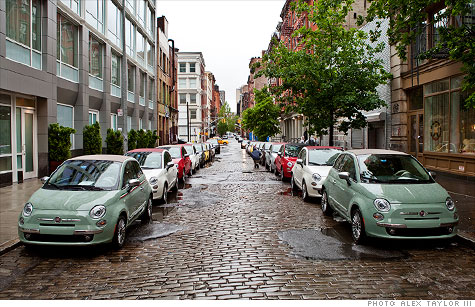 FORTUNE -- So what were 20 brand-new Fiat 500 Cabrios doing lined up on the rain-soaked Belgian paving stones of New York's SoHo last week?
The answer has to do with the complexity of the car business and the challenge of reintroducing an historic but troubled brand in the U.S. The pieces of the puzzle include attention-getting, image-building, and some friendly persuasion.
With 37 new or redesigned models due to be introduced in the U.S. for the 2012 model year, car manufacturers must scramble to break out of the pack in order to get attention for their products. If a new model can't develop a public profile during its first weeks on the market, it can become stuck in neutral and never develop momentum in the showroom.
To catch that early wave, manufacturers and marketers have determined media attention is vital. It isn't just exposure -- advertising can generate that -- but the third-party exposure that only the media can provide that is so valuable, especially for a brand like Fiat trying to redeem its troubled past.
The traditional launching pad for new model media events are remote, vacation-oriented resorts with ample space, uncrowded roads and few distractions. The car becomes the star.
So how did Fiat wind up parking its cars on a busy New York street close to the entrance of the Holland Tunnel? Was Las Vegas booked up?
After its last appearance in the U.S. as a bargain-priced import car ended 27 years ago, Fiat has given itself a makeover and remerged as a high-style brand with Italian roots -- more or less ignoring the fact that it is a corporate partner of Chrysler LLC and the car itself is made in Mexico.
The 500 Cabrio with its feminine lines, broad-spectrum color palate, designer interior, and minimal functionality is the ultimate fashion car. So Fiat rented a storefront in SoHo for a couple of months, filled it with trendy Italian artifacts, and parked its cars out front. Then it arranged for 140 journalists to visit -- all-expenses paid in most cases.
The journalists, who arrived in four waves throughout the week, were fed, housed overnight in a nearby hotel, and then immersed in Fiat lore the next day. After a presentation, they paired up, picked one of the 20 cars parked curbside, and drove away for an all-day jaunt through the Hudson River Valley. After being appropriately (sans alcohol) wined and dined, Fiat transported them individually to one of the area airports for the plane ride home.
Holding any event of this scale in New York requires careful planning, superior logistics, and a bit of luck. Washing, fueling, and storing 20 cars in lower Manhattan is no easy trick, but Fiat found a nearby garage to handle the duties. Keeping 20 cars free of scratches and dents when steered by drivers unfamiliar with New York City traffic isn't easy either, but no sheet metal was harmed. And despite ample opportunities to engage law enforcement officials in numerous jurisdictions, no parking tickets or summonses were distributed.
There was a single setback. The 500 Cabrio carries a $4,000 price premium over the hardtop version for a single reason: It has a canvas roof that can be rolled back to expose the elements. But there were few opportunities to do so in New York during the second week in May because it rained every day.
Whether or not Fiat's big splash in Manhattan paid off won't be known until news stories start appearing. Initial reports are favorable. Meanwhile, some of the same Chrysler people who dodged the rain and traffic were preparing for their next new model launch -- this one in remote backwoods Oregon for the rugged Jeep Wrangler. Invitations will be in the mail.