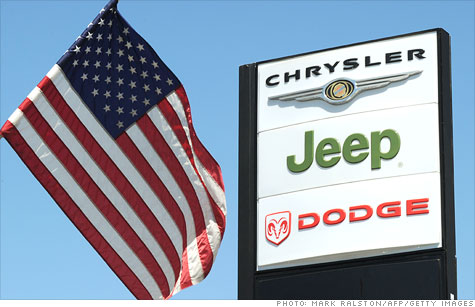 Fiat is buying shares of Chrysler owned by the government.
NEW YORK (CNNMoney) -- Fiat will buy the remaining shares of Chrysler Group stock now held by the U.S. government, wrapping up the automaker's 2009 bailout, a Treasury Department official confirmed Friday.
Fiat had the option to buy the government-held shares any time in the 12 months after repayment of $7.6 billion in government loans, which Chrysler paid off Tuesday.
The price will be set by either agreement between the two sides or by estimates of investment banks. The Treasury official said Fiat's formal notification will now allow negotiations to begin.
Sergio Marchionne, the CEO of both Fiat and Chrysler, told reporters in Turin, Italy, on Wednesday that while Fiat had yet to decide on the timing of the purchase, "the more we wait, the more we would pay for it."
On Tuesday, Fiat purchased an additional 16% of Chrysler's shares at the same time the company repaid the loans, paying $1.3 billion and bringing its stake up to 46%.
But the loan repayment still left taxpayers about $1.9 billion short of the money given to Chrysler. Fiat's move to buy the company's remaining shares from Treasury will further reduce that shortfall, but won't completely erase it.
General Motors (GM, Fortune 500) has also repaid loans it received from Treasury during its bailout, and the government sold some of its shares in the company last November during the company's IPO.
Treasury still owns about one third of GM's shares, worth about $16 billion at current market prices.
--CNNMoney's Chris Isidore contributed to this report.