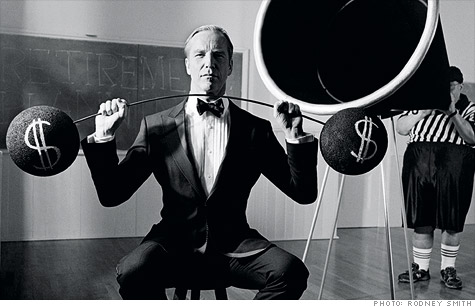 FORTUNE -- Bud Robertson is 62, recently retired, and wealthy enough after a long business career that he doesn't have to work another day in his life. He's in great shape, is full of energy, and lives in a big house in Groton, Mass., that looks like an antebellum mansion uprooted from a Georgia plantation. Divorced for six years, he has time to spend with his girlfriend, three sports cars -- a 1958 Bugeye Sprite, a 1956 Chevy hardtop, and a 1981 Corvette -- and his two children and five grandchildren.
But don't envy Bud Robertson. In fact, hang out with him for a while, and you almost feel bad for the guy. Because on a recent spring morning he is not lounging at home in his pajamas or snorkeling in the Bahamas. Instead he is sitting in a conference room in Boston with Mike Jeans, the president of a firm called New Directions that, among other services, helps retired executives like Robertson figure out what to do with themselves when they can't boss people around anymore.
"Bud, I want you to take a pad of paper and write down a list of 200 people you intend to contact," Jeans says.
"Two hundred?" Robertson says, startled. "I could find 20, but I don't know about 200." Just think about everyone you know, says Jeans. "Former colleagues, attorneys, accountants, financial planners, recruiters, college alumni, people from church ..."
I am supposed to be silently observing this coaching session, the proverbial fly on the wall, but I can't help myself. "Wait a minute," I break in, "that doesn't sound like retirement. That sounds like job networking."
"Networking has two purposes," Jeans says. "To get on a board of directors and stay on people's radar screen so he doesn't get lost."
But why not get lost? Dude spent his whole life playing the game. If ever there were a time in Bud Robertson's life to get lost, wouldn't this be it?
Jeans turns to Robertson and says, "Bud, I want you to take six months off and not do anything."
"No," says Robertson.
And there you have it -- the existential dilemma of the successful, retired baby boomer. Once upon a time you worked for 40 years, then played golf or sat in a rocking chair waiting for your arteries to calcify. Maybe you hated it, but you didn't complain. Then came Viagra, liposuction, Tony Robbins, and all the other inventions that made boomers the most annoying generation ever. Now they are being dragged into retirement -- the first wave of boomers turns 65 this year -- and they are not going gentle into that good night. But they are not exactly raging against the dying of the light either. Mostly they are just confused. Says Jeans: "A lot of folks are emotional wrecks."
In December, when he retired as chief financial officer of Progress Software (PRGS) in Bedford, Mass. -- after 38 years of being a "workaholic" -- Robertson says, "I felt lost."
Well, of course he did! The guy was a freaking dynamo, super-positive and super-likable, arriving at the office every morning at 6:45, jazzed to keep alive his astonishing streak of giving quarterly earnings guidance to Wall Street that his firm met or exceeded for 10½ years straight. That's when he decided to hang it up. "It was Rocky Marciano time -- 49-0!" he exults. Suddenly everything stopped. He became just plain old Bud Robertson. He filled his mornings by running and lifting weights, but in the afternoon there was nothing to do but stare at his old, rotting cars. Longer life expectancy means he could face another 20 to 30 years -- a full third of his life -- navigating this strange, empty landscape without a map. Help!
Fortunately, there is a solution, and he is sitting across from Robertson, nodding empathetically. Jeans, who is also 62, spent 28 years in marketing, sales, and management before coming to New Directions in 2001 as a senior consultant. (He was also a client in 1992.) His firm attracts the upper portion of the upper crust, charging $15,000 to $75,000 to help executives handle all manner of personal and professional transitions, including how to manage their "post-career" life (they don't like to use the R-word).
In other words ... retirement coaching! And why not? This is the dimming of the Age of Aquarius. Just imagine one of John Cheever's lonely commuters transported a few generations into the future. He would still be an empty shell, his marriage still in tatters. But today he would see a retirement coach to save his yuppie soul.
An already crowded field
Nobody knows how many retirement coaches are out there, though if you Google the phrase, you'll get plenty of hits, including websites like 2young2retire.com and mynextphase.com (which promises to "reveal meaningful personal insights" for $119 using its self-service website, and $179 per hour for phone sessions with a "retirement expert").
No government regulations or laws require licensing, and financial planners, HR pros, and consultants are all getting in on the act. "I've been stunned that at every single place I've gone to do readings, a significant portion of people who show up are coaches," says Marc Freedman, author of The Big Shift: Navigating the New Stage Beyond Midlife.
Freedman and others contend that boomers, with longer life expectancies than their forebears, are facing a life stage that has yet to be properly defined and named. Coach Patty DeDominic of Santa Barbara exhorts her clients not to retire but "re-fire"! Author Barbara Marx Hubbard says women should celebrate "regenopause"! Freedman says his 64-year-old mother-in-law may have come up with the best term: She says she is on her "next to last dog."
Most coaches are solo practitioners who conduct their sessions by phone and can cost as little as $100 an hour. New Directions is the Rolls-Royce of the industry. In fact, you could practically buy a Rolls with what it costs to be coached by Jeans and his crew, though the clients' firms often share some or all of that cost. Once you sign up for the higher-end packages, you are a client for life and are encouraged to come often to the elegant New Directions office near Boston Harbor. Clients meet with a staff psychologist named Bill Winn, use the small research library, work in offices, and attend seminars to learn the skills their staffs used to handle -- like conducting a Google (GOOG, Fortune 500) search or uploading a profile photo on LinkedIn (LNKD). Says Jeans: "One client told me, 'Sure, I use e-mail all the time. My secretary prints it out, and I read it at home.'"
New Directions was started 25 years ago by a former executive recruiter named David Corbett, now 73. Among the 2,600 clients who have passed through its doors are major-league athletes, CEOs, doctors, lawyers, an airline chief, and politicians like former Massachusetts Congressman Marty Meehan, who went to New Directions in his mid-forties and decided education was the thing. Now he's chancellor of the University of Massachusetts at Lowell.
Robertson showed up at New Directions in February, met with the 15-member staff, underwent a psychological assessment by Winn (using standard tests like Myers-Briggs), and provided the names of five people who know him well so a staffer could interview them about his strengths and weaknesses. "We want to make sure that what the person is thinking about doing next lines up with what they are suited for," says Winn.
Clearly, what Robertson is suited for is being a senior executive; he has never been terribly interested in much else except for his sports cars and a little golf. His story is classic: After getting his undergraduate degree at the University of Massachusetts at Amherst, he went to work at GM (TK) while getting his MBA at Boston University at night. By age 32, he was working seven days a week as director of finance for GM's electrical components group in Detroit. One day his 7-year-old son, Derek, said, "Dad, I never want a job like yours." After that, the Harry Chapin song "Cat's in the Cradle" began playing in his head: He said, "Thanks for the ball, Dad, come on let's play/Can you teach me to throw?" I said "Not today/I got a lot to do." He said, "That's okay."
Robertson moved the family back to New England, where he had grown up, in hopes of finding a more balanced life. They had dinners at home together, and the kids got to see their grandparents, but work still consumed him at a series of high-tech companies. In 1996 he moved to Progress Software. The company followed Robertson's growth strategy and doubled its sales and tripled its market cap over 10 years, but his marriage collapsed. Though he doesn't blame his job -- "We just drifted apart," he says -- he remains open to the possibility that getting up at 5 a.m. every day to hustle off to work and coming home late at night may have had something to do with it.
When Robertson turned 60, Derek said, "Dad, you're on the back nine now. When you get to the 19th hole, I'm gonna spend all your money anyway, so why don't you think about doing something else?" Soon after that, changes at Progress Software made him give up what was the equivalent of chief operating officer responsibilities, making the job not as fun or challenging. Robertson realized Derek was right: It was time to take the plunge into retirement, ready or not.
When the coaching started at New Directions, Robertson told Jeans he wanted a seat on a corporate board -- a common aspiration among retirees -- in addition to the two he already had (at an oscilloscope maker and a high-tech startup). But that's like giving a coke addict the keys to Charlie Sheen's house. "That's just a way to fill all their time with business activities like the ones they just gave up," says Bob Parsanko of the Center for Executive Transitions, a coaching firm in Cincinnati. "The problem is they don't know who they are outside of the business suit they wear. You have to find the passion and purpose in the individual, and everything else, including board work, should be a byproduct of that."
Searching for a board seat is fine, Jeans tells Robertson, as long as it's part of a bigger picture. He has encouraged Robertson to read Corbett's 2007 book, Portfolio Life, which has made the New Directions founder something of a guru among retirement coaches. Using language an executive understands, Corbett argues that people should think about their lives the way they do about their financial portfolio -- as a diversified mix of work, leisure, learning, family, and community -- to create an antidote to the single-minded focus that makes successful businesspeople such bores at dinner parties.
"It was during my years in recruiting that I realized there was a rapidly accelerating, underserved population -- older, senior people in all fields -- who were questioning whether they needed or wanted another full-time career job," says Corbett. "So we borrowed the idea of a financial portfolio. As you get older, you reallocate your resources as your life changes, so why not have a life portfolio where you do the same thing?"
What to do with the rest of your life?
Kirk Citron is not a New Directions client, but he could be a poster child for the portfolio approach. He was a San Francisco advertising executive who had literary aspirations but became best known in the 1980s for writing the catch phrase for Saturn automobiles -- "A different kind of company. A different kind of car." In 1990 he started his own agency, prospered during the dotcom boom, survived the bust, and saved enough to retire. In 2002 he quit at age 45. "I had no idea what the next 10 years would look like," he says, "and that seemed like a more interesting personal choice than staying."
What happened next, he recalls, was utter embarrassment at the cocktail party question "So what do you do?" "I didn't have an answer," he says. "I really resisted the word 'retirement' -- I thought I was in a mid-career transition."
Citron went to Barbara Waxman, a coach in San Francisco. "What kind of job should I get?" he asked her. Waxman encouraged him to slow down and think more about his passions. Citron began seriously applying himself to various writing projects he had started. Today, at age 54, he has written four novels, two plays, a screenplay, and children's books. The novels are unpublished and the screenplay unsold, but the plays have had staged readings around the country, and publishers have expressed interest in one of his children's books. He also does some advertising consulting, edits a website called The Long News that landed him a coveted speaking spot at the TED 2010 conference, helped produce a documentary for PBS about a World War II Japanese submarine, and works for five nonprofits. If that's retirement, it's hard to imagine what his career was like.
"Barbara helped me give myself permission to give up the idea that I had to work for a company and have a business card," he says. "On a good day I think I'm a renaissance man," he says. "On a bad day I'm a dilettante."
Citron calls his 18 months of coaching "close to therapy," but Waxman says there's an important difference. "We all have baggage, and coaching clients already know what's in the bag and can carry it around," she says. "But if it's too heavy, you may need a therapist to help you find the key to open the bag, learn what's inside and where it came from, and take out what doesn't fit. Coaches should not be practicing psychotherapy -- that's not our job."
At New Directions, nobody will poke around in your baggage. When Robertson meets with Jeans, they discuss not his childhood traumas but his action plan. In the first two months he wrote a résumé and bio, an exit statement about why he left Progress Software, and an elevator pitch about his qualifications for directorships. Business cards were printed and letters sent to dozens of executive-search firms. "One thing we're vetting is whether it makes sense for him to get back in the saddle in a corporate role as CEO, COO, or CFO," says Jeans. "It's a long shot, but it's on the table."
In May, Robertson got the results of his psychological assessment from Winn. It was pretty much what he expected, he says -- he demands excellence but doesn't feel that he has to do everything himself because he is also a good delegator and mentor. Winn concluded that would make him a good CEO, COO, or board member.
But didn't we already know that? And didn't he just quit that game? What about the pressing question: What is Bud Robertson going to do now? Jeans says it's too early to say, adding that his clients often come up with unexpected solutions -- they've gone into sheep farming, sculpting, winemaking, law school, inner-city volunteering, and dress designing. "When you leave the pressure cooker of being the CFO of a public company, you don't just step off that train and think with any clarity about what you're going to do next," Jeans says.
Are you thinking what I'm thinking? Who needs coaching? Damn, give me his money! I'll find something to do with it! I ask Robertson why a client would feel the need to pay tens of thousands of dollars to New Directions. "If I just retired and tried to figure it out for myself, sitting at home writing résumés, I would have felt really lost," he says. "It's like having a family around to support you, and going through the process gives me a structure. That helps a lot for somebody who is used to the structure of a job."
Fair enough, but given how Robertson ended up in this pickle, I wonder if we don't all ultimately have to make a tough choice between two extremes: Make Bud Robertson's Faustian bargain and sever all those connections to your true self? Or do what you love, enjoy your life, and spend your golden years asking, "You want fries with that?"
I pose the question to Corbett, a genteel, grandfatherly figure who is such a master coach that within minutes I have forgotten about the interview and started complaining that supporting my family never leaves me enough time for playing trumpet in my jazz quintet, getting the play I wrote produced, and taking vacations with my wife and daughter. And we still don't have nearly enough saved for retirement or college! "Don't we all have to make that choice, or is there some great middle ground that I'm missing, where you can build up a retirement account plus keep in touch with your passions?" I ask Corbett.
He thinks for a moment. "I think validation is a piece of this," he says. "If people validate you because you have this band, maybe it's okay. You have your health, you'll educate your daughter. I think we can learn from the X and Y generations -- they are much more relaxed about not making so much money. They'll take a lesser job, with lesser money, to stay in a certain city or place, or go to a company because it has better child care or maternity leave."
Then he quotes Emerson: "Each man has his own vocation; his talent is his call. There is one direction in which all space is open to him." I nod, then quote Robert Frost: "My object in living is to unite my avocation and my vocation as my two eyes make one in sight."
As the bullshit starts piling up around us, Corbett gives a bit of sensible advice that nobody will follow: It's best to start thinking about how you will spend your retirement years as early as possible, even in your twenties or thirties. Still, it's nice to hear, and the next step makes me feel as if maybe I'm on the right track after all: Find a way to keep connected to your passions, Corbett says. If you don't have time for piano lessons, go to concerts and develop a network of other music lovers. That will keep the pilot light on, making it much easier to ignite the flames when you retire. "The older you get, the clues come from further in the past," he says. "We have our clients write a résumé that ends on the first day you got your first job. What did you do in elementary school and high school? That helps get them thinking."
If everybody followed Corbett's advice, of course, there would be no need for retirement coaches. But as Robertson says goodbye to his cadre of advisers at New Directions and heads home to work on his beloved '58 Bugeye Sprite -- the one he bought in college in 1969 and stopped driving the moment he got his MBA -- their jobs have never seemed more secure.
--Paul Keegan, a contributing writer for Fortune and Money, is living a pre-retirement Portfolio Life as an actor, playwright, and trumpet player with the Blue Soul Jazz Quintet in New York.