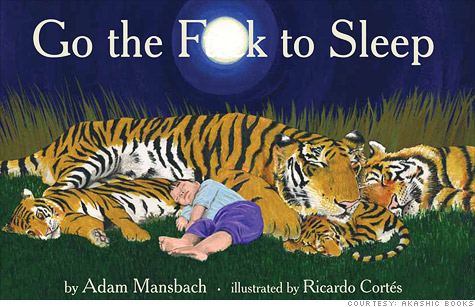 Akashic Books is the publisher behind the runaway hit 'Go the F to Sleep.'
NEW YORK (CNNMoney) -- Johnny Temple, publisher and founder of Brooklyn-based Akashic Books, likes to say this about independent book publishing:
''Just keep your doors open for business, and then one day lightning will strike.''
Cue lightning.
Next week, Akashic plans to publish the most irreverent ''children's'' book in recent memory.
Written in the style of a children's book, ''Go the F to Sleep'' unabashingly drops the F-bomb in the text.
The book, written by Adam Mansbach and illustrated by Ricardo Cortés, originally was slated for a fall release. Then the PDF version of the book hit the Internet and went viral. As a result, Akashic is moving up its release date, for both the print book and ebook, to June 14. The film rights already have been sold to Fox 2000.
The popularity of the book has raised the profile of Akashic and is likely to raise its profits.
Courting controversy
''Go the F to Sleep'' is actually a book for adults that deals with the age-old problem of trying to get children to go to sleep.
''It was very evident to me that the book was addressing with humor what is perhaps the core psychological hurdle of parenthood in the early years,'' said Temple, whose own children are ages 3 and 5. ''Lack of sleep breaks up marriages.''
Temple previously worked with Mansbach on an anthology. The author had written other books, which included bestseller ''Angry Black White Boy,'' published by Three Rivers Press in 2005.
Mansbach brought the idea to Temple, believing he would be willing to take on the project, despite its controversial title.
''I've published some very edgy novels with some big publishers, but I think that's the exception," said Mansbach. "Small presses are more willing to take some risks.''
A viral sensation
Temple indeed agreed to publish it. Akashic, which publishes 25 to 30 titles per year, was the first -- and only -- publisher who got a glimpse of the ''Go the F to Sleep'' manuscript.
Temple did no promotion for it other than to book sellers and other retail avenues. Not long after, a version of the book appeared on the Internet after an author reading in Philadelphia in late April.
''It was probably accidentally leaked by a bookseller who we had sent a PDF to,'' said Temple.
Preorders for the book on Amazon sent it flying up its bestseller's list. Akashic is one of only a few independent publishers to get a book to hit No. 1 on the e-commerce site.
It would seem that the book going viral would be a detriment to book sales. But the extraordinary success of ''Go the F to Sleep'' -- whose print edition, at press time, was in its 44th day in Amazon's Top 100 -- perhaps proves that there are plenty of people out there who are willing to pay for the cow even though they could have gotten the milk for free.
Temple takes a rather ambivalent stance on the leak. ''Obviously, if I'm running a business, I want to stay in business,'' he said, ''but I believe very strongly in an expansive public domain. We want to allow parents to continue enjoying the book the way they've been enjoying it and not really tamper with that too much.''
Originally a rock musician by trade, Temple founded Akashic in 1997 as a ''hobby'' with two musician friends (who left the company early on) and an initial investment of $70,000. Since 2002, when Akashic became Temple's main pursuit, the company has found a well-defined, and well-respected, niche as a place for urban literary fiction. Financially, though, the company has only managed to break even, with annual revenues ranging between $750,000 and $1 million.
Until now.
At press time, the first printing of ''Go the F to Sleep'' had been upped to 275,000 copies -- by far, Akashic's biggest to date. The company's average first print run is between 4,000 and 6,000 copies.
''We could easily be printing up 350,000, but I just want to manage this very carefully,'' said Temple, sounding a bit like a guy who has just won the lottery, but is reluctant to quit his day job. ''Once you expand, it's very hard to contract.''
Temple credits Akashic's longevity to ''consistently good books, creative low-budget marketing, and careful financial management.''
That being said, he is not about to let a runaway hit derail a management style that has kept his small press' doors open for the past 14 years.
Independent publishers can actually be hurt by such successes, because they do not have the infrastructure to support the demand, he said.
''We have a sensation and a phenomenon on our hands, but I don't want to get ahead of myself,'' he added. ''I'm being very cautious about what we do with our success and how we manage it.''
Just in case lightning strikes again.