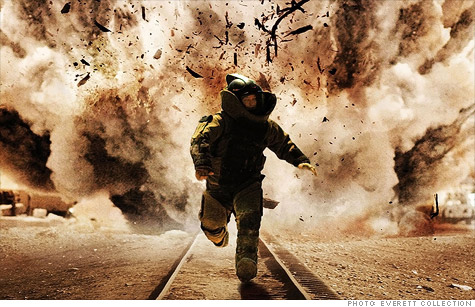 Oscar-winning war film The Hurt Locker is at the heart of a legal battle over online piracy.
NEW YORK (CNNMoney) -- The turn of the 21st century was rife with bitter anti-piracy lawsuits pitting studios against their potential customers, with music labels banding together to blast Napster -- and its massive user base -- to smithereens.
Get ready for round two. This time, it's BitTorrent users facing off against the movie studios.
Nearly 50,000 users of BitTorrent's peer-to-peer downloading software have been targeted in a sting over the past few months, accused of illegally downloading one of two movies.
Voltage Pictures, the studio behind 2009's The Hurt Locker, is suing almost 25,000 BitTorrent users who allegedly illegally downloaded the flick. That came just weeks after 23,000 were sued for downloading The Expendables, produced by Nu Image.
Both of the lawsuits were filed in federal court in Washington, D.C., by the U.S. Copyright Group, an outfit formed by Washington-based law firm Dunlap, Grubb & Weaver. The group filed its Expendables lawsuit in February, then followed with its Hurt Locker lawsuit in April.
"They're copyright trolls," says Corynne McSherry, intellectual property director at the Electronic Frontier Foundation, a digital rights organization. "They take a dragnet approach to litigation."
The USCG did not respond to multiple calls asking for comment.
A spokesman for Voltage Pictures, the Hurt Locker studio, defended the sweeping lawsuits.
"The lawyers are just doing their jobs," he said. "Somebody stole our property and we are trying to get it back." The representative declined further comment.
The new anti-piracy clampdown: Legal skirmishes over digital piracy happen constantly, and BitTorrent is often in the crosshairs.
The free software program lets users swap and download large media files. It's got plenty of legitimate uses -- online education pioneer Khan Academy recently made its free video catalog available through BitTorrent -- but is also heavily used to illegally trade movies, TV shows and other copyright-protected content.
BitTorrent CEO Eric Klinker said that his company merely provides the software, and it can't control what its customers do.
Suing John and Jane Doe: What's striking about this batch of lawsuits is that USGC went after tens of thousands of "John Does," issuing subpoenas to Internet service providers including Time Warner Cable, Comcast (CMCSA, Fortune 500), Verizon (VZ, Fortune 500) and Earthlink for the identities of those users.
ISPs are complying and handing over the details, according to those tracking the case.
"Time Warner Cable has fought the subpoenas, but most ISPs are coughing up about 100 to 150 IP identifications per month," said Eric Menhart, a CyberLaw attorney who is representing about 50 defendants in the Hurt Locker case.
A Time Warner Cable (TWC, Fortune 500) spokesman confirmed that his company traditionally fights these kinds of legal requests. Representatives of Comcast, the nation's largest ISP, did not respond to a request for comment.
The EFF's McSherry is troubled by the move to prosecute thousands of individuals as one linked class. USCG "isn't letting people who have legitimate defenses raise them," she said.
Holding individuals accountable for illegal acts committed through IP addresses they're linked to is tricky. For example, should a parent be responsible for a child downloading a movie through the family's IP address? What about a landlord who supplies Internet to a tenant?
Years after those issues first arose, courts are still grappling with them on a case-by-case basis, legal experts say.
For those hit by the lawsuits, the costs of defending themselves can be daunting.
Dozens of the "John Does" in the Locker case have complained to the court about the distance they'd be required to travel to appear in Washington. Others say multiple computers were linked to their IP address.
So far, the court has thrown out the Does' moves to quash subpoenas sent to their ISPs seeking their personally identifiable information.
Threatened into settling? USCG launched in early 2010 and has filed a stack of digital piracy cases, typically going after a few thousand defendants at a time. Many choose to settle out of court.
McSherry and other critics have attacked the USCG for what they say is a "pay up or we'll getcha" method -- that is, pay a relatively small fee to settle or face tens of thousands of dollars in legal fees and potential penalties.
BitTorrent user Dmitriy Shirokov filed a lawsuit last year making the case that the firm has made a business out of threatening people. The suit alleged that USCG exploited copyright law -- and that its goal was to frighten people into paying up a small settlement of $1,500 to $2,500 rather than face litigation.
The case is currently pending in U.S. District Court in Washington.
Booth Sweet attorney Dan Booth, who filed that suit, said that USCG hasn't responded to the claims, and has moved to have the case dismissed. It also asked the court to sanction Booth Sweet, a Massachusetts-based law firm, for taking the case.
Menhart said he's seen "an uptick in this style of litigation" over the past two years. The small sums at stake can add up fast.
As TorrentFreak, one of the first blogs to report on the Locker case, points out: If only 10,000 of the alleged infringers pay a $2,000 settlement, it would net $20 million for Voltage and USCG. In comparison, The Hurt Locker grossed $17 million at the U.S. box office.
Menhart hopes mass dragnets like this one will draw attention to a legal issue that's faded into the shadows in the years since Napster collapsed. Nearly everyone agrees illegal downloading is wrong. But how draconian should the punishment be?
"I think there will be a call from people asking, do we really want Grandma to pay $2,000 to settle over a movie her grandson downloaded?" Menhart said. "There's just something about it that doesn't feel right."