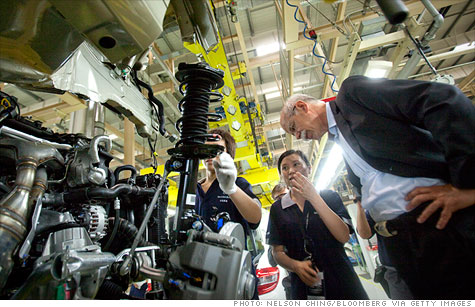 Daimler Chairman Dieter Zetsche at the Beijing Benz Automotive Co. plant in China.
FORTUNE -- For General Motors, the change came last year -- China passed the U.S. as the automaker's single largest market. For Mercedes, that time is fast approaching -- and when it does, it will be far more consequential.
As a full-line producer, GM (GM, Fortune 500) is selling a range of vehicles, starting at the top with Buick and working its way all the way down the price scale to tiny subcompacts made in Korea and branded as Chevrolets. It succeeds in China by selling cars tailored for the Chinese.
Pricewise, the Benz's on sale in China start where Buick stops and go up from there -- way up. They sell for multiples of what GM's cars go for. Moreover, Mercedes sells the same products in China that it does all over the globe -- from M-class SUVs and SL roadsters to flagship S-class sedans. For Mercedes to sell more of these cars to the Chinese than to the Germans or Americans would represent a seismic shift. It would certify China as not only the world's largest market -- but also its richest.
Daimler Chairman Dieter Zetsche told reporters in New York on Tuesday that China would pass Germany and the U.S. to become Mercedes's largest market in 2015.
There is no reason to doubt him. Mercedes's sales in China have been on fire recently, having doubled in 2010 to 148,400 and jumped another 86% in the first quarter of 2011. Sales of the flagship S-class, more of whose buyers inhabit China than in any other country, rose 25% in the first quarter. Mercedes is also a key player in China's super-luxury SUV market, with 19% of sales for vehicles costing more than $154,000, according to J.D. Power and Associates.
With that kind of mind-boggling growth, Mercedes is scrambling to keep up with demand. It is adding as many as one new dealership every seven days.
How will this enormous shift change things at Mercedes? Zetsche insists that Benz must always embody German engineering and brand values because that is part of the manufacturer's promise to the Mercedes customer. Yet the demands of Chinese customers that don't necessarily align with the wisdom of Stuttgart will inevitably make themselves felt.
Mercedes is already paying more attention to the rear-seating compartment of its cars, since Chinese luxury car owners typically have drivers, rather than drive themselves. It is adding long-wheel-base models that provide more rear-seat legroom for the same reason.
China is having a big impact on other corporate decisions as well. Daimler has joined up with Chinese battery maker BYD to build electric vehicles for the Chinese market. The joint venture will benefit from both Daimler AG's expertise in electric vehicle architecture and BYD's firm grasp on battery technology and e-drive systems.
The deal got an immediate endorsement from the Chinese government, which has ordered 100,000 cars.
Daimler isn't putting all its alternative fuel eggs in one basket. Zetsche revealed that Mercedes will introduce a fuel cell car by the "middle of the decade." A hydrogen-powered fuel cell car that emits only water has been the holy grail of automobile manufacturers for 20 years, but deadlines for its introduction have proved elastic. GM long promised to have a saleable prototype ready by 2010 but never delivered one. Even earlier, Zetsche's predecessor, Jurgen Schrempp, had promised a Mercedes fuel cell car 2004, and it never left the laboratory.
Sales won't be large because little hydrogen refueling infrastructure exists. Zetsche hopes that setting a new deadline for a fuel cell car will provide an incentive for others to start building. "Infrastructure is the missing part of the equation," he says.
Further expanding its EV options, Daimler is holding on to its 10% stake in Tesla Motors (TSLA). Zetsche says Mercedes will use Tesla batteries in the electrically-powered Smart Car.
China and EVs are just two reasons why Zetsche believes that autos, once derided as mature, now deserve to be classified a growth industry with annual production gains of 5% to 6%. He intends for Mercedes, which invented the auto 125 years ago and still commands a substantial price premium over its rivals, to maintain its position in the automotive universe.