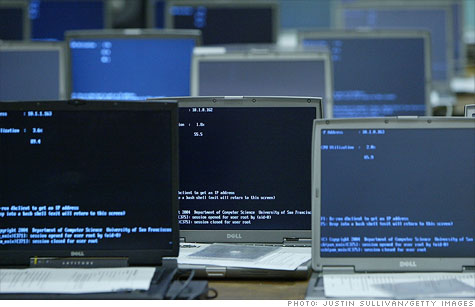 Thousands of ordinary laptops linked together can rival the processing power of a supercomputer.
NEW YORK (CNNMoney) -- Buying a supercomputer costs millions of dollars, then thousands more each year to maintain it. That's not to mention the hefty electric bill to keep the massive system running.
So it goes without saying that average Joes can't just get themselves a supercomputer. But many scientific researchers also don't have access to them, even if they work at a university that owns one.
Particularly in the health, meteorology and astrophysics fields, scientists need immense processing to perform complex calculations in a reasonable amount of time. It might take a decade to run a set of modeling experiments on a standard personal computer.
But if you link millions of ordinary PCs together and split the calculations across them, you get a virtual supercomputer. That's exactly what some people are doing.
Several organizations have developed virtual supercomputers by getting volunteers to donate their PCs' processing power when the machines are not in use. Anyone can go to the groups' websites to download software that connects their computers to the grid of other PCs.
Multiplied a thousand or even million times, the combined processing power of all of those PCs is formidable.
The concept is called volunteer grid computing, and it's being used by projects like World Community Grid, SetiAtHome, FoldingAtHome and EinsteinAtHome, among others. The projects take a computing task, cut it up into literally billions of pieces, and send them out to the PCs in the network.
SETI@home is perhaps the most well-known of the projects. It was set up by University of Berkeley researchers in 1999 with the goal of finding radio signals indicative of intelligent life outside of Earth.
Folding@home is a Stanford project for researching protein folds, and Einstein@home is a University of Wisconsin and Albert Einstein Institute research program to study gravitational waves. Of the university projects, Folding@home is the largest, with about 350,000 donated PCs.
World Community Grid, run by IBM (IBM, Fortune 500), dwarfs all of those academic grids. With 1.8 million connected PCs, its combined processing power can equal that of one of the five most powerful supercomputers in the world -- it generally floats between the top five and the top 10, depending on how many PCs are connected at any given time. With 300,000 more PCs, IBM estimates that the World Community Grid could be more powerful than the globe's top supercomputer.
IBM's grid helps select researchers solve some of the world's most challenging problems. There are currently eight active projects, including research into cures for AIDS, childhood cancers and muscular dystrophy, as well as investigations into clean water and solar cell technology solutions. Completed projects include one that developed advances in genome research and another that explored new methods of performing biopsies.
Dr. Stanley Watowich, of the University of Texas Medical Branch, is using the World Community Grid to research drugs to combat Dengue Fever.
"Our laboratory can access a dedicated 128-processor computer-cluster for this project," he said. "In contrast, during this project, World Community Grid has provided the equivalent of a dedicated 12,000-processor computer cluster."
Watowich said the complex calculations entered into the World Community Grid are typically returned within 1 to 6 months. They then need to be combined with the results from several calculations, so final results for testing take between 18 and 24 months to complete.
"Without World Community Grid, these calculations would be extremely difficult -- perhaps impossible -- to complete unless we had one year of 24/7 access to the world's largest supercomputer, which is not possible for academic research," he said.
IBM accepts applications from scientists who conduct humanitarian research but can't afford the high cost of renting time on a supercomputer.
"It's not real-time, but it's fast in real terms," said Robin Willner, IBM's vice president of global community initiatives. "Researchers are excited if they can get results every couple of months and finish their projects within a year."
The software volunteers need to install to become part of a grid is generally pretty dumb -- it only knows how to communicate back and forth over the Internet with the rest of the grid, and it is only capable of instructing the PC's central processing unit to run one algorithm at a time.
"There is an enormous amount of time that goes by when your laptop is on, but you're not using its processing power," Willner said. "The Grid can take advantage even of just one millisecond."
Big Blue's grid got a big publicity boost and bump in enrollment when IBM challenged Jeopardy! grand champions with its Watson project: The company advertised that all of the prize money IBM collected would go directly to the researchers that use the World Community Grid.
But IBM is still looking for more volunteers.
"If we had more compute power, we could get these important projects done even faster," Willner said. "It's secure, safe and free, and most importantly, you don't even notice that it's there."