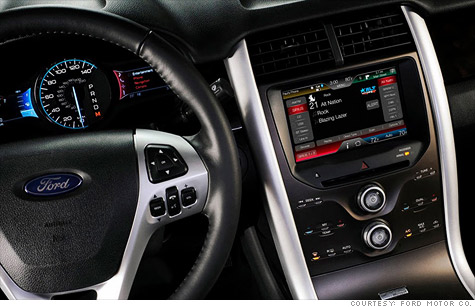 FORTUNE -- More than drunk driving, the biggest single cause of car accidents today is driver distraction: taking your mind or eyes off the road, or your hands off the wheel. As the controls of cars become more complex and drivers continue to manipulate accessory appliances like cell phones while they are moving, the problem is only getting worse. According to a 2008 study by the National Highway Traffic Safety Administration and the Virginia Tech Transportation Institute, 80% of crashes and 65% of near-crashes involve some form of driver distraction
Ford (F, Fortune 500) took a giant step towards mitigating driver distraction this year when it introduced its MyFord Touch system of driver controls. MyFord enables drivers to integrate mobile phones, PDAs, and digital media players into their cars, and operate them using any one of three different systems: voice commands, touch-screen inputs, or conventional switches.
I tested MyFord Touch a few months ago with generally good results. While I am a slow technology adapter, I found that I could operate it well enough after a half-hour instruction. The steering wheel controls are more intuitive than the dials I've found on German cars, and the voice command system, upgraded to accept 10,000 words, also worked surprisingly well. I'm not a fan of touch screens, finding them insensitive and hard to activate while driving. Ford's system, though, worked faster and more responsively than others I have tried on new Chrysler cars.
My experience has not been typical, however, and Ford is getting roasted by owners, dealers, third-party evaluators, and the media. The price of leadership, it is finding, is that everybody gets to kick you from behind.
Complaints started showing up as early as January. One owner reported the following in demonstrating his Ford Focus to three friends: "Too bad about the touchscreen, I say, which only occasionally will connect to my Bluetooth phone, occasionally reboots while driving, and sometimes doesn't bother to offer radio presets. A few minutes later, the screen goes blank and then comes back up. And out of the front-right speaker suddenly comes some radio station's broadcast so loud it's distorted. No amount of button-pressing will stop it. The display clearly shows 'Minimum Volume,' and yet the speaker crackles on with 90 decibels of eardrum-piercing sturm und drang. Luckily, it was just the one speaker."
The most prominent critic has been Consumers Reports, by far the most influential third-party automotive evaluator. Early reports were encouraging. A CR driver reported in January that he "found the system easy enough to learn on the fly that I didn't have to break out the weighty owner's manual," but he added that "the jury is still out."
When the magazine weighed in with its formal evaluation later on, however, it lowered the boom.
"It all adds up to three or four ways to make what should be simple adjustments. None of the options works as well or is as easy to use as old-fashioned knobs and switches, and they can be more time-consuming and distracting to operate. First-time users might find it impossible to comprehend."
Those complaints were echoed by owners who responded to J.D. Power's Initial Quality Survey after 90 days of ownership. In results released Thursday, Ford fell from 5th to 23rd in the quality ranking of major brands. MyFord Touch was a big reason why.
"If it wasn't for MyFord Touch, we wouldn't be talking about Ford," said Dave Sargent, vice president of global vehicle research at J.D. Power, told the Detroit News, "They made the decision to be a leader in this area" of onboard connectivity, he said. "If you're the leader, that's great, but you're also in a somewhat vulnerable position."
Ford, which has made its product quality ranking a key selling point, is chagrined. The automaker hasn't finished below the industry average in the survey for five years. Lincoln, which also offers MyFord Touch, didn't fare much better. It dropped from 8th place in 2010 to 17th this year. Ford has been meeting repeatedly with dealers and customers to learn more about their complaints. It hopes to roll out a version 2.0 as early as this fall.
Meanwhile, Ford apparently isn't slowing the pace of innovation. Earlier this week, it showed new journalists a portfolio of new ideas. Some are accident-avoidance devices that use wi-fi signals to let drivers know where other cars are and to see around corners to give drivers a warning about an impending collision. Others check on a driver's health with a heart-rate monitor to measure his stress level and a blood-sugar monitor for diabetics.
Progress can't be stopped but, as Ford is learning, sometimes you have to slow it down.