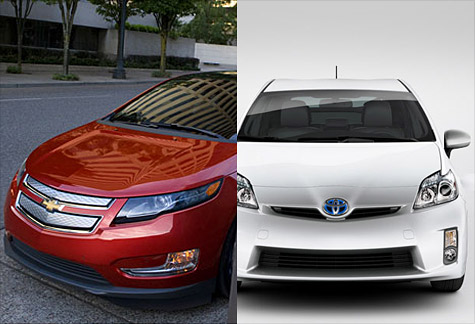 The Chevy Volt (left) is being bested by the new Prius Plug-in.
FORTUNE -- Enthusiasts who are raving about the range assisted, battery-powered Chevrolet Volt are ignoring the 800-pound elephant in the room: Toyota, which in addition to its vast knowledge base and production volume in hybrid cars, has a better idea.
It is the Prius Plug-in, it is already in test fleets, and it will be arriving in showrooms in less than a year from now. It will be more efficient and less expensive than the Volt, and Toyota (TM) actually stands the possibility of making a profit on it -- something General Motors concedes it can't do with the Volt.
To date, the Prius Plug-in has been ignored by EV enthusiasts who are being revved up by the flood of favorable publicity coming out of Detroit, which for all its pretensions to global sophistication, remains a house of mirrors whose view of the outside world stops at Eight Mile Road.
Whenever somebody congratulates Volt for winning multiple car of the year awards, they should remind themselves that those same award-giving bodies passed over the original Prius hybrid in 2001 in favor of the PT Cruiser. Toyota has gone on to sell two million Priuses, the most revolutionary car of the last 75 years; the Cruiser, a novelty car with no technological pretensions, has since gone out of production.
The latest to fall victim to this tunnel vision is the New York Times, which kicked off its new Sunday Review section with a favorable review of the Volt and a big pat on the back for GM (GM, Fortune 500).
Even a Volt enthusiast like former GM vice chairman Bob Lutz admits that Toyota is probably making a profit on Prius, while GM loses money on every Volt and is unlikely ever to recover a penny of its estimated $1 billion development cost.
Volt enthusiasts like to recite the fact that the Volt can go 35 miles on battery-power and then shift seamlessly into gasoline-engine mode, saving on gas and reducing emissions of greenhouse gases. It is an impressive technological improvement but one that is already obsolete.
Here's why:
The Prius Plug-in can go about 13 miles on battery-power alone. But when the battery-only power expires, it switches over to Toyota's proven hybrid system. That system delivers 51 miles per gallon in the city and 48 mpg on the highway in the standard Prius.
The Volt can go about 35 miles in EV mode, but after that it switches over to pure gasoline power - no more battery assist. With only its gas engine running, Popular Mechanics magazine discovered the Volt gets just 32 mpg in the city and 36 mpg highway.
So on trips of 13 miles or less, the Prius plug-in and Volt deliver the same all-electric mpg: zero. On trips between 13 miles and 35 miles in length, the Volt beats the Prius. But after 35 miles, the Prius handily outscores the Volt.
Moreover, the Prius can be recharged in three hours on regular household current. The Volt requires ten hours for a full recharge, unless you buy a special 240-volt recharging station that costs about $2,000. So an equal duration of charging creates the same distance of EV travel in both cars.
Finally, there is the question of price. The Volt carries a sticker price of $41,000 for 2011; a 2012 model with less standard equipment will be available for $39,995.
The average transaction price for a Prius is $26,000. The price of a Prius Plug-In hasn't been announced. But the additional lithium-ion batteries for the plug-in feature will add an estimated $3,500-$5,000. So figure on around $30,000 -- a $10,000 difference from the Volt.
To be sure, there are other factors to consider. The Volt feels and drives more like a conventional car, while the Prius still has that Jetsons space capsule air about it. And the Volt is made in America while the Prius comes from Japan.
But on a straight-up comparison of functionality versus price, it is hard to understand the adulation surrounding the Volt. GM has only managed to sell 2,184 since introduction, while Toyota moved nearly 7,000 Priuses in May alone. Everybody should be glad that General Motors and the rest of Detroit have recovered from the recession. But an excess of praise in the wrong places doesn't help anyone.