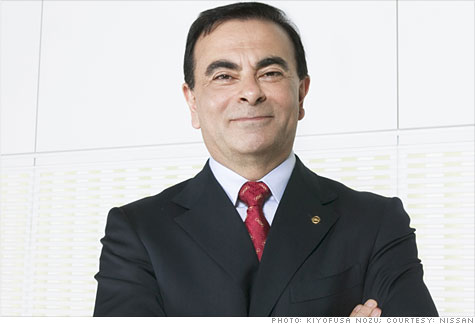 FORTUNE -- News item: Nissan Motor Co. recently announced a wide-ranging, six-year business plan that will accelerate the company's growth across new markets and segments. The plan, called "Nissan Power 88," is effective immediately.
Dear Mr. Ghosn,
I was surprised to read about your six-year business plan with its very ambitious growth and profitability goals.
I know you have had great success setting impossible financial targets and then meeting them, starting with the original Nissan Revival Plan in 1999.
But six years is twice as long as your previous plans, and who knows if you (or me, for that matter) will be around in 2016. You have often told me that trying to run two car companies on two different continents (France's Renault is your other day job) is not a long-term job description. Although you seem to be holding up remarkably well, you will be 63 years old by then.
Big ambitious targets are fashionable these days. The folks at Volkswagen can't stop reminding us about their plans to sell one million cars in the U.S. as part of their plan to become the world's largest car company by 2018. But I can't help recalling the words of the eminent economist who said he was willing to forecast a number or a date -- but not both -- because it made it too easy to prove him wrong.
It isn't as if you don't have plenty of other things to work on besides global growth. Although Nissan has been making some nice market share gains in the U.S. lately, its base here is anything but solid.
Its sales are dangerously unbalanced. Nissan in America is basically the Altima Car Company. The Altima accounted for more than half of your U.S. passenger car sales in May. Put another way -- By itself, the Altima outsold all eight other models that Nissan sells in America.
The situation is even worse at Infiniti, where the G-car accounts for more than half of car and truck sales combined. Heaven help you if either one of these vehicles should get caught in a Toyota-like recall situation. Your sales would collapse, and your dealers would revolt.
Elsewhere the Nissan product line is very spotty, with your failures in minivans and full-size pickups especially conspicuous. In fact, it is difficult to think of any vehicle that symbolizes Nissan except for the battery-powered Leaf, and that is more a hobby than a business. How Nissan and your partner Renault are going to move 1.5 million EVs by 2016, as you promise in the plan, will be something to see.
Instead of your grandiose six-year plan, you could have put in place some shorter-term goals that would mean more to your customers -- like improving quality. Last time I looked, Nissan ranked in the bottom third of both the 90-day and three-year J.D. Power quality surveys. Consumer Reports ranks you eighth out of 13 manufacturers, behind Ford (F, Fortune 500) and Hyundai among others and only recommends 63% of your vehicles.
A couple of other things in your announcement caught my eye:
Like other automakers, you do more business in China than anywhere else, and the demands of Chinese consumers and the requirements of the Chinese market will increasingly drive your product decisions.


You are anticipating no growth at all in Japan and Europe. That suggests that the economic woes they are both experiencing won't soon be coming to an end.


I like the way you count new technologies and roll out a measured number of them each year (90-plus in the next six years), but I wonder if that means you give equal weight to, say, active cruise control and high-definition radio. I don't think consumers see them that way.

As you said in your statement, Mr. Ghosn, ''Nissan Power 88 is a demanding business plan, but our company has a proven record of achieving challenging objectives." All true, but this one is huge. We'll see how this all works out for you.
Respectfully yours,
Alex Taylor
P.S One more thing: "Nissan Power 88" sounds like the name of an energy drink. If you really are shooting for the moon, "Nissan's plan for global domination" might be more appropriate.