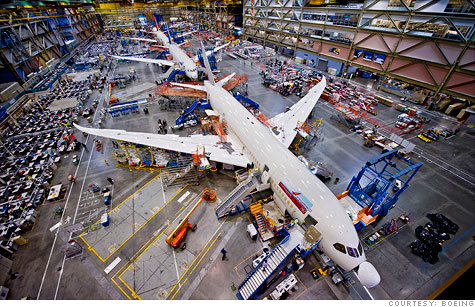 FORTUNE -- The Paris Airshow last month was a clear win for Airbus, but don't count Boeing out just yet. The record number of orders for the Airbus A320neo aircraft at Le Bourget shows the European aircraft maker's success in bringing its current airline customers back on board. But while it was an impressive showing, Airbus failed to make any meaningful inroads into Boeing's core customer base, leaving in place a deadlock between the two aircraft makers in the heavily competitive and extremely profitable single-aisle jet market.
For now, it looks like Boeing's customers are waiting it out to see what the aircraft maker will do with its aging single-aisle workhorse, the Boeing 737. But Boeing shouldn't make them wait too long. Airbus, along with a new crop of foreign competitors, namely the Chinese, is aggressively pitching Boeing's anchor customers. Boeing may need to act fast or it could find that even its most loyal airline clients, like American Airlines and Europe's Ryanair, sign big multi-billion dollar contracts with a competitor.
The single-aisle jet market hardly grabs the headlines, but it is the most important profit center for jet makers. So while Airbus' superjumbo A380 and Boeing's futuristic 787 are important, the truth is, they aren't the big money makers. Boeing's 737 aircraft accounts for around 40% of the jet maker's commercial aviation revenue and well over half of its profits. Meanwhile Airbus still hasn't made a profit from selling its new superjumbo A380.
What keeps these aircraft industry going are the small jets that whisk people several times a day from New York to Houston or from London to Madrid -- not the big transatlantic jets. The cash flow generated by those projects allow the jet makers to splurge on research and development and roll out sexy new products. That's not to say that bigger jets aren't important to the bottom line, they just aren't the backbone of the industry.
For the last few years all the attention at the Paris Airshow has focused on the sexy new projects. This year, though, it was all about the workhorse. Airbus offered up for sale its latest version of the A320, the A320neo, which stands for "new engine option." As the name suggests, the jet really isn't a major redesign, it simply has a new engine. Airbus is selling the new plane as an "efficiency improvement package," over older models with improvements including a 15% reduction in fuel consumption allowing it to go farther and hold more cargo. Airbus clearly didn't reinvent the wheel here.
But Airbus customers went gaga over the new jet, which won't even be ready to enter service until the fall of 2015. There was a whopping 667 orders for the new jet at the show, worth around $60.9 billion at market-list prices. Airbus now has 1,029 orders for the new jet, making it the most popular model in civil aviation history.
The sheer number of orders at the show shocked analysts, who were expecting around half that. Leading the way were several Asian airlines, like Malaysia-based AirAsia with 200 orders. Garuda, the Indonesia flag carrier, also got in on the action ordering 15 jets.
Most of the other orders came from long-standing Airbus champions, like JetBlue (JBLU), which ordered 40 of the new jets. Analysts and insiders believe that the only real hit to Boeing was Garuda's 15 plane order, as the flag carrier had been staunchly Boeing for decades.
A 737 tune-up?
The potential loss of Garuda as a core customer doesn't seem to be worrying Boeing's management in Chicago. Nor does the fact they received just 71 new orders for its latest 737 models, the -800 and -900ER, at the air show. Boeing hasn't introduced a radically different version of its 737 in some time, so it was expected to do poorly in the final tallies. Big aircraft orders usually come when there is a new model, and Boeing hasn't rolled out a new version of its 737 workhorse in six years.
That's quite a long stretch to go without a gussied up new aircraft. The company seems to have focused all its energy in the last few years in launching its much-delayed mid-sized 787 aircraft, which finally enters service at the end of the summer.
Boeing understands that it is time to roll out a new 737, but it hasn't decided if it should totally redesign the aircraft, possibly constructing it from the same futuristic composite materials used in the 787, or just slap a new set of fuel-efficient engines to its old aluminum body and calling it a day. It could take an estimated $15 billion or more to redesign the aircraft, Carter Copeland, the aerospace analyst at Barclays Capital, told Fortune. He argues that since the 737 is already so efficient in its current form, it may not be cost-effective for Boeing to make such a big capital expenditure to redesign the aircraft.
"Frankly, there is a lot of financial and technical risk associated with doing a new airplane and Boeing need to be very comfortable with this because these are 'bet the company' type projects," Copeland says.
This is at the root of why Boeing has yet to make a decision. Copeland feels that Boeing has up to a year to make the decision, but that may be too late. There are signs that some of Boeing's most loyal customers have started talking to the other side.
Boeing's core customers are still the big U.S. airlines. American Airlines (AMR, Fortune 500) has been a loyal Boeing and McDonnell Douglas (acquired by Boeing in 1996) customer for decades. While it has bought non-Boeing planes for its American Eagle regional jet fleet, American, as its name suggests, prefers American-made aircrafts for its mainline fleet.
The company is now moving to totally revamp its fleet as it moves to retire the dozens of old MD-80 jets it acquired in the 80s and early 90s. The airline at one point had 300 MD-80's up in the sky. But since 2008, the airline has moved to replace them with new 737s, ordering around 119 new 737-800s in 2009 and 2010.
American's fleet is still in need of a major upgrade. But the Dallas-based carrier isn't just looking at Boeing. The new, more fuel-efficient A320neo, has caught the eye of management, according to a person briefed on the matter. Airbus is pushing hard, offering steep discounts to get American to sign on, this person said.
American was expected to announce a large order at the Paris Airshow, but it never came. The company is reportedly in heated negotiations with both Airbus and Boeing at this time with plans to order 250 planes worth around $15 billion. Grabbing American would be a coup for Airbus and would put a seal of approval on the A320neo. That could influence other U.S. carriers to follow its lead. The other mainline U.S. carriers -- US Airways (LCC, Fortune 500), United Airlines and Delta Airlines (DAL, Fortune 500) -- already operate a mix of Airbus and Boeing jets. All of them are in need of an upgrade and finally have some money to put down a deposit -- thanks, in part, to all those new revenue streams, like baggage fees.
Competition from China
The biggest threat to the 737s rein may not be from Airbus, but from China. Core customer Ryanair, one of the big European discount airlines, announced in February that it was in discussions with Commercial Aircraft Corporation of China, COMAC, to acquire 200 to 400 new aircraft. COMAC is a brand new entrant in the market and has the potential to break the Boeing/Airbus duopoly. Ryan Air currently operates an all Boeing fleet made up of 272 737s and has no outstanding orders for new jets after it receives its last 737 from Boeing in 2012. The airline broke off negotiations with Airbus and Boeing in 2009 because it said it was unhappy with their pricing.
Ryanair, known to be frugal, needs an aircraft that fits its deep discount image. For example, the airline's colorful chief executive, Michael O'Leary, is upset with Boeing for not making an effective locking system for its onboard bathrooms that would allow the airline to start charging its customers to use the toilet. So it isn't surprising that he would be in negotiations with the Chinese to produce a cheap 200-seat airplane. Ryanair has yet to make a decision on whether or not it will abandon Boeing for COMAC, but it looks like it might just take a chance. Other discount airlines, looking to replicate Ryanair's success, may be persuaded to go with COMAC instead of the Boeing 737 when building up their fleets.
Notwithstanding Ryanair's possible defection, Boeing and Airbus seem unfazed by the COMAC threat. After all, it will take years, possibly decades, for the Chinese to become a credible threat in the commercial aviation space. So far, only Chinese airlines have ordered COMAC's prototype c919 jet, with the first jet set to go into service in 2016, five years from now.
While five years may seem like a long time, it's actually pretty standard lag time in the aviation business. Airlines order jets in bulk and take possession of them over several years. That is why it's critical for Boeing to nail down its core customers now, as any loss today would affect its bottom line for the next decade. While the Chinese still have to prove themselves, the Europeans have already shown that the A320 has become a formidable competitor to the 737. It's now up to Boeing to decide how it will respond to the neo threat before any of its key anchor clients decides to get adventurous and try something new.
Update: An earlier version of this story incorrectly stated that Indonesian airline Lion Air placed an order for 200 Airbus jets. In fact it was Malaysia-based airline AirAsia that placed that order.