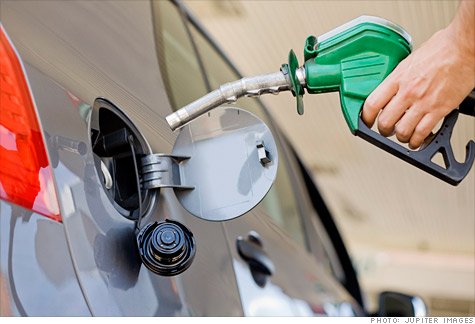 FORTUNE -- They are at it again -- the government and the automakers are trying to determine what's good for American car buyers. As usual, they have the right destination in mind, but they are heading in the wrong direction to get there.
The Obama administration has proposed new rules that will require American cars and trucks to attain an average fuel economy of as much as 56.2 miles per gallon by 2025. The rules are already in place require 36.5 m.p.g. by 2016.
That number sounds high, but Edmunds.com tells us that it actually represents a compromise between the 62 m.p.g. the environmental community is seeking and the 47 m.p.g. automakers have offered. Good thing. The Center for Automotive Research says adopting the most stringent fuel economy standard of 62 m.p.g. by 2025 could increase the price of a car by $9,790 and result in the loss of 1.7 million jobs
The government-automakers negotiations should be interesting since the government is essentially bargaining with itself. It is the largest shareholder in General Motors (GM, Fortune 500) with 33%. Draconian fuel economy standards could affect the value of the government's GM holdings -- a potential liability for the Obama administration in an election year.
The New York Times reports that "the standard would put domestic vehicle fuel efficiency on a par with that in Europe, China and Japan." True, but if we get there, it will be by using very different methods.
Drivers in other countries have an incentive to drive more efficient cars because of higher fuel prices. In the U.S., we subsidize gas consumption by keeping taxes low. Norwegians pay $9.70 for a gallon of gasoline, to cite the most extreme example; we are paying around $3.70 a gallon. Although that's a lot higher than a year ago, it isn't making us much more conservation-minded. The Detroit News notes that sales of big pickups, one of the biggest consumers of gasoline, have actually risen this year.
Admittedly, no one is going to vote to raise taxes a year before elections so that Americans will voluntarily use less gas. So the government steps in with regulations to force them to do so. But what needs to be looked at more closely is what the cost will be. Rest assured, it will be high, in ways that are both expected and unexpected.
First of all, automakers will have to design a new generation of vehicles using advanced powertrains and exotic lightweight materials. There will be capital costs for the development of these technologies and piece costs for their application in each individual unit. That cost will have to be passed along to consumers or eaten by the car companies.
Second, there is the collateral cost. By necessity, fuel-efficient cars must be smaller and lighter than current models. That will make them susceptible to higher levels of damage from collisions, either with immovable objects or with each other. That will drive up repair bills and, in turn, insurance rates.
Third, there is the competitiveness cost. While GM and Ford (F, Fortune 500) have greatly improved their small car offerings and overall fuel economy in recent years, they lag behind both Toyota (TM) and Honda (HMC) in both categories. In addition, the Japanese companies are leaders in the development of hybrid powertrains. Higher fuel economy standards will put more money in their pockets and less in Detroit's.
Then, there is the efficacy cost. As new cars become less desirable because of their size and performance, customers will hold on to their old cars longer, driving up the cost of used cars and diminishing the potential fuel economy savings.
Finally, there will be indirect costs. In the past, Americans have been reluctant to pay more for smaller cars, forcing manufacturers to subsidize them. So people who need larger vehicles for whatever reason will pay more than what would otherwise be the market price while small car buyers will pay less.
The administration, according to Edmunds, is estimating that hiking the fuel economy standard to 56.2 miles per gallon from the 35.5 m.p.g. requirement already set for 2016 would add from $2,100 to $2,600 to the initial price of a new vehicle in 2025, though it would result in lifetime fuel savings of $5,500 to $7,000.
If past experience is any guide, however, that price hike is a very conservative estimate. With the average price of a new car having already passed $29,000, more and more Americans may see their ability to own one as elusive as owning their own home.