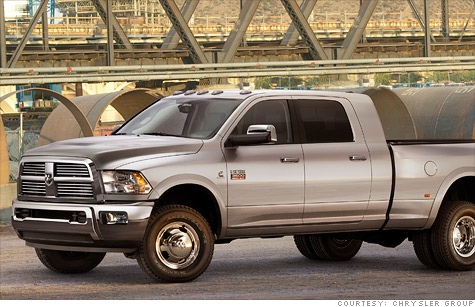 Most of the trucks being recalled are heavy duty Ram 2500 and 3500 work trucks.
NEW YORK (CNNMoney) -- Chrysler Group is recalling 242,780 Dodge Ram trucks for a potential steering problem. Part of the trucks' steering linkage could break during low-speed maneuvers causing a loss of steering control to the left front wheel.
The vehicles being recalled include some 2008 model year Dodge Ram MegaCab 1500 4X4 trucks as well as Ram 2500 and 3500 Heavy Duty trucks from model years 2003 through 2011.
Chrysler had earlier recalled larger Ram 4500 and 5000 trucks for the same problem. At the time, Chrysler told government regulators that the smaller trucks weren't believed to have this problem.
Chrysler will notify dealers whose trucks need to be inspected and possibly repaired. The repairs and inspections will be performed at no charge.
The trucks are being recalled because the left tie rod ball stud may break during some "parking lot type maneuvers" in which the driver is making a very tight turn. The part may not have been aligned properly and could rub against its housing during tight turns.
"There were a few minor accidents and there was one minor injury" related to the problem, Chrysler spokesman Vince Muniga said.
To fix the problem, dealers will inspect the tie rod ends to make sure they are oriented properly and will replace the left outer tie rod as needed. Dealers will also perform a front end alignment as needed.
The Ram is the third best-selling truck in America after Ford's (F, Fortune 500) F-series and General Motors' (GM, Fortune 500) Chevrolet Silverado.