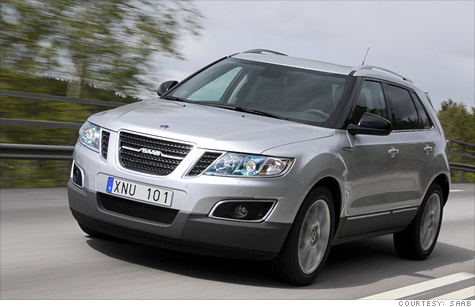 FORTUNE -- The Saab soap opera has taken more twists and turns than the fate of the heroine in a Stieg Larsson trilogy. Experienced executives have resigned, potential investors have gotten cold feet and backed out, suppliers have withheld parts, and employees have withheld their labor. The question is whether we are at the end of volume three, when Lisbeth Salander declares victory in her war of revenge -- or still buried back in volume one?
Following some 11th-hour financing maneuvers to free up parts to make cars and workers to assemble them, Saab has announced it would restart production at its plant of its 9-3 and 9-5 models in Trollhättan on August 9. The plant has been dark for two months because suppliers and workers weren't getting paid.
The final piece of the financial puzzle came when the Swedish government approved the sale and leaseback of a majority stake in the plant for $32 million dollars.
Sale and leaseback is a common-enough tactic for cash-strapped companies. A little more unusual is Saab's deal with its one of its Chinese partners, Pang Da, to buy another 1,930 cars worth $63 million and pay in advance. Delivery of the vehicles won't start until the third quarter.
"Our visit to Trollhättan has further strengthened our belief that we made the right decision in entering a partnership with Spyker and Saab Automobile," Pang Qinghua said in a statement. "This additional order is the result of my firm conviction that Saab has the right product program for the Chinese market and our large distribution network will be an important asset in unlocking the potential of the brand."
While production was stopped on Saab's two mainstream models in its ancestral Swedish home, it continued on a third model, the 9-4X, made at a plant in Mexico. That's because the 9-4X is built in a General Motors plant alongside the Cadillac SRX. Production started in May, and the first one was sold last weekend to a customer in Cleveland.
Whether Saab can emerge from its financial and operational chaos and become a functioning auto company again remains an open question. Buying a new car in Saab's price neighborhood is like investing in the company that made it. Saab's brush with liquidation has likely scared off the more cautious among its potential owners.
Longer term, there remains the very pressing issue of how a company as small as Saab can survive with an uneven product line, high-cost manufacturing base, a second- (or third-) tier brand, and scant technical resources.
Even if everything goes smoothly for the rest of the year Saab is on track to sell around 50,000 cars this year. By comparison, Ford (F, Fortune 500) makes that many F-series pickups every four weeks.
What the future holds for Saab depends largely on the energy of one man, Victor Muller, 51, a Dutch businessman who is long on charm and persuasiveness and short of capital. A lawyer by training, Muller had an opportunistic career in salvage and fashion before forming the boutique automaker, Spyker, in 2000 to make high-end exotic cars.
Spyker has apparently never turned an annual profit. As one industry observer put it, "Spyker's only real accomplishment is its continued existence." That didn't stop Muller from rounding up $74 million (and $320 million in Spyker preferred shares) to buy Saab from bankrupt GM.
The shorthand description of Muller parallels other strong-willed personalities who want to play in their own automotive sandbox. The early years of the auto industry are replete with such figures. Just going back to the 1940s, they include car salesman Preston Tucker, engineer John Z. DeLorean, and entrepreneur Malcolm Bricklin.
Their common denominator was an excess of ego and a lack of liquid assets. To make up for the shortfall, it is good to have wealthy backers.
Saab has two new models to launch this year, both designed and engineered by GM (GM, Fortune 500). The aforementioned 9-4X crossover is a variant of the SRX, while the 9-5 sedan shares its underpinnings with the Buick Regal. Although both bear Saab design cues like a clamshell hood and blackout instrument lights, they also share the GM disease of being several hundred pounds overweight. Coming in 2012 is another GM offspring, the 9-3, based on a modified version of the platform used by the Pontiac G6 and 2004 Malibu.
Farther out in the future, Saab will be partnering up with Youngman, a Chinese car manufacturer, to build three completely new vehicles that previously had not been part of the Saab portfolio. They are known as the 9-2, 9-6, and 9-7.
From Trollhättan to Detroit and now to China, it has been a long and winding road for Saab. It will be interesting to see if the Swedish automaker can maintain its identity after all these life-changing experiences and if Muller can write a happy ending to the Saab saga.