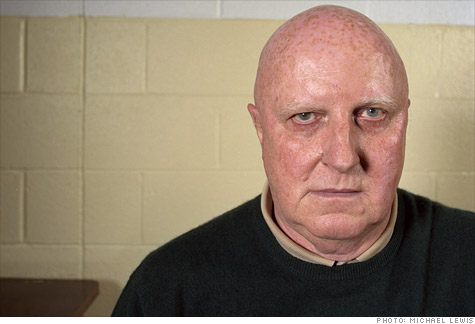 FORTUNE -- In November 2009, when Fortune checked in with L. Dennis Kozlowski -- the 64-year-old former CEO of Tyco Industries who now spends his days in prison, as inmate No. 05A4820 at the Mid-State Correctional Facility in Marcy, New York -- he was both contrite about what he had done -- "I was piggy," he said -- and appalled. Why was he still in prison, he wondered back then, while the Wall Street crowd that brought us the financial crisis walks around free? "It's galling," he said.
Now, he has a new twist on his favorite cause -- himself -- and why the prison system seems so intent on preventing him from participating in a work-release program. To try to get justice, he has sued a group of prison officials, including Brian Fischer, the commissioner of the New York State department of correctional services, to win permission to participate in the work-release program.
Three times in the past year Kozlowski, who is currently serving a sentence of eight-and-one-third to 25 years in Mid-State and is eligible for parole in 2012, has requested to be able to participate in Mid-State's work-release program, which allows eligible inmates to leave prison a for up to 14 hours in a single day to work at a job in the community.
Kozlowski made the request both because he was eligible -- since he was within 24 months of parole -- and because he had lined up a job with Access Technologies Group, a New Canaan, Conn.-based consultant and developer of technology-based training programs, as the director of a program that works with former prisoners. In a February 2011 letter to Mid-State's prison superintendent William Hulihan, ATG CEO Lucy Baney wrote that Kozlowski would be "an extraordinary asset to ATG."
After each of Kozlowski's three requests -- on August 2, on October 25, and on January 25 -- Mid-State's Temporary Release Committee, charged with evaluating work-release requests, approved Kozlowski's applications, citing that he had "no legal history" prior to his "larceny" convictions at Tyco (TYC) -- he was found guilty in 2005 of stealing four multi-million dollar bonuses from the company without board authorization -- that he had "no tickets," that he was "not a community risk," and that he had been "cleared by medical."
The committee also noted that he had successfully completed a program for "alcohol and substance abuse treatment" and had scored 56 points in the "regulatory scoring system," far "surpassing" the 32 points needed to participate in the work-release program.
He also has tutored other inmates studying for the GED exam, worked on laundry duty, and participated in an "anger management" course. The committee found Kozlowski's "record" to be that of a "model prisoner." (The committee made no mention of the fact that Kozlowski has paid a $35 million fine plus restitution of another $134 million.)
The committee's recommendation must be approved -- and usually is -- by Hulihan, the superintendent.
But not for Kozlowski.
Each time, Hulihan rejected the committee's recommendation and turned down Kozlowski's work-release request. On August 30, in turning down the working-release request, Hulihan cited the "seriousness and sophistication" of Kozlowski's crimes at Tyco. Hulihan cited the same explanation in December when he rejected Kozlowski's second application. In rejecting the third application, in March 2011, Hulihan amended his reasoning a bit, eliminating the claim of "sophistication" but keeping the idea of the "seriousness" of the Tyco crimes.
After the first and second rejections, Kozlowski's lawyers were put in the unfortunate position of having to argue that Kozlwoski's crimes were neither "serious" nor "sophisticated."
"To characterize as 'sophisticated' Mr. Kozlowski's underlying conduct -- a failure, as CEO of a company, to obtain approval for four large bonuses from the company's directors -- is nonsensical," his attorneys wrote in one brief. "The failure to seek and obtain permission is not only not sophisticated, it is the opposite, downright simple. The unexplained labeling of Mr. Kozlowski's conduct with this term is instead merely a result-oriented excuse for the [d]epartment's action."
On December 7 last year, Kozlowski wrote an impassioned letter to Priscilla Ledbetter, the state's director of temporary release programs, and reiterated his attorneys' characterization of his crimes as being neither too "sophisticated" nor too "serious" for him to be included in the work-release program. He then revealed a long-suspected fact about the life of a corporate CEO. "While being an executive of a large company obviously requires skill and sophistication, that does not mean that everything a corporate executive does is particularly sophisticated," he wrote.
He then compared his crimes to those of his equally infamous white-collar brethren. "In the Enron and Worldcom cases, for example, the defendants were convicted of setting up phony entities, hiding assets and liabilities in off-balance sheet categories and otherwise accomplishing such a massive fraud that the entire marketplace was deceived into thinking that Enron and Worldcom had a valuable business, when it was all pretty much a charade," he continued. "The sophistication of the deceptive conduct in the Enron and Worldcom cases resulted in those companies going out of business. But the company that employed me, Tyco, has continued to thrive in the years after I left Tyco."
By the rules of the state's correctional services system, every time Hulihan rejected Kozlowski's work-release request, it was automatically appealed to Fischer, the state prison superintendent. Each time, Fischer upheld Hulihan's decision.
Fischer's last ruling against Kozlowski was on May 4. No explanation for Fischer's decisions was given, other than that he had reviewed the "factors in the case, both positive and negative," without elaboration.
To try to remedy this perceived injustice, Kozlowski decided to do what every self-respecting prison inmate would do: He has asked for help from the New York State court system.
In a lawsuit filed in New York State Supreme Court on May 13, Kozlowski and his lawyers at Carter, Ledyard & Milburn have asked the court to issue a ruling that would allow Kozlowski to participate in the work-release program or to force the state superintendent to create the conditions at Mid-State where his work-release application could be taken seriously.
He sued Fischer, Ledbetter, Hulihan, the New York State Department of Correctional Services, and the Mid-State's Temporary Release Committee. "In short," Carter, Ledyard argued, "Mr. Kozlowski is eligible to participate; he requires 32 points to do so but has nearly twice as many, at 56; he has taken advantage of every program offered to him and has been a model prisoner; he poses no danger to society; and he has a job waiting for him that will allow him to contribute meaningfully to the ex-offender population."
A model prisoner indeed.