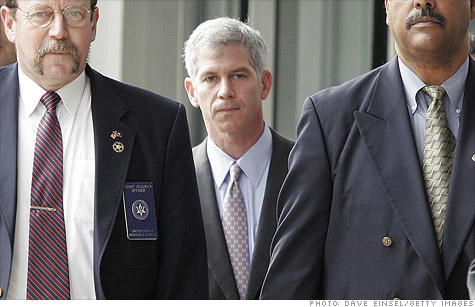 U.S. Marshals escorted Andrew Fastow, center, from a federal courthouse in Houston on March 13, 2006, his final day of testimony against fellow Enron executives Ken Lay and Jeffrey Skilling.
NEW YORK (CNNMoney) -- Former Enron executive Andrew Fastow has been transferred from prison to a halfway house, the last stage of incarceration before his scheduled release later this year, according to the federal Bureau of Prisons.
Fastow, who was chief financial officer at the now-defunct energy company, was moved on Monday to a facility in Houston, according to the bureau. Moving into a halfway house is a typical move for most prisoners during the last portion of their sentence.
"It's a bridge, if you will, a transition period," said bureau spokesman Edmond Ross.
The purpose of the halfway house is for prisoners to reestablish family ties and adjust to society outside of prison, he said. Prisoners are allowed to leave the facility to go to their jobs, but their movements are still controlled.
"They cannot come and go as they please," said Ross. "Their lives are restricted to the rules of the halfway house."
The formal release date for Fastow, age 49, is Dec. 17.
Fastow pleaded guilty in 2004 to two counts of wire and securities fraud for his role in the accounting scandal that brought down Enron.
He was originally facing a 10-year sentence. But in 2006, he was able to reduce it to six years by cutting a plea bargain to cooperate with the federal authorities.
Fastow provided information on Enron's sketchy financial shenanigans, including the names of bankers who he considered complicit, to lawyers representing Enron shareholders.
He served most of his sentence at a prison complex near Denver, according to the bureau.
On May 13, 2010, he was transferred to a minimum security prison in central Louisiana. He was there for about a year until his recent transfer to the halfway house. During the transfer, he was interned briefly at a low security prison facility in Louisiana.
Fastow's wife, Lea, also ran into legal trouble. She pleaded guilty to tax fraud in 2004 in exchange for a five-month sentence. The Fastows had tried to coordinate their sentences so that at least one of them would be available to raise their two young sons.
Former Enron Chief Executives Kenneth Lay and Jeffrey Skilling were both convicted on May 25, 2006, on conspiracy and fraud in the granddaddy of all corporate fraud cases, which revealed that Enron was little more than a giant sham.
Lay didn't go to prison. He died in 2006, at age 64, while awaiting sentencing.
Skilling, who replaced Lay as CEO, is serving a 24-year sentence at Federal Correctional Institute Englewood in Littleton, Colo. The release date for Skilling, age 57, is in 2028.
Skilling and Fastow are some of the most well-known corporate criminals to get locked up in recent years. Other big names in the world of white collar crime are currently serving lengthy sentences at state and federal prisons.
One of the best-known prisoners is Bernard Ebbers, 69, former chief executive of WorldCom. He was convicted, on March 15, 2005, of conspiracy, securities fraud and filing false statements with securities regulators. He is incarcerated at Oakdale FCI with a release date of July 4, 2028.
Dennis Kozlowski, former CEO of Tyco, and Mark Swartz, Tyco's former finance chief, were both convicted on Sept. 22, 2005 of grand larceny, conspiracy and securities sale fraud. There were both sentenced to New York state prison terms -- from a minimum of 8 years, 4 months to a maximum of 25 years. They could be released as early as 2014, or as late as 2030.
Swartz, age 50, is incarcerated at Wallkill Correction Facility, a medium-security prison. Kozlowski, age 64, is incarcerated at Mid-State Correction Facility, a medium-security prison in Marcy.
Kozlowski, who raided company coffers to, among other things, buy a $6,000 shower curtain and fund a decadent birthday party for his wife in Sardinia, once said to Fortune magazine, "[Prison is the most difficult of all difficult places to be."