FORTUNE -- Here's a fundamental question whose answer should generate case studies for a generation of business school students: How could one company -- General Motors -- meet disaster on one continent and achieve explosive growth on another at the very same time?
It is a fascinating paradox. GM (GM, Fortune 500) slid from domination of the Western automotive world in three decades, yet made itself into a leading automotive producer in China in less than two.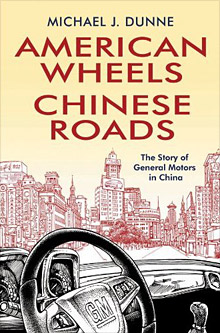 The answer has enormous consequences for car buyers on both continents. China, the world's single largest auto market, has become GM's largest market, too. GM sold more cars in China in 2010 than it did in the U.S., and the difference will only grow in coming years.
Although China's profit contribution is relatively small, Chinese customers' product preferences are already showing up in cars for American buyers. Some Buick models and some small Chevys are designed for the China market first. China is already thought to have a lead in battery development and electric vehicles. How long will it be before the tail begins to wag the dog?
No one is better qualified to answer this question than Michael Dunne in his new book, American Wheels, Chinese Roads: The story of General Motors in China. He's a longtime Asia hand who ran the China business for J.D. Power and Associates in Shanghai before forming Dunne & Co., an investment advisory company specializing in auto markets, in Hong Kong. Dunne, the son of renowned auto spy photographer Jim Dunne, grew up in Detroit and currently lives outside Jakarta, Indonesia.
Curious and enterprising, Dunne is a natural journalist and a deft writer. His years in Asia have left him an instinctive understanding of local folkways, especially China's.
In one telling anecdote, he describes in gripping detail the headaches suffered by GM executives in finalizing their pioneering joint venture agreement with government-run SAIC.
"Confirming a meeting in China is almost never an easy thing. Signing a contract in China is never, ever, ever easy. And never, ever certain. It is a source of tremendous angst when headquarters demands certainty where none exists. In spite of all of the genuine goodwill and the fact that all the terms had been agreed on, China still had the final say about when the signing would take place. And China wasn't talking."
GM CEO Jack Smith was already in the air flying from Detroit to Beijing before the Chinese would confirm the location of the signing ceremony. Dunne goes on: "Presidents of foreign companies operating in China, are given enormous economic accountability. But in reality, they are responsible for so much more -- ulcer-inducing, anxiety-making responsibility for managing the unforeseen. This task appears nowhere in the job description. When the CEO asks whether the meeting is confirmed, the blood pressure goes up and the stomach goes haywire."
So why did GM succeed in China while it was failing in North America?
By necessity, it was entrepreneurial in China. With no history and no established procedures to fall back on, GM was forced to be nimble and to be able to improvise. Both qualities were needed in dealing with the Chinese. That kind of initiative was impossible closer to headquarters where supervision was tighter and bureaucratic rules were enforced.
There was none of the arrogance that comes with success. Even though GM North America was already well into its downhill slide in the 1990s, it still acted as if it were king of the world. But when GM China's first venture collapsed after assembling just a few hundred trucks, the unit was under no illusions about the challenges it faced. Plus it was working with the Chinese, who held the upper hand in all the negotiations.
And in China everybody was on the same page. In North America, Jack Smith had to deal with his directors, powerful functional bosses, and the UAW. The result was many mixed messages. In China, layers of management were much fewer, and corporate goals were abundantly clear: Make a deal, then make cars.
GM also got some lucky breaks: Volkswagen, its number one China competitor, was inattentive; Ford (F, Fortune 500) was occupied elsewhere; and Toyota (TM) was frustrated by longtime nationalistic animosities. Buicks are beloved by the Chinese, and the market was in the early stages of its incredible growth.
Dunne follows every step and tells his story through the eyes of the participants who were actually on the ground. The reader feels the angst right along side of them as they traverse unknown territory. Unlike other tales of Chinese joint ventures, like Beijing Jeep, this one has a happy ending.
It will be interesting to see how long GM China can resist the big company disease that felled its North American counterpart. As it gets larger, it will inevitably become more bureaucratic. And as GM integrates its global operations, product development for individual markets will become more fraught. What's the appeal to Chinese customers for a Cadillac CTS-V or a Camaro convertible? And how will American customers react to a succession of three and four-cylinder cars? One hopes that Dunne is already working on a sequel.