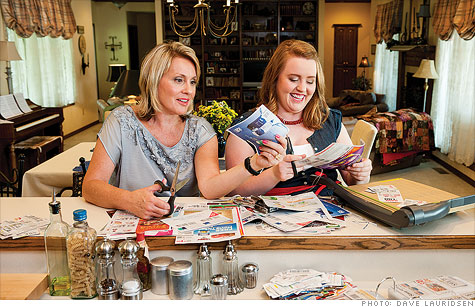 (Money Magazine) -- Even dabblers can master these five stages of extreme couponing, says Stephanie Nelson of CouponMom.com. Here's how.
1. Plan and organize
Use the list of sales from your grocery or drugstore chain (often posted online) to plan your week's menu and staples shopping. You'll need an accordion-style checkbook-size organizer or a binder for individual coupons and a shoebox to store Sunday circulars.
2. Get coupons
Buy the Sunday paper the biggest source of grocery coupons. Dig up more online, including at store sites where you may be able to load coupons directly onto your loyalty card. Get on the coupon mailing list for nearby stores and wholesale clubs like Costco.
3. Match 'em to sales
Clip or print only the coupons that coincide with the week's store sales. Carry those with you and save what's left of the circulars. (Many sites will do this matching work for you). Best not to use coupons unless a sale is on. Be patient: One should be coming soon!
4. Leverage your deals
Favor stores that double or even triple coupons, which can generate a store credit. At first you may have to buy stuff you need without a coupon that's where credits come in handy -- but as you learn the ropes, this will happen less often. Save coupons printed on your receipt.
5. Be flexible
Don't be brand loyal -- go where the savings are. And think out of the box by buying food at places like Target and Wal-Mart. Do sign up for loyalty programs, especially at drugstore chains such as CVS, which print rebates on your receipt that can be redeemed the next time you shop there.