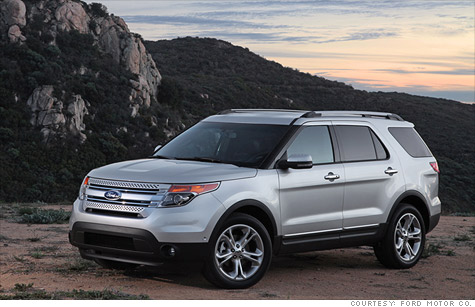 The addition of the smaller four-cylinder motor will make the Ford Explorer the most fuel-efficient SUV in its class.
FORTUNE -- In a little-noticed development recently, Ford announced that it had received EPA certification for a new engine in its best-selling Explorer.
The new engine is a turbocharged four-cylinder, part of a new family of internal-combustion power plants with direct injection that Ford calls EcoBoost. With the EcoBoost four-cylinder, the two-wheel drive Explorer now ranks as the most fuel-efficient seven-passenger SUV on the market.
SUV mileage ratings would ordinarily be as newsworthy as last week's Tigers' scores. But Explorer's high numbers vindicates Ford's controversial decision to downsize its engines -- notably for its light trucks -- by reducing the number of cylinders and adding turbochargers to compensate for the lost horsepower and torque.
The Explorer's achievement reinforces the role of conventional gasoline-powered engines in meeting the challenges of greater fuel economy. American automobiles must meet a federally mandated fuel-efficiency standard of 54.5 miles per gallon by 2025. While manufacturers like Toyota (TM), Nissan, and General Motors (GM, Fortune 500) are competing to build exotic battery-powered vehicles, Ford has become a leader in conventional engines for perhaps the first time since Henry Ford introduced the Ford V-8 in 1932.
The success of EcoBoost is another win for Ford's highly-regarded product development chief Derrick Kuzak. At a time when more flamboyant car bosses are attracting scads of media attention, the mild-mannered Kuzak has built a solid string of successes with little notice that have played a key role in Ford's recovery.
Kuzak likes EcoBoost because it can be deployed across a wide variety of vehicles, from small cars to large trucks. And it's affordable: He's calculated that customers can expect to recoup their initial investment in a four-cylinder EcoBoost engine with fuel in approximately 30 months. By comparison, he says a diesel would take an average of seven and a half years, while the cost of a hybrid will take nearly 12 years to recoup.
The road to EcoBoost hasn't always been smooth. Its development came when Ford (F, Fortune 500) was a laggard in powertrain technology. It coincided with the automaker's dark days and the arrival of Alan Mulally as CEO, leading to skepticism that Ford had chosen the least-expensive solution to fuel economy standards and greenhouse gas emissions while better-heeled competitors were satisfying grander ambitions by researching fuel cells.
Ford's claims for the technology when it was announced in 2008 were ambitious. It projected that turbocharged direct-injection engines in four- and six-cylinder sizes would produce up to 20% better fuel economy, 15% fewer CO2 emissions, and superior driving performance versus larger displacement engines. Moreover, it said it would install the new motors in half a million vehicles over the next five years.
The claims began to gel in 2009 when Ford revealed that its high-performance Taurus SHO, would swap out its old V-8 with a 3.5 liter EcoBoost V-6 that produced a healthy 365 horsepower and 350 lb-ft of torque -- big numbers for a V-6.
The shift became a landslide earlier this year when Ford revealed that customers of its full-size F-150 pickups, heretofore thought to be wedded to their thirsty V-8 engines for eternity, were now buying nearly as many EcoBoost V-6s instead.
At a time when the economy is sagging and gasoline prices seem stuck at $4 per gallon, the attraction is easy to see. With its 2.0-liter EcoBoost four-cylinder engine, the two-wheel-drive Explorer gets 28 mpg on the highway. Compared with a standard V-6 version, the EcoBoost Explorer gets three more miles per gallon on the highway and three miles per gallon better mileage in the city. According to Ford, it beats Honda Pilot and Jeep Grand Cherokee by five mpg and Chevrolet Traverse by four mpg. It also delivers better highway fuel economy than some mid-size cars, such as the Subaru Impreza.
Nobody is touting EcoBoost as the endgame -- that honor belongs to electricity in one form or another. But it has become a remarkably successful bridge technology -- and it demonstrates that cleverness is as important as ingenuity in solving big, complex problems like improving fuel economy.