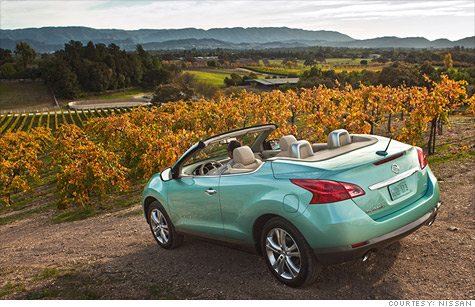 FORTUNE -- The year has four more months left, but a chorus of boos from the nation's auto reviewers makes it evident that the clear favorite for the title of "Most Disliked 2011 Car" is ... the Nissan Murano CrossCabriolet. Not since the Mercedes R-class, and, before that, the Pontiac Aztek has the overall verdict been so bruisingly negative. The CrossCabrio has been tarred for being lumpy, dumpy, shaky, and sluggish.
In simple terms, the Murano CrossCabriolet is an all-wheel-drive Murano crossover in which an automatic folding fabric top replaces the metal roof, and the two rear doors have been eliminated. It has been billed as the first convertible crossover (if you exclude the Jeep Wrangler). With its raised suspension and high deck lid, the CrossCabrio looks somewhat like an artichoke on wheels, the prototypical niche vehicle. It seats four and, available only fully-loaded, has an MSRP of $47,520.
The CrossCabrio does appeal to a few female reviewers who like the high seating position, carrying capacity, and all-wheel-drive. Susan Carpenter, who writes for the Los Angeles Times calls it "a spirited-yet-cushy mom mobile for those who value adventure and luxury," while Jessica Benton of ThatTechChick.com declared, "I was partial to the Murano prior to test driving it. But now I am even more in love with the Murano CrossCabriolet."
Their male colleagues, on the other hand, are less enthusiastic -- to say the very least. James Riswick, automotive editor of Edmunds.com, wanted to know, "What on Earth are they thinking?" when he heard about the CrossCabrio. After seeing it for the first time, Riswick found it so bizarre that he looked for a "seven-foot furry creature riding shotgun."
Road & Track quoted one observer who thought the CrossCabrio resembled "some weird mechanical mutant" and then added on its own: "Thinking of the billions of yen and exhaustive engineering efforts needed to create the 'world's first all-wheel-drive crossover convertible' is as shocking as the CrossCabriolet itself."
But their comments were moderate compared with the broadside leveled by Dan Neil, the respected and influential critic of the Wall Street Journal. Neil, the only auto reviewer in my memory to win a Pulitzer Prize, is fond of using flamboyant phrases in his writing, and his description of the CrossCabrio is particularly expressive: "Sluggish, wobbly, weird-looking, with a front-end shake that would mix a good daiquiri, crazy-awful ... CrossCabriolet is like a sorbet of mouse scat."
Neil goes on to say, "the concept of the CC isn't indefensible, only the execution." He complains about its acceleration and its flexible body. "When this thing hits a pothole, it shakes its jowls like Curly from the Three Stooges -- wubba-wubba-wubba."
That's tough love for Nissan, which prides itself on "innovation without limits," but it's taken hits before. The Japanese automaker tried unsuccessfully to liven up its 2003 Quest minivan by making it curvy for "sexy moms" and is currently testing the outer limits of automotive taste with the chaotic Juke crossover.
The reviewers' judgment of the CrossCabrio is not necessarily final. Car critics can be like movie and book reviewers: Unable to practice in their chosen field as engineers and designers, they critique from afar -- advising the pros on what THEY'D do if they were in charge They have an instinctive dislike for engineering surprises, such as Ford's touchscreen and BMW's iDrive controls. And, like other journalists, they are inclined to a herd mentality and the lead of a few A-list reviewers.
Like many imports, the CrossCabrio also suffers because reviewers don't have a personal connection with it. Detroit Three engineers maintain journalist relationships that sometimes stretch back years. That's not true of companies like Nissan that perform most of their car development overseas. When you are being critical, it is always easier to be critical from a distance.
Let me also add a dissenting opinion on the CrossCabrio. Having driven the Murano for several days, I find myself falling between my male and female colleagues. While I agree that it is overweight, overpriced, and won't excite any hot-shoe drivers, the CrossCabrio is praiseworthy in several respects. It is more innovative than the R-class, more refined than the Aztek, and more imaginative than just about anything else on the road.
There are more voices to be heard on the Murano, notably the fearless auto analysts at Consumer Reports. But for now, it is safe to label the CrossCabriolet the most disrespected car of 2011.