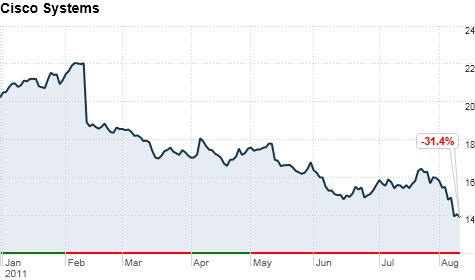 NEW YORK (CNNMoney) -- For a company that relies so heavily on government spending, Cisco -- surprisingly -- managed to squeeze out some good news for a change.
The networking giant made significant progress in its cost-cutting initiatives, and its outlook for the current quarter, though still tepid, was far better than Wall Street analysts had expected.
Shares of Cisco (CSCO, Fortune 500) rose 16% Thursday.
"We are a very strong company with a very strong balance sheet, leading in many healthy markets," Cisco CEO John Chambers said a conference call with analysts on Wednesday, following the company's lastest quarterly earnings release. "However, we must address the market shift and changing competitive environment. Changes we have made allow us to evolve our business models and enhance our leadership."
For the past several quarters, Cisco has been working to streamline its business and clarify the company's role in the tech world. As part of its new strategy, the company has rejiggered its management structure, killed several product lines like Flip video players, and laid off 6,500 employees, totaling 9% of its workforce.
Chambers said the cost-cutting maneuvers are making significant progress, trimming $1 billion in operating expenses on an annualized basis.
Cisco said it expects revenue to grow by up to 4% in the current quarter, double the 2% growth that Wall Street analysts surveyed by Thomson Reuters had expected.
The stronger-than-anticipated guidance comes despite an ice-cold market for networking products in the government space, one of Cisco's key markets. Public-sector orders decreased 4% worldwide and 7% in the United States. Sales to the U.S. federal government fell 18%.
With across-the-board spending cuts taking place as part of the government's debt ceiling agreement, Cisco said it anticipates that public sector spending will continue be a struggle going forward.
Tepid government spending dragged down sales of switches, which make up 31% of the company's revenue. Switching sales fell 4%. Chambers said they would have grown 13% if not for the public sector swoon.
Yet Chambers said Cisco lost no market share in switching, and it still managed to sell 36 million switch ports -- a company record.
The good news, Chambers said, is that business isn't so great for Cisco's competitors either. Juniper Networks' (JNPR) stock has fallen 44% this year, and its shares have tumbled nearly 50% since the company issued a weak outlook on July 26. F5 Networks (FFIV)' stock has tumbled 44% this year.
Chambers said that Cisco's diversity and growing reliance on new products puts the company in a good position to take advantage of its smaller rivals' struggles. Revenue in Cisco's new products segment, including collaboration, data center, wireless and video products, grew 7%.
New products also account for 31% of the company's total sales, so growth in those businesses is key to Cisco's future success.
"We've made significant progress on our comprehensive action plan to position ourselves for our next stage of growth and profitability," Chambers said. "As we start our next fiscal year, you will see a very focused, agile, lean and aggressive company."
By the numbers
The San Jose, Calif., company said its net income in the fiscal fourth quarter, which ended July 30, fell to $1.2 billion, or 22 cents per share, down 36% from a year earlier. Results included $1 billion worth of one-time charges, totaling 18 cents per share, related to cost-cutting expenses like severance pay and selling off business units.
Without the charges, Cisco earned 40 cents per share. Analysts polled by Thomson Reuters, who typically exclude one-time items from their estimates, had forecast earnings of 38 cents per share.
Sales rose 3% to $11.2 billion, topping analysts' forecasts of $11 billion.