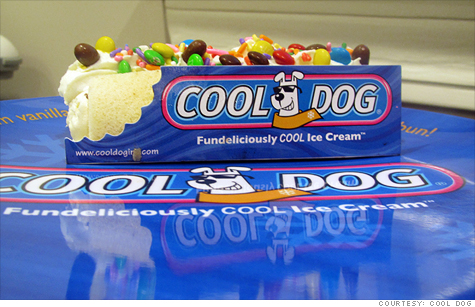 FORTUNE -- For dessert, New England baseball fans are following up their franks with another type of dog -- a Cool Dog. It's an oblong roll of vanilla ice cream, served on a spongy-cake bun with all the fixings on top (hot fudge and sprinkles, not mustard and relish).
Dan Weil, 55, is CEO of Cool Foods LLC, the Boston-based purveyor of the Cool Dog. It's a very long way from his career as a printing executive, where he headed U.S. operations for Riso, Inc., a Japanese-owned document solutions company.
A Brit who landed in Massachusetts, Weil became President and CEO at Riso in 1995 and grew it from $60 million in revenue to about $165 million. So why, in 2007, did he leave Riso?
In part it was because of a clash with management, but also because Weil longed for a turnaround. "I was looking for something that wasn't growing and needed new life," he says. "Instead, I came across a product that met none of those criteria, and found it intriguing." That was the Cool Dog, which went out of business in 2005 because it expanded too quickly and, he believes, because the previous owners hadn't perfected the cake and toppings.
When Weil sought advice from Essex Partners, a career management firm for senior executives, they pushed him to understand the risks of what he was about to do. "In this economic environment, starting a new company is no picnic, so we challenged him to refine his ideas," recalls Ralph Roberto of Essex. "But this is a smart guy. He wasn't running away from corporate life, but running towards it in a new way."
It helped that Weil already had a background in food; he is a partial owner of L'espalier and Sel de la Terre, both French restaurants. Still, Cool Dog was risky. "I learned it's tougher to restart a failed company than to start something from scratch," he says.
Weil acquired the company in 2009 after ensuring that all stock and debt holders approved. He self-funded the deal with $500,000 that covered both the acquisition and the working capital, which mostly went toward purchasing equipment.
Rather than making supermarket shelves the top priority, Weil first focused on family-friendly properties like minor-league stadiums and small-town ice cream shops. He also worked hard to improve the taste of the cake, which was too dry. "It took me nine months," he says, "but I came up with a cake that was light and moist."
Since its 2009 re-launch, the little dog has shown some bite. It's currently sold at five minor-league ballparks, as well as the Seekonk Speedway, Gillette Stadium, Stew Leonard's, and 20 iParty store locations (it was also at Fenway Park until just recently, but was pushed out by a larger novelty). Weil expects 2011 revenues of about $500,000.
In the novelty ice cream business, there's competition from every shape-on-a-stick out there. But Weil is undeterred: "The product ought to be everywhere, not just baseball games but birthdays, cookouts, bar mitzvahs." Recently, Zagat named the treat one of its 10 unique hot dogs. By 2020, perhaps it'll be on the menu at the Ritz.
Dan Weil's cool tips for going solo:
Setbacks happen. Be prepared, and flexible. "One place told me they would run the product as soon as we had it ready. But 'as soon as' became four months after I had it ready."
Family matters. "Get your whole family involved." Weil's 18-year-old daughter, he says, is his "toppings queen" and selects all toppings for the demo bag he takes on sales trips.
Persistence pays. Restarting a company takes patience. "At first, Sysco (SYY, Fortune 500) didn't invite me to any of the big trade shows," Weil says. "They were giving me a year to see if I would fail." He didn't. Similarly, it took six months to get into Stew Leonard's.