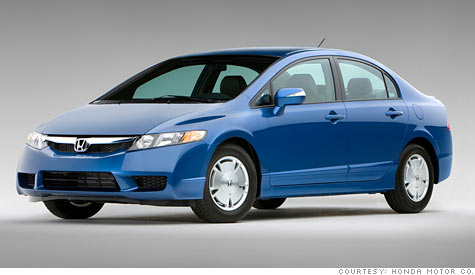 The Honda Civic Hybrid
FORTUNE -- Okay, I admit it. The media love to report on a horse race, whether it is between bond underwriters or presidential candidates, and I'm just as guilty as anybody else. Horse races are easy to write about because, unlike real life, they can be quantified and have a definitive outcome.
But a fascination with race results can obscure underlying long-term trends.
Take the discussion about hybrid cars. Stories abound that measure the correlation between hybrid sales and gasoline prices, or compare showroom traffic for the Toyota Prius versus the Honda Insight. They are taking the temperature of an industry in day-to-day increments.
That's all well and good, but it ignores one incontrovertible fact: Hybrids have become the auto industry's unstoppable force. Consider:
Hybrid gas-electric power is the only serious alternative to the internal combustion, gasoline-powered engine that has emerged in one hundred years.
Since starting from zero a little more than a decade ago, hybrids now account for 3% of the U.S. market -- and that share is expected to double by 2015.
Nearly every major manufacturer, including Mercedes-Benz, BMW, and Porsche, now has at least one hybrid model in its lineup. Toyota, the leader, has eight for sale in the U.S. and expects to launch six more by the end of next year. The only holdout is Chrysler, which failed to develop a hybrid during its financial crisis.
So there is a growth trend here that sweeps away month-to-month variations in sales levels due to supply shortages or economic conditions. The latest example is the landmark deal between Ford and Toyota to develop hybrid powertrains for rear-drive pickup trucks -- a huge opportunity for Ford (F, Fortune 500) with its best-selling F-150.
I was thinking about all this while I spent a week putting more than 400 miles on a 2012 Honda Civic Hybrid -- and never once stopping for gas. The Civic reliably delivered the promised 44 miles per gallon of regular gas in all kinds of driving conditions.
Part of the Civic Hybrid's appeal for me is that it is so familiar. While Toyota (TM) has opted for a Jetsons-inspired instrument panel and radical aerodynamic styling for the Prius, the Hybrid features Honda's typically flawless ergonomics along with a conventional design.
The styling is less than inspired, but from the driver's seat, you find the gearshift just where you'd expect to find it. I'm also a fan of the two-deck function displays that put the important numbers right in your line of sight.
The Hybrid drives like a Civic too, another plus in my book. Everything feels connected, compliant, and responsive; even cautious drivers will feel comfortable putting their foot in it. Honda hasn't lost its ability to encourage driving pleasure.
Other reviewers have complained about roughness when the gasoline engine kicks in. I was surprised by the lack of transmission creep and the fact that the car will roll backwards if you take your foot off the brake on an incline. It takes getting used to.
The price tag for the Hybrid is $27,500 -- a not inconsiderable sum for a car that has been as criticized for its drab interior and dull exterior. But that price includes leather-trimmed and heated seats and a navigation system -- features that only in the last few years have trickled down from luxury models.
The price premium for this remarkable technology seems reasonable. Base price for a 2012 Hybrid is $24,050. That compares with $20,505 for a standard Civic that gets 12 miles per gallon less overall.
You would be hard-pressed to make up the difference by savings on gasoline purchases. But you would be making a contribution to the battle against climate change. And you could still count yourself as an early adopter of this historic development in automotive propulsion systems.