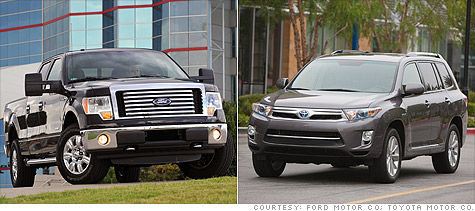 Ford and Toyota say they will join to work an a new hybrid system to be used to produce pickups and SUVs.
NEW YORK (CNNMoney) -- Rivals Ford Motor and Toyota Motor announced an agreement Monday to work together to develop a new hybrid system for use in light trucks.
The agreement is expected to produce hybrid rear-wheel drive pickups and SUVs sometime later this decade. The agreement brings together Toyota (TM), which has been a leader in hybrid technology, with Ford (F, Fortune 500), which still has a leading position in the pickup and SUV portion of the market, where hybrids are still less common.
"Our collaboration with Ford is a move to make hybrid technology more widely available in sports utility vehicles and trucks," said Takeshi Uchiyamada, Toyota executive vice president of research and development.
The companies will separately integrate the new hybrid system in their future vehicles.
"Clearly Ford and Toyota will still be competitors," said Derrick Kuzak, Ford group vice president of global product development. But he said by sharing research and development costs, the companies can both make more rapid advances in hybrid technology.
The entire auto industry faces tough new U.S. mileage standards that could require cars to get as much as 54.5 miles per gallon by 2025. And Americans seem to be responding positively to smaller vehicles. For example GM's (GM, Fortune 500) Cruze has been a best seller.
Bill Visnic, analyst with Edmunds.com, said that the fuel economy rules will make it difficult for automakers to continue to sell affordable large vehicles without a breakthrough on fuel efficiency.
"This is a pretty big deal. This is two major players in this market saying we need to develop something to keep pickups and SUVs relevant," he said.
Toyota has become a leader in hybrid technology. Edmunds' figures show about 10% of Toyota's U.S. sales so far this year have been hybrids, nearly five times the industry average, while only 1.3% of Ford's sales are hybrids.
But Toyota has very limited offerings of rear-wheel drive light trucks, Visnic said. and he said while Ford has made some advances in hybrid offerings, it still hasn't incorporated that into its core light truck models, such as the F-150 pickup, which is still the company's best-selling model and a major profit generator.
But the lack of demand for large pickups and SUVs outside of the U.S. market makes it difficult for companies to invest the money in the hybrid technology without finding a partner to share in the expense, Visnic said.
The companies also agreed to cooperate on telematics and Internet connectivity for vehicles, which they said would bring more Internet-based services and useful information to drivers.
The companies said there are still details to be worked out in the joint venture.