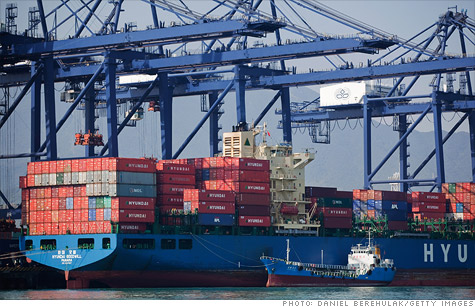 Chinese manufacturing is picking up, but it's still in contraction, according to HSBC.
NEW YORK (CNNMoney) -- China's manufacturing sector improved in August, but growth remains sluggish, according to a bank report issued Tuesday.
HSBC's manufacturing purchasing index for China rose to 49.8 this month, from 49.3 in July. Any reading below 50 represents a contraction, meaning that the August report shows manufacturing growth near a standstill.
An HSBC economist saw positives in the report.
"Despite the turmoil in global financial markets, the new exports orders index rose to a three-month high, albeit still marginally below 50," said Hongbin Qu, chief economist for China and co-head of Asian economic research at HSBC, in a statement. "All these data suggest that the hard landing risk is still remote."
Global markets appeared to react positively to the report. Asian stocks finished higher and European markets opened with gains.
The Chinese economy has been slowing down after growing like gangbusters in recent years. It is being closely watched by economists and investors for signs of strength, since that would have a significant impact on the international economy.
The China report is based on monthly questionnaires sent to purchasing executives in more than 420 manufacturing companies, measuring such factors as new orders, output, employment, supplier delivery time and the purchase of stock.