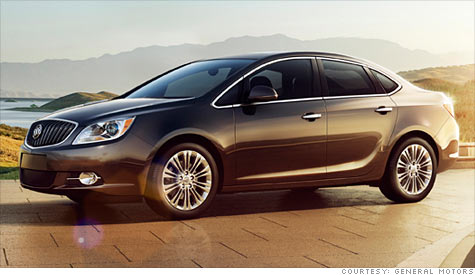 FORTUNE -- The cars General Motors sells in the U.S. are increasingly influenced by customers 7,100 miles away: the residents of the People's Republic of China.
The 2012 Buick Verano, a stylish compact sedan (seen above), isn't in U.S. showrooms yet, but a similar vehicle has been on sale since June 2010 in China, where it is known as the Buick Excelle GT. The Chevrolet Sonic hatchback that will hit dealers in September was designed in Asia by a joint venture run partly by GM's Chinese partner.
When asked to explain GM's eastward bias, Steve Girsky says, "It's simple: Do the math." GM's joint ventures sold in excess of 2 million vehicles in China last year -- more than GM (GM, Fortune 500) sold in the U.S. -- and the company expects to double that number in five years.
The tastes of Chinese customers are beginning to influence cars designed and sold in the U.S. The interior of the popular Buick LaCrosse was executed in GM's Shanghai design studio.
Ed Welburn, who visits China four times a year, says a Chinese aesthetic is finding its way into GM designs. The delicate lines of jade sculpture appear in radiator grilles and headlamp fixtures on Welburn's cars, while its icy green color turns up in the instrument panel and a variety of accents.
GM's Chinese partner, Shanghai Automotive Industrial Corp., is the largest automaker in China. SAIC is eager to expand its technological capabilities, product lineup, and penetration of foreign markets, and it relies on GM for expertise and know-how.
GM and SAIC already cooperate in a dozen ventures covering almost every aspect of automotive engineering, manufacturing, and distribution, and any disputes are kept far from public view. The explosion of Chinese auto sales -- unparalleled in scale or velocity in automotive history -- opens up some interesting possibilities.
Ask GM's international boss Tim Lee whether he can envision GM ever moving its headquarters to Shanghai, and he barks "Never."
Ask about a seat for SAIC on the GM board and you get the same answer. But everything else seems to be on the table, including building cars in China for sale in the U.S.
Over the next 10 years, GM believes China will grow by another 12.7 million units -- in effect adding another market the size of the U.S., and that GM's share will rise along with it.
Even if corporate headquarters never leave Michigan, Detroit's GM seems destined to wind up as an appendage to a China-centric company.
This article is from the September 5, 2011 issue of Fortune.